5 emerging opportunities for Indonesia's consumer market
Indonesia is Southeast Asia's largest economy and one of the hardest-hit by COVID-19. During these difficult times, how has consumer behaviour changed, what are the flow-on effects for the wider economy and how can companies seize emerging opportunities?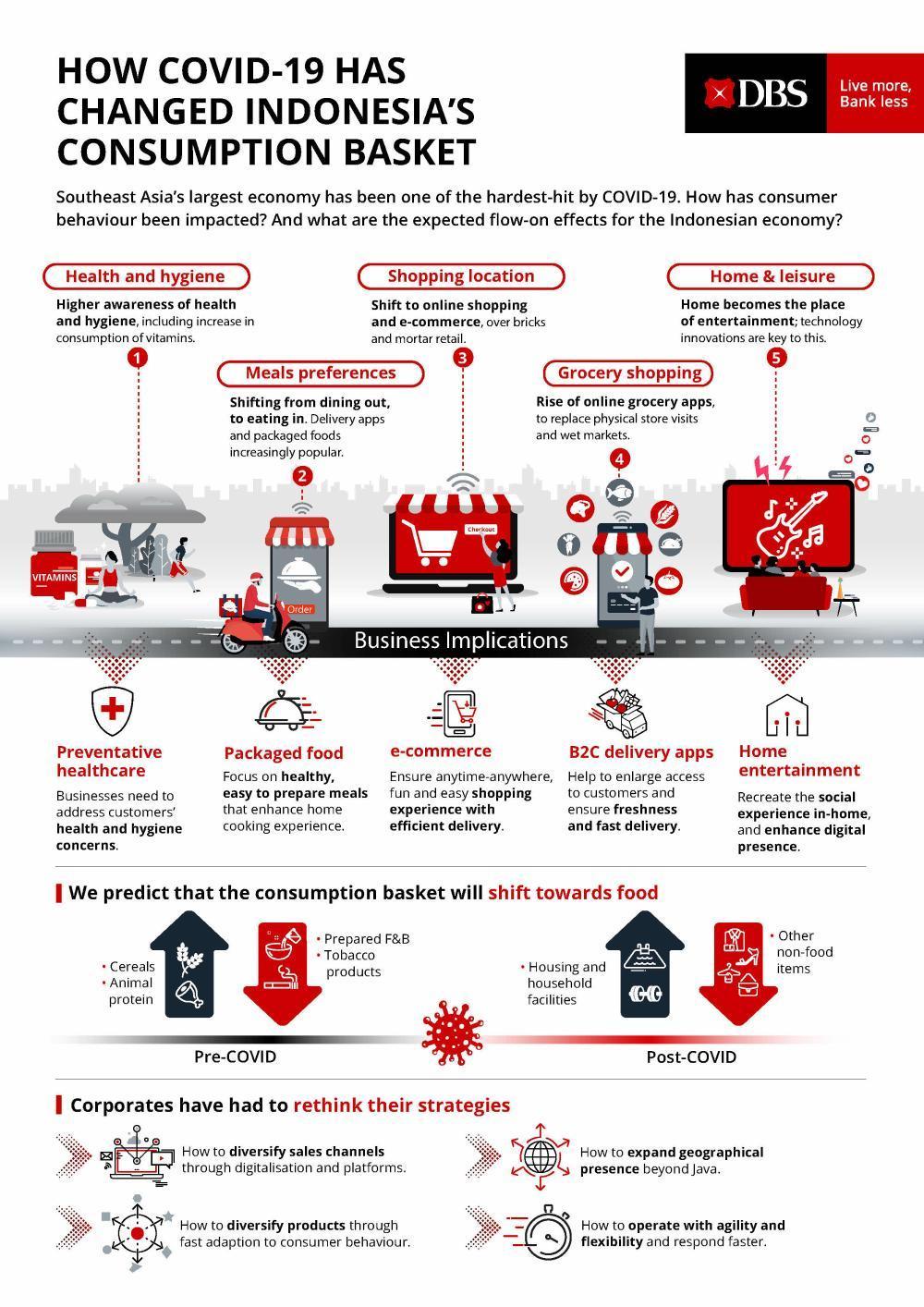 The long-term economic repercussions of COVID-19 are far-reaching, especially in Indonesia, Southeast Asia's most populous nation. The pandemic has caused companies to pivot their businesses and revise their strategies to overcome unprecedented challenges, meet emerging demands and adapt to permanent changes in consumer behaviour.
To assess the current state-of-play and identify evolving consumer trends, DBS conducted a comprehensive survey, canvassing the views of Indonesian consumers. The research uncovered major trends, ranging from changing attitudes toward health and hygiene, meal consumption habits, grocery shopping preferences, and leisure behaviour.
In this Business Insights article, we dive deeper into the five main opportunities identified for forward-thinking leaders as they prepare for the year ahead:
Health and hygiene products are (and will continue to be) in demand. There has been greater consumption of vitamins and supplements, with greater attention paid to nutrition and cleanliness. 54 per cent of respondents said they would continue to consume more vitamins and supplements, and 87 per cent would continue to pay more attention to hygiene even after the pandemic.

Producers and distributors of health and hygiene products can expect continually strong demand in the future. There is also growth potential in preventive healthcare products and services, with a focus on boosting immunity or wellness.

Home-cooking is preferred instead of eating out. 69 per cent of survey respondents prefer to cook at home, compared to only 5 per cent who prefer eating out. Online food deliveries and take-aways have also increased in popularity, driven by ubiquitous food aggregator apps that offer convenience.

This presents a huge opportunity for food producers and manufacturers to diversify into pre-packaged foods, ready-to-eat meals, easy-to-cook meals, menu suggestions with grocery deliveries, and more.


E-commerce is the preferred way to shop. 66 per cent of Indonesian consumers indicated e-commerce as their top channel choice for purchasing non-food items, compared to only 24 per cent before COVID-19.

Considering the current and expected future growth of e-commerce as the preferred mode of shopping, we suggest companies accelerate their omni-channel strategy and/or embark on partnerships with established e-commerce platforms. There is also opportunity for the development of more immersive online shopping experiences, for example through virtual try-on tools.



Online grocery channels continue to rise in preference. There has been a 700 per cent increase in preference for online grocery apps post-COVID-19. While the penetration of online grocery is still relatively low now at 21 per cent, we expect it to grow fast, especially with the increase in younger consumers and rapid proliferation of mobile devices.

Grocers will need to diversify and expand their distribution channels, whether through delivery apps or partnerships with B2C platforms. This trend also highlights the increasing bargaining positions of modern trade channel players, such as supermarkets, vis-à-vis their suppliers – while this is something already observed in more affluent countries, the pandemic is accelerating its progression in Indonesia.

Home is the new place of entertainment. 84 per cent of respondents prefer to spend at least half of their work or study time at home, and 72 per cent have also said that they would prefer to spend less time participating in activities outside the comfort of home, even after safe distancing measures and lockdowns are lifted.

Home improvement and entertainment-related products and services can expect an uptick in demand that continues well into the future as consumers adapt to new behaviour patterns. There will also likely be an increase in adoption of technology or gadgets that recreate the social experience at home.
E-commerce has changed the landscape
Pak Kunardy Darma Lie, DBS' Country Head for IBG Indonesia, and Chin Yook Pow, Head of Food & Agribusiness for DBS Institutional Banking Group, agree that e-commerce is expected to have the most transformative impact on Indonesian consumption.
"We predict that e-commerce will become a key trend in the country's post-pandemic economy," says Pak Kunardy. "The combination of a young population, robust consumer market, and increasing use of digital tools supports this."
"And because there is uncertainty around how long the pandemic will last, people will prefer the safer experience of shopping online, at least for the medium term, rather than in crowded malls," elaborates Chin.
Further, at a macro level, Indonesians are expected to adopt similar patterns of consumption to the financial crisis of 2007-2008. This means more significant spend on food necessities, and decreased spend on discretionary products, including clothing and durable goods. Economic uncertainty caused by COVID-19 and a general drop in personal income have also made Indonesians more cautious with their spending, with majority of respondents choosing to save or invest any additional income they receive in the short term.
Indonesian companies ramp up digital efforts, but with caution
In the face of continuing uncertainty and contracted growth, while Indonesian companies are ramping up their digital efforts, they are also exercising more caution with cost control and spending. Of survey respondents, 80 per cent are freezing unnecessary capex and instead focusing on maintenance and completion of existing projects.
Companies are also exploring how to improve operational flexibility to pivot quickly in the face of new regulations or shifting consumer preferences. Concerns over sales disruptions due to social distancing measures and weak consumer demand have compelled more businesses to diversify sales channels, geographies, and products. Companies shared that they are considering expanding online and B2C sales channels, more permanently, and plan to leverage digital technologies to improve customer shopping experiences, both online and offline.
In summary, while Indonesia has been hit hard by the pandemic and consumer behaviour has clearly changed, digitalisation has opened opportunities for businesses in the new world - digitalisation enables operational flexibility and improved customer experiences in a COVID-19-adapted economy.
Adrian Chai, Group Head of Automotive, Consumer Products & Services, Food & Agribusiness, Healthcare & Pharmaceuticals, and Metals & Mining Global Industries, Institutional Banking Group, DBS concludes, "The agility to adapt to the new norm has grown in importance and urgency. During the pandemic, business reinvention, digital adoption, and sustainability objectives have accelerated, exceeding even our most aggressive forecasts."
Find out how DBS has worked extensively with businesses during this time to successfully drive their digital transformation efforts through holistic and practical solutions for cash management, trade digitalisation, and banking.
To read the full report, click here to Download the PDF.