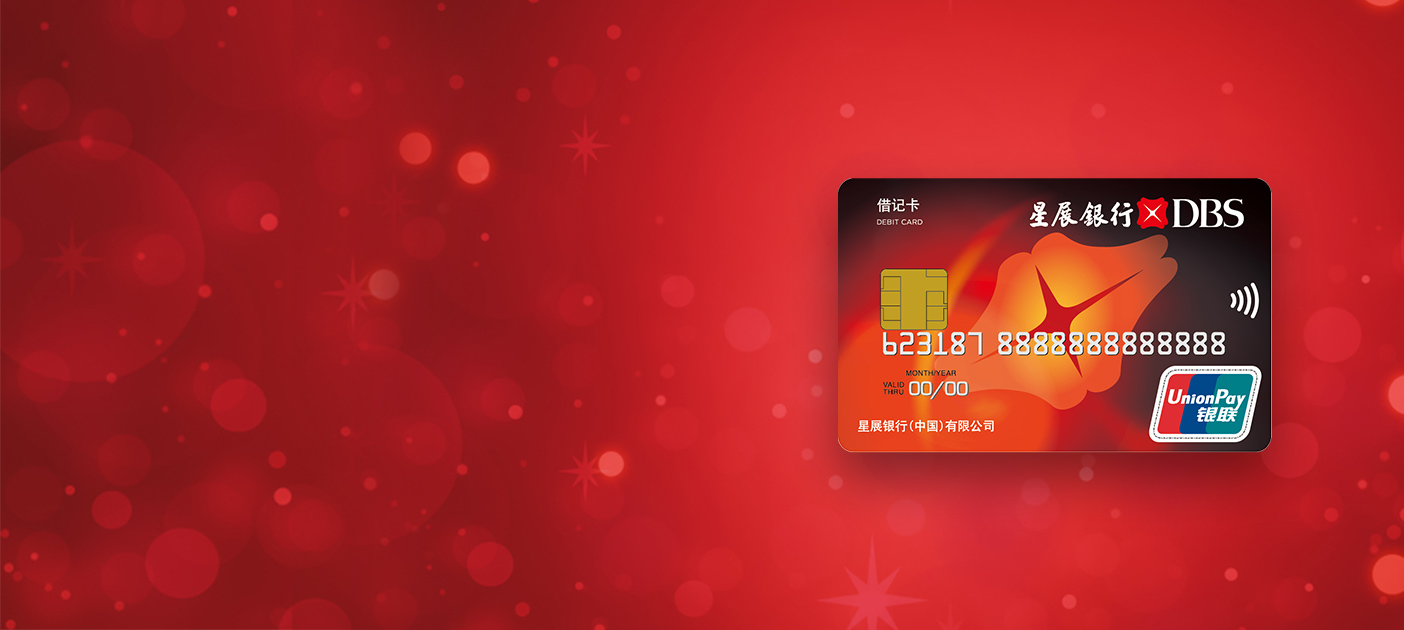 At a Glance
DBS, with its global reach and deep roots in Asia, allows you to enjoy worry free travel with a DBS Card in hand with nationwide coverage and ATM support.
You will also enjoy the added convenience of zero cash withdrawal fees at our ATMs in Asia's top two commercial and financial hubs apart from China.
 
Features

Nationwide convenience
Can be used at any DBS Bank branch and every other ATM within the China Unionpay network.

Transfers and Remittance
Transfer funds at any DBS Bank branch or UnionPay label ATM in China. Enjoy the convenience of real-time transactions for all transfers to personal DBS accounts opened in China.

Privileges from merchant outlets
Simply look for merchant outlets that accept the China UnionPay card to enjoy the convenience of shopping or hotel bookings, just like a credit card.

Zero cash withdrawal fees in China, Hong Kong SAR and Singapore
DBS China debit card, enjoy free cash withdrawing from ATM with "UnionPay" label in China mainland; the same from DBS bank ATM with "UnionPay" label in Hong Kong SAR and Singapore.
 
Tips
Transaction:
Your DBS debit card can withdraw CNY cash from ATM machine through your pre-defined primary RMB account. If you have any question, please do not hesitate to contact your relationship manager or call our 24 hour customer service hotline: 4008 208988.
PIN:
You must use a 6-digit PIN as your transaction PIN when using the card. You can change your PIN at any DBS Bank branch.
Report a Lost Card
If your card is lost or stolen, please call our 24-hour customer service hotline immediately to report the loss. After reporting the loss through our customer service hotline, please come in person to a DBS Bank branch with your valid identification to cancel the report, apply for a new card, or to terminate the card.
Retained Card
please follow the card retrieval procedure specified by the relevant bank.
Risk Disclosure for Use of Debit Card
Where using the Debit Card for fund transfer, the cardholder shall make sure the receiver is well known to him/her. Please be cautious against "Phone Fraud" or similar cases. Please do not believe "Safety Account" and any other fraud information.
If the cardholder has accidentally revealed his/her Debit Card number or password to unknown persons or websites, or the Debit Card is lost or stolen, or the cardholder finds/suspects the Debit Card number or password has already been leaked, please notify the Bank via customer service hotline or counter of the Bank's operating network to report your loss of Debit Card and/or to terminate the Debit Card in order to prevent any further financial losses.
If the cardholder activates the e-cash service, please note that there is no loss report or password for e-cash, so the cardholder may have to bear higher risk. Once the Debit Card is lost, anyone with Debit Card can use the e-cash. The cardholder shall cautiously decide whether to activate the function of e-cash and top-up a reasonable e-cash amount according to his/her risk tolerance capacity.
 
How to Apply
Call our DBS 24-hour personal banking hotline at 400 820 8988
Thank you. Your feedback will help us serve you better.
Was this information useful ?
Thank you for your feedback
Let us know how this article helped:
We are sorry to receive that.
How can we do better?

Please do not input special symbols