Markets are by and large looking through the pick-up in food price inflation in China and India.
Inflation's death is exaggerated

Narratives out of China and India notwithstanding, global markets are ignoring inflation risks in general. While long-term US inflation expectations (derived from the 5-year, 5-year forward rate) have nudged up to 1.8% in recent months, they are still very low by historical comparison. Market-based inflation expectation indicators are even more subdued for EU and Japan.
But as far as markers for inflation are concerned, there are a few. A strong labour market and strong wage growth, characteristics of the US economy in recent years, ought to translate into a pick-up in inflation. Trade war related tariffs should also push up some product prices. Frequent natural disaster-led shocks to agriculture harvests should also lead to food price (and food price expectations) to nudge up. Finally, the sharp rise in public sector borrowing and de facto central bank monetisation of debt, in theory, should be raising inflation expectations.
But all of this is taking place when there is growing uncertainty and diminishing confidence about the outlook, reduced pricing power among producers (as e-commerce has increased competition), subdued demand in China (which, for many products, is the largest consumer), structurally shifting energy demand, and ample inventories. Against this backdrop, some of the usual drivers of inflation are understandably getting dampened.
Examining the evolution of a variety of prices this year (with data available through October 2019), we see some sources of upside risk, although admittedly nothing to get alarmed about yet. For instance, after a sharp rally, gold prices have begun easing as flight to safety concerns have ebbed. As for base metals, very little upside is seen as infrastructure spending and manufacturing worldwide has not taken off this year, especially in China. Looking at stronger fiscal stimulus measures in 2020, along with a likely recovery in electronics manufacturing, we expect a modest rise in metals prices.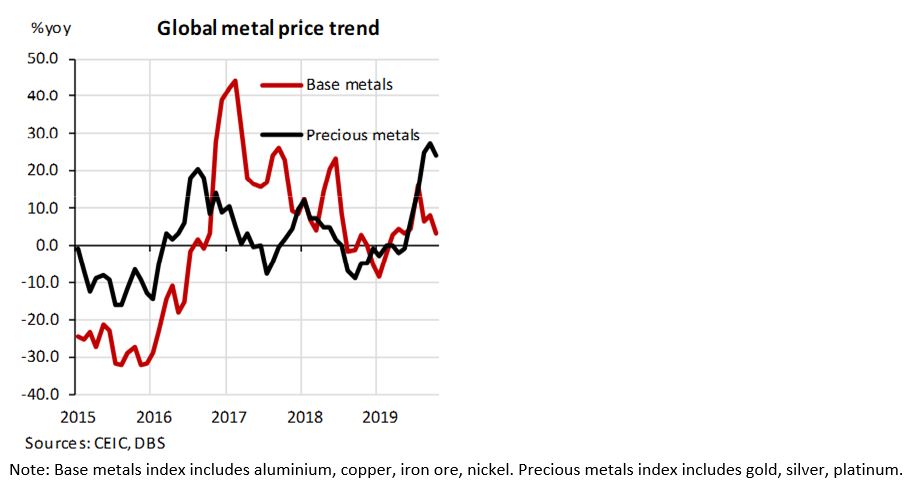 On energy, despite plans by OPEC to cut supply and lingering tensions in the Persian Gulf, prices have been lacklustre this year. Short of a major conflagration in the Middle East, we expect oil prices to remain flat. Sustained production growth in US shale oil and other non-OPEC sources will continue to act as a major balancing factor in the energy sector, in our view.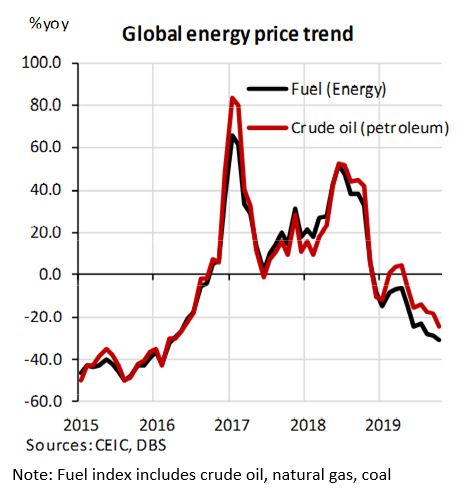 China has seen soaring pork prices this year, owing to major cutback in pig supply from disease. India has seen headline inflation firm up on the back of a spike in onion prices. But beyond these idiosyncratic factors, food inflation is only mildly recovering after a sharp contraction in 2018/19. We will however remain worried about the rising frequency of natural disasters and climate change related developments that could affect global agriculture production in the coming years.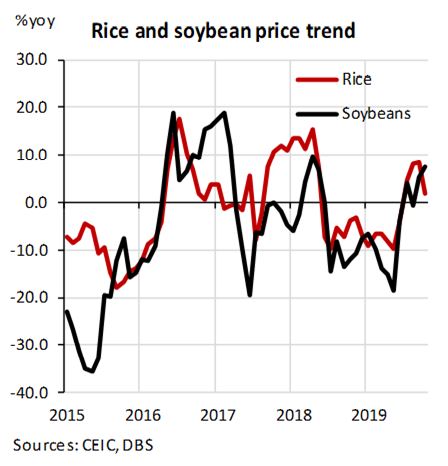 To read the full report, click here to
Download the PDF
.