Elevated and rising oil and energy prices constitute a significant headwind for Asia interest rates and Asia sovereign bond total returns.
Energy prices are a key variable in Emerging Markets. Fluctuations in energy prices have a direct impact on trade and current account balances and will also passthrough, to varying degrees, onto domestic inflation and inflation expectations. Many countries in Asia are net oil importers, and thus their exposures to oil prices are mostly negative (benefit from lower rather than higher oil prices). Malaysia is a notable exception with a net oil trade surplus (net oil exporter). Indonesia, due to its exports of other commodities such as coal, CPO and gas (prices tend to be correlated to oil), enjoys some extent of buffer/hedge against higher oil prices.
Though higher oil prices are generally a headwind for Asia, the nature of underlying drivers matters. If higher oil prices largely reflect strong global growth and demand, then there would be offsetting benefits on Asian exports. A more positive global outlook would also be supportive of risk sentiments and tend to drive tightening of risk premium in higher-beta Asia bonds such as IndoGBs. On the other hand, if the underlying drivers are more cost-push/supply-driven (as in the current context), then higher oil prices would not only drive higher inflation, but also weigh on demand and growth via higher input costs.
When we compare relative moves across Asia interest rates, we see clear differentiation based on each respective countries' exposures to oil and energy prices. Countries with larger oil and energy trade deficits and bigger passthrough risks to domestic inflation are seeing their interest rates rise more. The degree of passthrough risks can vary across Asian countries, depending on the presence of energy subsidies, oil-related weights in CPI baskets, central banks' inflation-targeting credibility etc.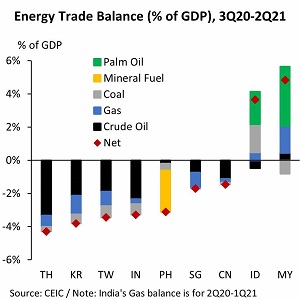 In terms of impact on Asia interest rates, we think that the size and pace of increase in oil prices is a more significant factor than the level of oil prices. This is because the primary mode of oil impact is via passthrough to higher inflation and inflation expectations that would be priced into rate hike expectations. To measure the sensitivities of Asia interest rates against fluctuations in oil prices, we regress weekly changes in 5Y swap rates against weekly changes in Brent price, over the last 10 years.
Across the entire sample period (red bars), we find that INR rates exhibits the largest beta to Brent price, rising 0.8bps for every $1 increase in Brent price. The betas of THB, KRW, MYR, PHP and CNH rates are quite close to one another, between 0.3 and 0.4. IDR rates (we substituted with IndoGB yields due to illiquidity of IDR swap markets) is the one outlier with a negative beta. I.e. IndoGB yields tend to decline when Brent price rise, primarily due to compression of risk premium mentioned above.
When we split our sample into high-price (Brent >$60) and low-price (Brent <$60) ranges, we find that Asia interest rates generally exhibit larger betas at higher Brent prices (CNH rates a outlier). This holds true even as a $1 change in Brent price is worth less in percentage terms in a high-price regime. The asymmetry likely points to greater risks of un-anchoring of inflation expectations at higher oil price ranges.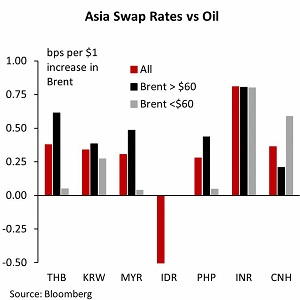 Asia interest rates also generally exhibit larger betas when the absolute change in Brent price is larger (PHP rates a outlier). I.e. Larger changes in Brent price could be more likely to trigger repricing of inflation expectations.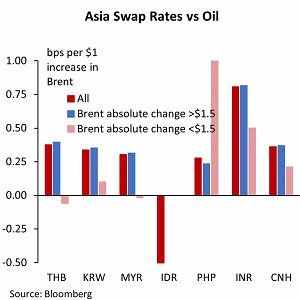 Between weekly increases and declines in Brent prices, we find that beta sensitivities of 5Y Asia swaps are symmetrical in either direction.
At present, underlying cost-push factors are likely outweighing demand-pull factors in supporting oil and energy prices. And some of these supply-related drivers are not likely to ease in the near term. Therefore, in the current context, we think that elevated and rising oil and energy prices are unambiguously a headwind for Asia interest rates and negative for Asia sovereign bond total returns. In the current high-price and high-vol oil regime, applying our observations above, we would also expect Asia interest rates to be volatile and highly sensitive to fluctuations in oil prices.
Within the Asia interest rates space, our strategy favours going underweight India/Thailand/Korea/Philippines sovereign bonds (negative exposures to oil and energy) vs overweight Indonesia/Malaysia bonds (positive or less negative exposures to oil and energy).

Considering the beta sensitivities of respective Asian swap markets, the best expression of the view that oil and energy prices are likely to stay elevated is via INR swap rates. In our recent report INR Rates: Greater normalization impetus, we had favored bond-swap spread tighteners - Long 10Y IGB vs pay 5Y INR NDOIS, to leverage on swaps' greater beta sensitivity to rising oil prices and rate cycle expectations. However, markets have moved quickly on that spread and current levels may not be attractive to enter. We therefore switch and express via initiating a Pay 5Y vs Receive 1Y INR NDOIS (steepener) at entry 1.26%, stop-loss 1.05% and take-profit 1.55%. The 5Y-1Y INR NDOIS spread tends to track oil prices well and is carry-friendly. We also expect the 1Y to be better anchored by RBI's accommodative stance while elevated oil prices would put disproportionately more upward pressures on the 5Y.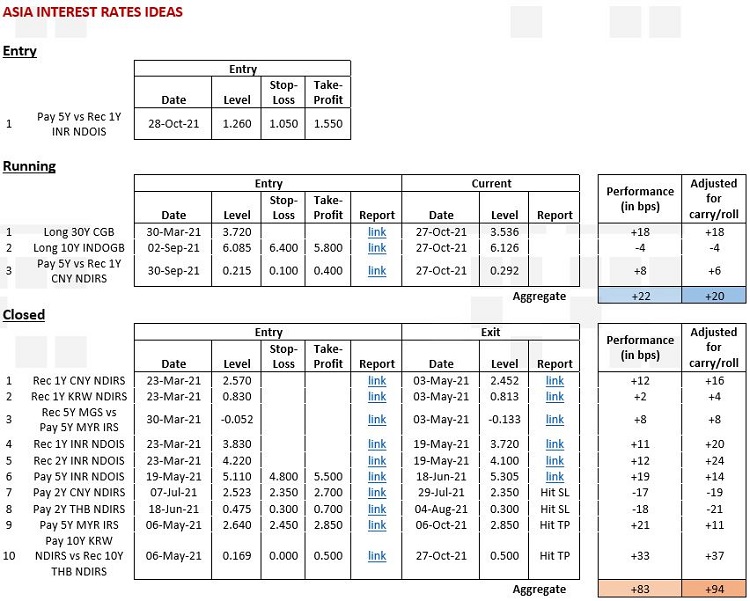 Report Links - 23-Mar-21 30-Mar-21 03-May-21 06-May-21 19-May-21 18-Jun-21 7-Jul-21 2-Sep-21 30-Sep-21

To read the full report, click here to
Download the PDF
.
Subscribe
here
to receive our economics & macro strategy materials.
To unsubscribe, please click
here
.