India and Indonesia's consumer inflation paths are likely to diverge in the face of the recent rally in global oil prices.
To read the full report, click here to Download the PDF.


India and Indonesia's consumer inflation paths are likely to diverge in the face of the recent rally in global oil prices. Global crude prices have surged to seven-year highs in the face of a persistently strong demand slower restoration of supplies.
India – sticky inflation ahead

Following the rally in Brent prices, India's crude benchmark is up 66% year to date, rising towards $85/bbl. Oil imports account for nearly 75-80% of India's needs. Add to this, the liberalization of most fuel types has made domestic prices more sensitive to global trends.
As we discussed here, domestic fuel retailers resumed price increases after a hiatus, which has led high oil prices and rigidity in fuel taxes to push pump prices to record highs. As the table below shows, the retail selling price as on 16-Oct is more than 2x of the base price, for both fuel types. Additionally, taxes (centre and states) are at 1.3x petrol and 1x of diesel base prices in the capital in mid-Oct.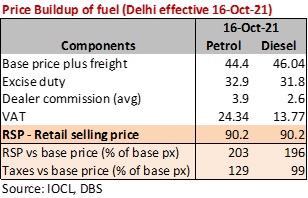 Under the CPI basket, fuel and light has 6.8% weight, with transport and communication (T&C) at 8.6%. The fuel index is up an average 11.9% y/y between Apr-Sep21 and T&C up 11% in the same period, outpacing the headline which averaged 5.3%. The direct and indirect impact via the weightage of fuel and related products in the inflation basket, implies that for every $10pb move in the oil prices, it results in 30-40bp change in the headline CPI according to the RBI, with a bigger impact on WPI inflation, and amplified further as persistently high transportation costs can seep into food and inflationary expectations.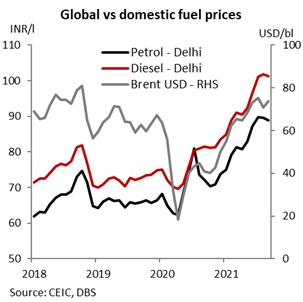 Coal's weight in the retail CPI basket is negligible and modestly higher (2.1%) in the wholesale price basket, but the indirect impact is magnified via input price pressures through manufacturers (aluminum smelters, cement, steel mills etc.) and utility tariff increases (if approved). Apart from hurting the pace of production, through the value chain, risks of an eventual impact on discretionary purchasing power and consumption are additional concerns.

Oct-Nov21 CPI inflation is likely to provide transient relief on base effects – briefly slip below 4%, but head back towards 5.5-6.0% yoy in 1Q22 on high energy prices, input price pressures, reopening of service sectors, delayed rains pushing up staples and receding base effects. We expect FY22 inflation to average 5.2% before easing to 4.3% next year, but stay above the RBI mid-point target. This will add to the buoyancy in rates/yields on policy normalisation trades (see our INR Rates: Greater normalization impetus) just as pricier imports weigh on the currency (in addition to the bid US$).

Recent Minutes from the RBI MPC's October policy meeting point to increasing concerns expressed by non-RBI members on excess liquidity and the inflationary trend. With the decision on reverse repo rate and Variable Reverse Repo Rates (VRRR) resting with the central bank, we expect them to bite the bullet and consider an incremental increase in the reverse repo rate (by 20bps each), followed by a stance change, starting late-2021. Rates hikes are unlikely to be under consideration at least until 2H22.
Indonesia – inflation hovers below target
The increase in non-oil commodities (coal, palm oil etc.) is beneficial to Indonesia's terms of trade and fiscal revenues (see our report here), while impact of oil is under watch, as the country is a net importer. The upstream regulator was cited here saying that elevated global prices provided an opportunity for local producers to step up production, lifting revenues, profits and translating into higher collections – Jan-Aug21 revenues from upstream operations have surpassed targets.

On CPI, Jan-Sep CPI inflation averaged 1.5% yoy, below the BI's 2-4% target, with key sub-indices i.e., core inflation (weight 65.5%), administered (18%) and energy components on a benign path - see chart. Utilities by way of "Electricity, Gas, and Other Fuel" component carries a 5.8 percentage point (pp) weight, and under transport, "passenger transportation services' is modest at 2.6pp.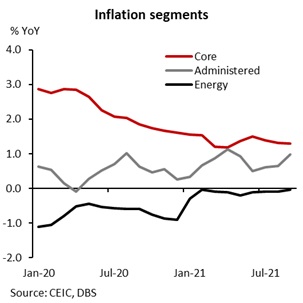 Despite a rally in the global oil prices, this is unlikely to translate into higher inflation in the near-term owing to inbuilt shock-absorbers, by way of –
partial passthrough of higher oil prices (subsidized low-grade fuels i.e., below RON92). For instance, prices of RON88-90-92 have not changed since the start of 2020, through the pandemic
fixed electricity tariffs (for smaller households) and a lagged quarterly adjustment for medium/large customers
Fixed procurement agreements: In midst of the pandemic and supply disruptions, the authorities reinstated regulated domestic market (sales) obligations under which 25% of the supply must be sold domestically, a breach of which attracts stiff penalties and a ban from the lucrative export markets or leads to a freeze of export licenses. Most electricity producers also acquire supplies on fixed rates, limiting the immediate fallout of higher international prices.
Considering limited pass through of inflation, we maintain 2021 inflation to at 1.5% yoy, before rising to a revised 2.5% next year on base effects but still on the weaker end of the BI target range (assuming no subsidy reforms). With economic output still below pre-pandemic levels, energy price adjustments are not imminent, even as the fiscal strain might show with a lag. Energy subsidies (fuel and electricity) fell from over ~3% of GDP in 2013-14 to sub-1% of GDP last year, before poised to edge back up this year-2022. However, this will not carry adverse impact on the fiscal math (see here). Nonetheless, as growth returns to normalcy and the pandemic is behind us, the pressure to reintroduce subsidy reforms is likely to return, to relieve pressure on the revenues and SOE finances in the related sectors.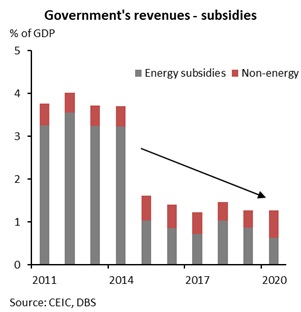 With little imminent impact on inflation on the cards, we maintain our call for the BI to remain on extended pause, whilst firmer fiscal math keeps a lid on 10Y yields (see Asia Rates: IndoGBs in a sweet spot). US Fed's taper plans and consequent volatility will be under watch.
Subscribe
here
to receive our economics & macro strategy materials.
To unsubscribe, please click
here
.