Malaysia's electrical and electronics sector is a key economic driver. We explore its potential and challenges to move up the value chain, as the country pursues high income status.
This is a summary of the report, please download the PDF for the full report
Malaysia's electrical and electronics (E&E) sector already plays an important role in the economy. We believe that E&E will remain a key driver of industrial development and its eminent position will be emphasised over the coming years, with Malaysia aiming to achieve high income nation status.
As highlighted in the 12th Malaysia Plan (12MP) - released in late-September, the country is striving to grow into a 'prosperous, high income, inclusive, low carbon, high-tech and sustainable nation' by 2025. The plan identifies E&E as one of the strategic and high impact industries that would hopefully help to propel economic growth to a target of 4.5% - 5.5% per annum over 2021 to 2025 (similar to the pre-pandemic growth path).
Malaysia's key focus will be moving E&E up the value chain, but in our view, this will be an uphill task. It has much room to catch up to other more advanced Asian peers in areas such as high skilled talent, research and development (R&D), and a more comprehensive ecosystem involving the front end.
A beacon of strength
Malaysia's E&E sector (accounting for ~6% of GDP and around a-quarter of manufacturing) has been a beacon of strength over the past couple of years. E&E delivered strong expansion of an average of 5.4% per annum over 2016 to 2020 in real terms, not only outperforming headline GDP (2.7%), but also the overall manufacturing sector (3.3%). E&E also registered relatively consistent and decent growth of around 5% per year in the previous five years from 2011 to 2015. In comparison, however, the expansion was roughly in line with the broad economy and the manufacturing sector during that period. In terms of productivity, the E&E sector has been more productive compared to other segments of manufacturing and the overall economy. Average E&E productivity growth was already stronger than broad manufacturing over 2011 to 2015, and their productivity growth gap widened in 2016 to 2020. This underscores the government's priority in further boosting the more productive sector.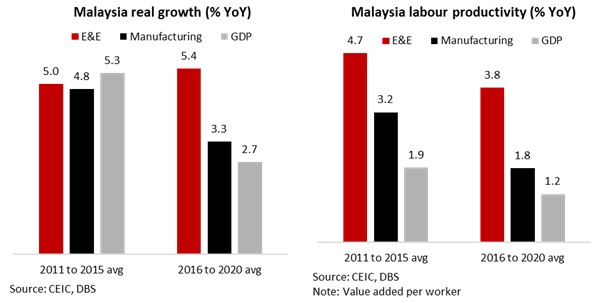 Key external fundamental support
Malaysia's E&E sector is a key ingredient in the country's export-driven growth model, and will continue to provide strong fundamental external support, in our view. E&E accounted for an overwhelming share of overall exports at close to 40% in 2020, slightly below around 47% for other manufacturing goods. Within E&E exports, semiconductors have grown in importance, significantly overtaking that of other products. E&E's export share also increased at the expense of primary commodities exports over the past couple of years. This trend would extend further, particularly as the emphasis in the 12MP shifts towards growing technology and reducing the reliance of commodities, amid increased global urgency to tackle climate concerns.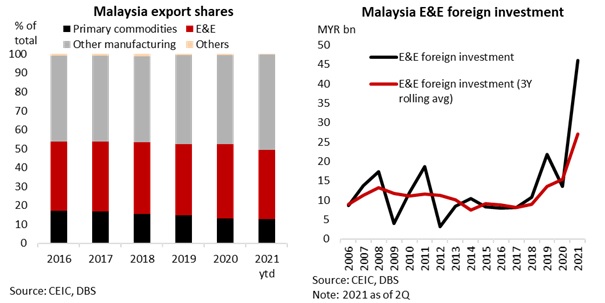 Malaysia's manufacturing investments have been supported by E&E. E&E investments have been largely dominated by foreign direct investment (FDI) inflows over the years, accounting for above 80% of overall investment in the sector. The incoming E&E FDI has therefore provided support to Malaysia's financial account. Malaysia's foreign E&E investment inflows have seen a sizeable pick-up since 2018, with 2021 looking to set a fresh record in investment value. 2020's fall was an exception due to the pandemic. Companies have diversified into Malaysia as part of their 'China+1' strategy, amid the intensified trade and technology dispute between US and China, which started during the Trump administration.
We think this shift towards alternative manufacturing locations looks likely to continue, as companies seek to maintain China as the primary production base, while increasingly looking for additional production locations. In our view, Malaysia is well positioned to benefit (see
'ASEAN's potential in semiconductor manufacturing', September 23, 2021
).
Aspirations to move up the value chain
Malaysia is aspiring to move up the E&E value chain over the 12MP period. Malaysia has been successful in developing itself into a key player in the global semiconductor value chain over the decades, but it lies majorly in the lower-end of the global semiconductor supply chain in assembly, testing, and packaging. The move towards technological upgrading and more innovative activities to improve productivity is key to reach high income status, like the Asian tigers, and avoid the middle-income trap.
In our view, the shift upwards is a difficult task and will not be smooth sailing. This is even though Malaysia has the potential to be more involved in the front-end E&E value chain activities such as design and chip fabrication, and attract high quality FDI. We think Malaysia has room to catch up to the Asian tigers, in terms of talent development and R&D, both of which were also mentioned in the 12MP. While initiatives mentioned in the 12MP to tackle these areas are relatively broad, it signals a move in the positive direction (see Appendix 2 in the pdf).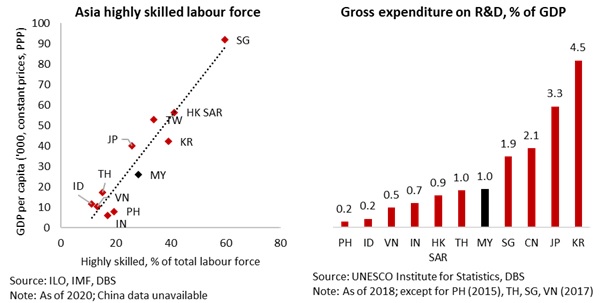 Room to train more highly skilled local talent
We find that Malaysia's highly skilled labour force is in the middle of the pack, when compared with other Asian economies in our coverage at DBS (where data is available from the International Labour Organization).
R&D and innovation key to productivity gains
Increases in R&D are important for Malaysia to move up the E&E value chain. Malaysia has been making efforts to innovate by steadily increasing its gross expenditure in R&D (GERD) over the years, even though there was a decline in 2018. The bad news is that Malaysia's R&D investment is low versus regional peers, despite the progress. Malaysia has much room to raise R&D spending to levels that are comparable to high income nations.
Other than human capital accumulation and raising R&D, the government is also looking to strengthen the E&E ecosystem. The Malaysia Semiconductor Association (MSIA) was formed in early 2021 to provide companies, especially locals, with a greater representation and serve as a collective voice for E&E and semiconductor firms to grow market share and rise in the value chain (
The Edge
).
To read the full report, click here to
Download the PDF
.
Subscribe
here
to receive our economics & macro strategy materials.
To unsubscribe, please click
here
.