Going into September's BOT meeting, we favour rates receivers and positioning in MYR and IDR vs the THB. In this close call decision, we see a 55% chance of a 25bps cut.
The Bank of Thailand (BOT)'s rate decision on September 29 will be a close call. Our base case is for the BOT to cut its policy rate by 25bps during this meeting to a fresh record low of 0.25%, with a probability of around 55%. In our view, the reduction would be a pre-emptive move to guard against further economic weakness in a still uncertain environment.
The BOT's dovish hold at its latest 4 August meeting set the stage for an impending cut. Two out of the six committee members (one absent) voted to lower the policy rate by 25 bps, marking the first dissent decision for a reduction since March 2020. The two members chose to cut rates, as they saw limitations in previously implemented financial and fiscal measures, even though the policy rate is a less targeted tool. They also thought that it would take some time for the impact for the rate cut to feed through to the economy.
Based on our estimates, since 2012, whenever there has been a dissent for a cut, the probability of an actual cut over the next three meetings is high.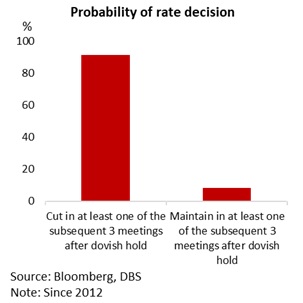 Even though Thailand's worst phase of the pandemic wave appears to have passed with easing virus cases and gradual loosening of curbs, we see weak macroeconomic momentum. The shaky backdrop can be seen from the deceleration in consumer and business confidence.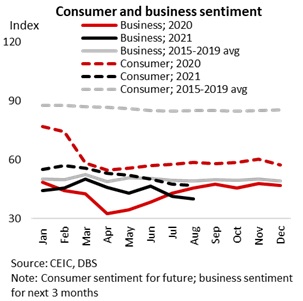 As of August, future consumer sentiment was worse than the levels seen in 2020, and a far way off the pre-pandemic average (also at the lowest level since at least 1998). Forward business sentiment has also been dropping, in contrast to the recovery seen in 2020, and will likely take some time to recover back to pre-COVID average. Moreover, risks of a virus resurgence amid the more contagious Delta variant remain as vaccinations play catch-up.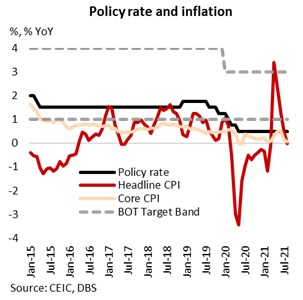 Inflation is meanwhile below the BOT's target, and disinflationary pressures appear to be building, owing to weak domestic demand. The authorities could seek to prevent a dis-anchoring of inflation expectations.
That said, the decision will be a close call, as the BOT could choose to hold, as it might adopt a wait-and-see approach or consider other targeted measures. It could decide to take a longer time to evaluate fiscal considerations following the increase in public debt limit to 70% of GDP from 60% on September 20 and pandemic-related developments: quicker-than-expected easing of virus curbs from September, and pick-up in the vaccination pace.
Rates: Favour receiver going into Sep meeting
Rate cut expectations have been pared back in recent weeks, as seen by the retracement higher of front-end IRS to levels just prior to the August meeting. IRS markets now expect BOT to keep policy rates unchanged in the near-term and achieve rate lift-off only in 2023. Considering that markets are priced for a hold on Wednesday, risk-reward could favour pre-positioning with a receiver. A surprise cut will drive outsized immediate moves - 1Y and 2Y IRS could decline by 10-15bps and 10Y-1Y curve spread flatten by 5-10bps.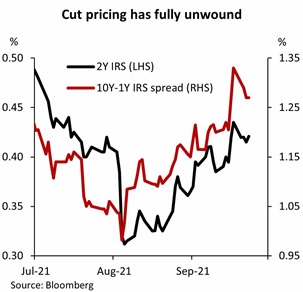 FX: Negative carry and over-valuation
Given our non-consensus call for a BOT rate cut and widespread market expectations for a hold, we think
risk-reward favours positioning for further THB weakness into the BOT meeting.
Thai short-term bonds already offer the lowest carry across Emerging Asia, with the 2Y bond giving a paltry 0.53%, or 80bps lower than the second lowest yielder in Asia, Korea.
A BOT rate cut will significantly worsen the baht's negative carry differential against its regional peers, and is likely to keep THB under pressure.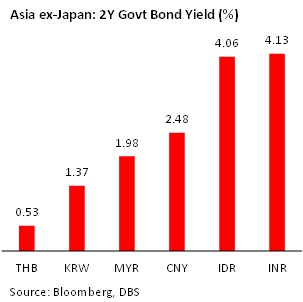 We have earlier explored Thailand's balance of payments dynamics, which look unfavourable for the THB (see
DBS Focus – Thailand: Baht's overvaluation
, 8 Sep 2021). While the THB has depreciated sharply and is Asia's worst performer year-to-date, it continues to trade above its long-term fair value, based on our DEER model. Hence, THB's current valuation should not hold back BOT from further easing. In fact, further downward adjustment in the THB is likely needed to support the economy.
As such, we maintain our recommendation favouring MYR and IDR against the THB.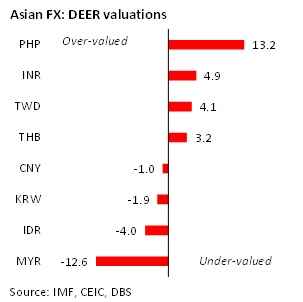 To read the full report, click here to
Download the PDF
.
Subscribe
here
to receive our economics & macro strategy materials.
To unsubscribe, please click
here
.