The US economy has hit summer doldrums to some extent amid Delta variant worries. For markets, we think that USD rates already reflect the dent to growth.
US economy's ebbing momentum and market implications
The US economy has hit summer doldrums to some extent. While the economy is still doing well by global standards, there has been a clear deceleration in momentum lately, concerning markets. Delta variant is the key spoiler, but chip shortages and China-related worries are weighing in on production and investor sentiment as well.
The sharp dip in services PMI, from 70 in May to 59.9 in July, is concerning for an economy that has otherwise been roaring. In order for our 2021 forecast of 6.8% to pan out, we would need the Delta spread to peak this month and services to come back strongly from September onward. But vaccination rates have flattened, parts shortages continue to hamper production, high shipping costs are eating into profits, and an unusually warm summer has caused widespread disruption to activities in parts of the country (see charts on page 2 for to gauge the state of the economy). Adding these up, we see 50bps downside risk to our forecast.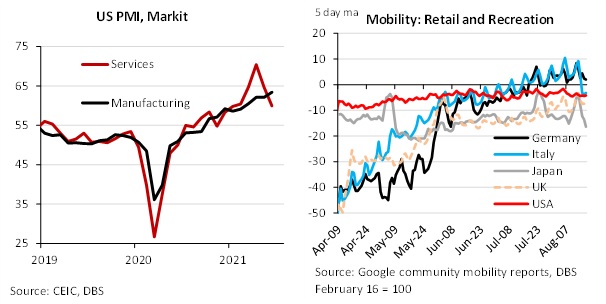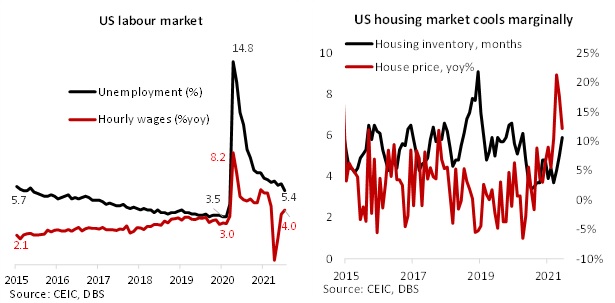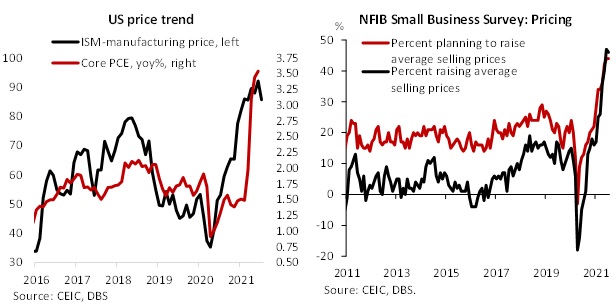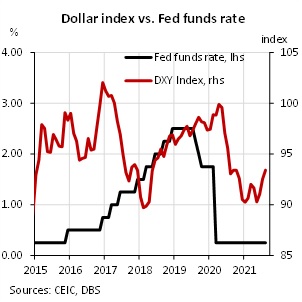 US Rates: Transition pains
The global economy is shifting from a COVID-19 Pandemic to an endemic situation. However, there are challenges.
In particular, global growth is uneven as the vaccination pace across countries diverge. In the developed markets, the US, UK, Europe and Canada have already achieved very high levels of vaccinations (>50% of population fully vaccinated). Comparatively, the emerging markets (including Asia) will need several more quarters to reach the same stage. This transition process is also complicated by the Delta variant (more transmissible) which has spread to many parts of the world, triggering restrictions in economies that do not have sufficiently high vaccine coverage. Uneven growth is clearly represented by the outperformance of DM PMI composite indices compared to their EM counterparts. Even in the DM where vaccinations rates are high, elevated COVID-19 cases should prompt some caution. On balance, while we think that
the Delta variant has delayed the global recovery, we do not think that the recovery has been derailed.
That said, with growth risks weighing, US Treasuries are likely to stay supported for a while.
We have pushed back yield curve normalization and now see 10Y US yields at 1.6% by end-2021 before a modest drift higher towards 2%.
The global push towards monetary policy normalization is underway and should lift longer-term US yields (drawing the centre of gravity higher) when concerns on COVID-19 ease.
For the US, headline inflation figures have been uncomfortably high for several months. Meanwhile, job creation stood at close to 2mn in the two months ending July, driving the unemployment rate to 5.4%. While Delta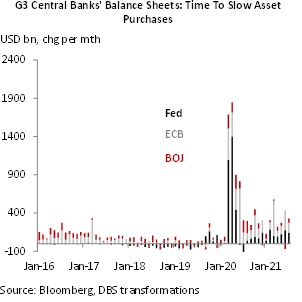 variant risks bear watching, we still see the Fed as on track to taper by end-2021/early 2022. Beyond that, we still see rate hikes as more likely for 2023.
For the ECB,
there would
be plans to ensure that quantitative easing does not fall too quickly
when the Pandemic Emergency Purchase Programme (PEPP, EUR 1.85) expires in March 2022. The current pace of bond buying is about EUR100bn per month
(of which EUR 80bn PEPP and EUR 20bn Asset Purchase Programme) and is set to slow to just EUR 20bn when PEPP ends. This would entail a far sharper taper timeline than what market currently expects from the Fed.
An asset purchase pace of about EUR30-40bn in April (post PEPP) would probably be more palatable. The upshot is that major central banks will be withdrawing support for government bonds. We expect the curve to bear flatten over the coming few quarters. As highlighted previous
(see
here
), the USD curve has likely passed peak steepness. Tactically, we do think that the back of the curve may be too flat as market participants overshoot to the downside on COVID-19 pessimism following Delta variant outbreaks across multiple economies. This mirrors the overshoot of optimism in 2Q when the virus appears to be receding in many parts of the world. We view neutral for 10Y US yields to be around 1.6%. Accordingly, this pegs 30Y US yields at around 2-2.2%.
We think 10Y USD rates are a pay closer to 1.20% (sufficiently pricing in growth risk),
below which we think makes little sense as the world transits into an Endemic situation. Given better virus management now, we don't think a premium of more than 40bps in UST makes sense. In any case, we suspect that the current COVID-wave could crest In the coming weeks, dissipating some growth concerns.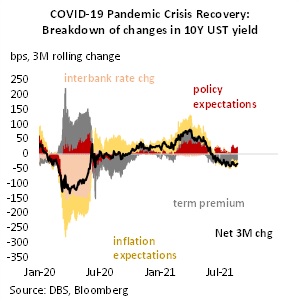 Our USD rates breakdown suggest that market pricing for Fed hikes has been fairly stable (3Y and 5Y SOFR have been stuck in range).
We think 5Y SOFR is a pay closer to 0.60%, underscoring our view that the belly of the curve could face more persistent upward pressures over the medium term.
Meanwhile, inflation breakevens, while off highs, have stayed elevated by recent standards. We are neutral on this, noting that breakevens could come under pressure if nominal USD rates normalize higher as we expect. On the other hand, it is not possible to settle the debate on transitory versus persistent inflation just yet.
Term premium is extraordinarily low, likely reflecting growth worries
(as mentioned above). It could also reflect
the lack of monetary policy options
if a crisis does hit in the near term.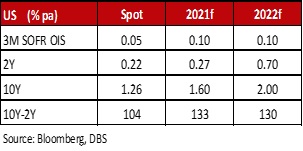 To read the full report, click here to
Download the PDF
.
Subscribe
here
to receive our economics & macro strategy materials.
To unsubscribe, please click
here
.