The market shall prepare for fundamental economic development course adjustment – a shift from developing services sector to enhancing manufacturing capacity.
Commentary: Will China follow the German Model?
The heightening risks of China's ongoing regulatory crackdown has continued to haunt the market. The document published by the government on July 7 clearly stated the target is to restore the order of capital market in 2022. But to what degree would China pursue to rectify the wrongs is a "known unknown". The fundamental shift of ideology away from Washington Consensus (premises on free market principles) to Beijing consensus (that premises on control and order) does not provide a clear roadmap of the future. For certain, China will not go back to an autarky state. Her own development experiences had successfully proven capital market reform and trade liberalisation warrant economic prosperity. In the short term, China aims at rectifying imbalances in various industries that exemplified social inequality. Equity strategists around the globe has already mapped out the risk profile of different industries facing potential regulatory risks. However, in order to better comprehend the long run perspective of China, we must turn our attention to the German development model, which the authorities are studying intensively now.
There are four fundamental reasons why the German model appeals to China. First, the financial system is dominated by state banks coexistent with credit union and commercial banks. Second, manufacturing sector in Germany is much bigger than the banking/financial sector. The value-added as a share of GDP, the former is well over 20%, versus 3.7% for the latter. (China increasingly views predominance of financial sector in an economy is a result of excessive expansion of capital. Since the Global Financial Crisis, the share of finance as percentage of GDP rose from 4.0% in 2006 to 8.3% in 2020.) Third, Germany is an export-led economy similar to the Great Bay Area. Exports as percentage of Germany's GDP rose from 20.5% since its unification to almost 40% of late. This compares to 47.3% of Guangdong. Fourth, Germany has not experienced any financial crisis ever since World War II. The economy remained resilient in the global financial crisis in 2008 and European Sovereign Debt crisis from 2010-2012. What exactly the German development model is however requires in-depth study. Based on my understanding, it can be interpreted as "De-emphasises the importance of Services Sector (Financial Sector in particular), Scales up the Importance of Manufacturing Industries." In fact, the 2021 working government report pointed out the ratio of manufacturing sector in China cannot fall further from existing level (40.1%). One of the axioms of the western model is to scale up the service sector as a share of GDP in order to qualify as an advanced economy.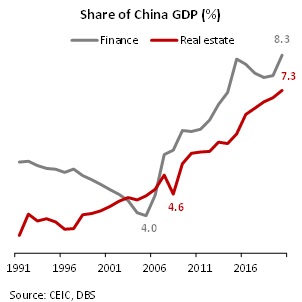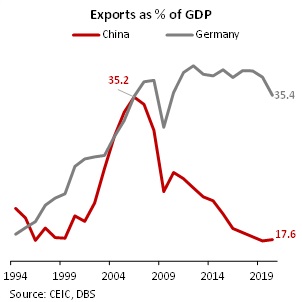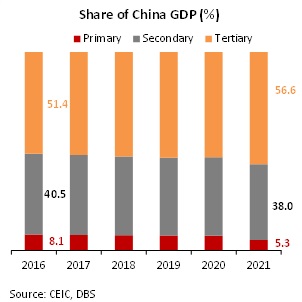 Another observation is the conversion of Tier 3 universities in China into vocational/technical training schools beginning this year. For those students that cannot pass the Nationwide Unified Examination for Admissions to General Universities and Colleges, will automatically be enrolled in vocational training school for industrial specialist trainings. In Germany only 18% of the students pursued Bachelor degree, whereas the rest mostly went to technical schools. That ensures constant supply of talents to support the heavy and advanced industries.

As far as housing policy is concerned, China has been encouraging people to rent apartments instead of purchasing them at exuberant prices. Such policy peculiarity is also present in Germany. The government there also encourages people to rent apartment in a permanent basis. There are administrative restrictions on annual rental increment. No wonder 58% of the German people rent apartment. There are no financial burdens on housing for young people in Germany as evidenced by 77% of youngster lived in rental apartment.
Of course, there are vast differences between China and Germany too. Service sector in Germany represents 69% of GDP, lower than the US' 80%, but much higher than China's 52%. Per capital income of Germany was USD52,000 given a population size of 8.3 million. To compare, China's per capita income is only USD11,000 with a gigantic population of 1.4 billion. There is no way to completely replicate the German model given vast differences in culture, history, and industrial structure. But there are intelligent policy/institutions designs that safeguard the long-term stability of the country, which China can learn wisely. The departure of Beijing from the Anglo-Saxon model has already begun. The German model is a strong contender as a guiding development model. The market shall prepare fundamental economic development course adjustment beyond the regulatory crackdown. The manufacturing sector will likely be in the driver position for the long haul. That is not to say China will not look after the service sector. It is just the relative importance will likely change.
To read the full report, click here to
Download the PDF
.
To unsubscribe, please click
here
.