Across EM / Asia, containing the ongoing Delta variant has proven to be more challenging due to relatively low vaccination rates.
Maintain – Pay 2Y THB NDIRS (entry 0.475%, current 0.405%); Pay 5Y MYR IRS (entry 2.64%, current 2.55%)
Our pay 2Y THB NDIRS and pay 5Y MYR IRS ideas have underperformed. The more challenging COVID-19 circumstances in Malaysia and Thailand have suppressed rate hike expectations and weighed on their swap rates. Across EM / Asia, containing the ongoing Delta variant has proven to be more challenging due to relatively low vaccination rates. Market participants expect monetary policy to stay loose for longer.
At present, new infection rates in both countries are climbing without a peak in sight. However, further downside in THB and MYR 1-5Y swap rates are limited because of depressed levels (not pricing in any rate hikes over the next 12 months). Negative carry on our paid swap ideas are not too punitive (~1-3bps per month). Therefore, we opt to stay paid and hold out for an eventual containment of the virus.
We expect Malaysia to be quicker than Thailand in containing the virus, and by extension, faster at rebuilding rate hike expectations. Malaysia has stepped up daily vaccination rates from ~75,000 doses at end-May to the current ~500,000 doses. At the current pace, Malaysia is likely to fully vaccinate 70-80% of its population by year-end.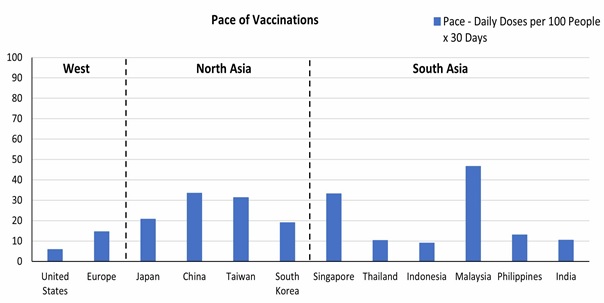 Besides vaccinations, fiscal/debt-related developments in Malaysia could be another trigger for 5Y MYR IRS rates to rebound. Malaysia is one of the few bond markets where we project an increase in gross MGS/MGII issuance to MYR179bn in 2021 vs MYR152bn in 2020. Finance Minister Tengku Datuk Seri Zafrul Aziz recently hinted at a possible increase in the statutory debt limit of 60% of GDP to accommodate wider fiscal deficits and higher bond supply to support the economic recovery.
The main risk to our pay THB and MYR swaps strategy is rate cuts by the Bank of Thailand or Bank Negara Malaysia. We presently assess this possibility as low. Policy measures to support the economy in 2H are likely to come mainly from the fiscal front, not so much on the monetary front.
Hit stop-loss on Pay 2Y CNY NDIRS (entry 2.523%, stop-loss 2.35%)
On 29 July, we were stopped out of our pay 2Y CNY NDIRS idea. The idea was initiated on 7 July, in anticipation of
higher bond issuances and as a result, tighter interbank liquidity and higher funding rates in 2H
.
Shortly after we released our report, PBOC announced a broad-based 0.5% RRR cut on 9 July (effective 15 July). Since then, CNY IRS and CGB yields have eased ~20-25bps across the curve amidst strong downside momentum. Fundamentally, the markets perceived a shift in the PBOC's stance from tighter liquidity worries in 1H to possibly more easing in 2H.
The near-term liquidity outlook looks quite favourable. PBOC rolled over CNY100bn of the CNY400bn of MLF that matured in July, meaning that net liquidity injection from the RRR cut could be as high as CNY700bn. While Chinese equities stay weak and there is a significant uncertainty overhang, PBOC could continue to net inject small amounts of liquidity via OMOs to support risk sentiments and pre-empt liquidity shortfalls.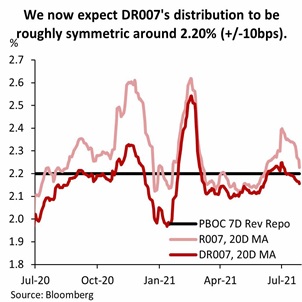 Therefore, over the coming 1-3 months, the trajectory of CNY rates is likely to be biased lower. Any bounce in CNY rates, possibly due to transient liquidity tightness, is likely to be capped and subsequently reverse.
Now that we have been stopped out of our pay 2Y NDIRS idea, our exposure to CNY rates has shifted to an outright long duration via our long 30Y CGB idea.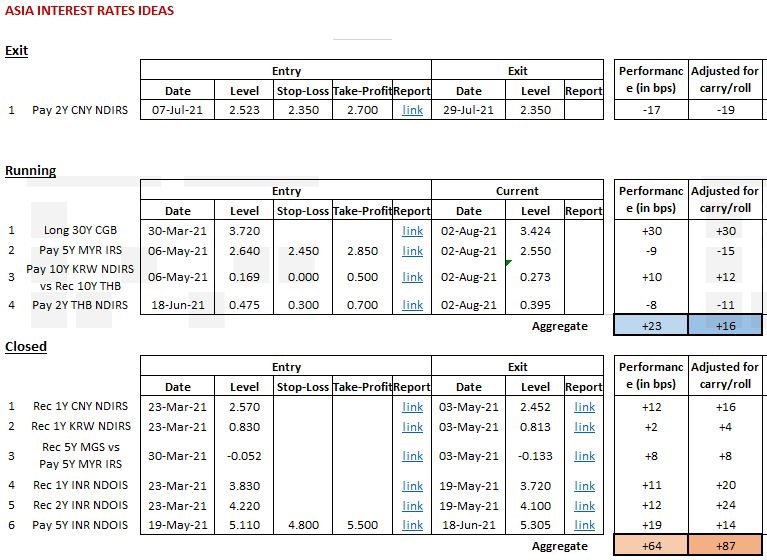 Report Links -
23-Mar-21
30-Mar-21
03-May-21
06-May-21
19-May-21
18-Jun-21
7-Jul-21
To read the full report, click here to
Download the PDF
.
Subscribe
here
to receive our economics & macro strategy materials.
To unsubscribe, please click
here
.