Rising outflows amid Chinese regulatory clampdowns poses risks for China credit and RMB.
Northbound funds suffered net outflows (Nathan Chow)
China issued new orders over the weekend in one of the biggest overhauls of the education sector. Under the directive issued by the State Council, only non-profit companies will be allowed to offer after-school tutoring. Foreign investors and listed companies will be barred from participation in the sector. For core school subjects, tutoring courses cannot be offered during weekends, public holidays as well as school breaks.
The new rules are being considered at a time when Beijing scrambles to come up with measures to make child-rearing more affordable and combat a looming population decline that threatens the country's growth trajectory. The announcements precipitated into a "panic selling" in the markets. China's education industry sub-index dropped as much as 15% from last Thursday's close. The sell-off extended beyond the education sector. Meituan Dianping's share price plunged more than 17% on Tuesday as Beijing announced new regulations for the food delivery sector. Tencent Holdings tumbled 9% as its flagship WeChat service had suspended user registrations and the company's music arm has been ordered to relinquish any exclusive deals held with global labels. Speculation about widening ban by the US on investments in Chinese stocks weakened overall sentiment.
Stock Connect data showed net selling of mainland shares through the northbound links amounted to RMB16.9bn in the last two trading days, bringing month-to-date outflows to RMB3.8bn. Though it is still a tiny dent to the cumulative buying spree of RMB220bn YTD, it underscores how fragile investor confidence has become amid regulatory clampdowns that seems to be getting worse.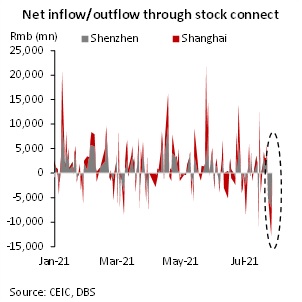 For now, it's unclear what level of restructuring the companies should undergo with the new regime. Meanwhile, the market fears the latest crackdown on the education and technology sectors could expand to other industries as Beijing steps up enforcement of antitrust rules and seek to reduce wealth inequality. Elsewhere, a campaign to cut leverage in the property sector will also weigh on builders' shares. Regulatory concerns will be the key overhang to the market in the coming months.

Implications for China credit (Chang Wei Liang)
Chinese USD credit are also not immune to a sell-off as investors turn more cautious on Chinese assets. Both Chinese corporate IG and HY DACS spreads have widened this week, albeit with small upticks of around 2bps.
In our outlook for Chinese USD financial credit (see DBS Macro Strategy – Credit: Asian financials credit outlook, 9 July 2021), we had flagged risks of Chinese regulators turning stern on various issues, potentially triggering spread widening in Chinese financial credit. Indeed, these regulatory risks are made clear in recent days, with announcements of expanding regulations for Chinese technology companies in education and food delivery.
While the financial sector is already well- regulated and is unlikely to face disruptive changes, the current sell-off in equities does pose risks. Loans collateralized by equity holdings or to listed entities adversely impacted by regulation now face elevated credit risks. Given risks of sustained portfolio outflows and a repricing of credit premiums, we maintain our cautious stance on credit spreads for Chinese senior unsecured and Tier 2 financial bonds.
We are also wary of a few highly leveraged Chinese firms where liquidity stresses can significantly worsen on the equity sell-off. Evergrande is a notable risk. The market sell-off has occurred while it is still in the midst of deleveraging and has just warded off an asset freeze by a creditor bank. A tumble in equities closes off channels for Evergrande to raise liquidity via equity sales. Furthermore, the decline in stock prices of its listed subsidiaries will further erode confidence of its USD bond holders, given the diminished market value of its assets. Chinese HY credit may thus face headwinds, as markets evaluate spillovers from continued distress at Evergrande.

Implications for CNY – Increased vigilance against more negative surprises (Philip Wee)
China's stock market brought the CNY closer to our forecast of 6.60 per USD by September. In June, we called for the CNY to consolidate between 6.40 and 6.60 after a year-long appreciation of more than 10%.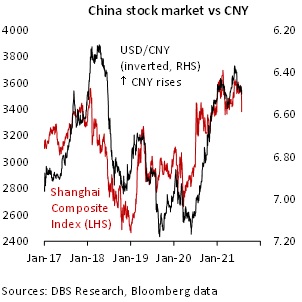 In our view, China's stock market became a proxy of capital flows for the CNY after Donald Trump became the US President in 2017. The trade war against China by the Trump administration and the US Treasury Department's three criteria for currency manipulation weakened the CNY's link with China's exports and kept foreign reserves stable.
The implementation of a managed floating exchange rate system in China based on market supply and demand that referenced a basket of currencies has tightened the correlation between the CNY and Developed Market currencies on a year-on-year basis. Hence, the CNY's depreciation above its month-long 6.40-6.45 range should be viewed as a catch up to the USD's rally in the past two months.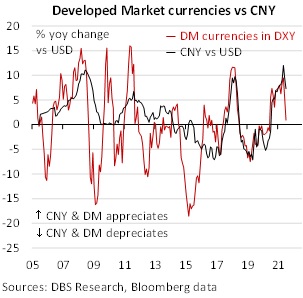 In summary, any downgrades to our CNY forecast will depend heavily on more weaknesses in Chinese stocks and more depreciation in Developed Market currencies. China needs to reassure investors that the crackdown on its education and tech sectors, not long after the one on commodities two months earlier, will not widen to other sectors. Rattled investors will have little tolerance for a deterioration in US-China relations beyond the stalemate evident from the high-level talks between the Biden administration and Beijing's top officials in Tianjin and Anchorage.

Implications for Hong Kong – HIBORs will remain anchored (Samuel Tse)
The Hong Kong stock market took a hard hit from the regulatory storm. The Hang Seng Index plunged by 7.9% in a week and is now 7.9% below its end-2020 level. Specifically, the Hang Seng TECH Index dropped by 25.8% this year amid various anti-trust rules. Its ratio vs Nasdaq 100 Index is at multi year lows.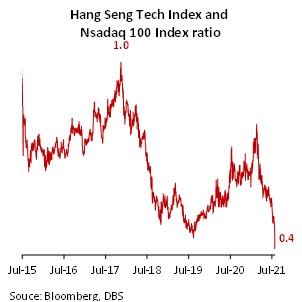 Share prices of various education stocks also slumped by over 80% after Beijing banned schools from making profits, going public, and receiving investment from foreign investors. We see signs of capital outflow in the stock market, with HKD37bn fleeing from Hong Kong through the Stock Exchanges in July.
Yet, the impact on interest rates is largely manageable amid flush liquidity. 1-M HIBORs stayed low at 0.08% with the spread against the LIBOR counterpart remained largely neutralized.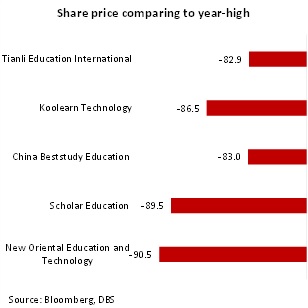 Overnight HIBORs, which tends to be more volatile amid market crash, also stayed calm at 0.05%, and its 3bps below the LIBOR. As rate hikes are not expected in the next 18 months, short-end HIBORs should remain anchored (see "HKD Rates - HIBORs to remain anchored"). Also, HKD only depreciated slightly against the USD, from 7.76 in early-July to 7.78 as of today. The exchange rate is still far from the weak-end of the USD peg (7.85), the level where the HKMA is obligated to buy the HKD from the interbank market. The HIBORs are not likely to soar in the near-term.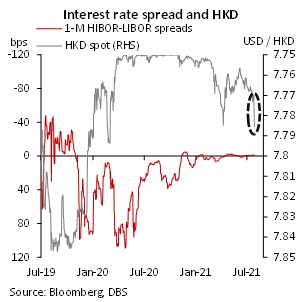 To read the full report, click here to
Download the PDF
.
To unsubscribe, please click
here
.