USD had a good rally in June-July; August may be challenging.
Commentary: An update on speculative positioning in selected currencies
According to CFTC data for the week to 20 July, speculators' net long USD positions were the largest since May 2020. However, the DXY index only returned towards the 93.3 high at end-March 2021.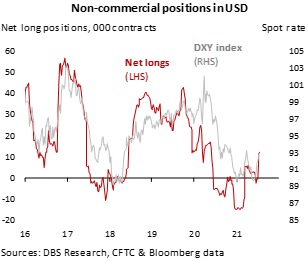 Unlike 1Q21, there was no strong accumulation of gross long USD positions on a rise in the US 10-year treasury yield. The long bond yield fell from 1.70% in May to 1.28% last Friday. This time around, speculators dumped their gross short USD positions from rising US inflation that fueled expectations for the Fed to taper asset purchases over the next 12 months.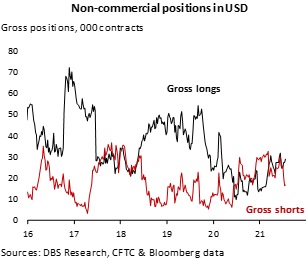 Speculative net long EUR positions were the lowest since the initial Covid-19 outbreak in March 2020. Although EUR/USD fell from 1.22 to 1.17 in the past two months, it was still well above the sub-1.10 lows in March-May 2020. Until these net positions turn negative, EUR is likely to hold 1.15-1.20 range for now.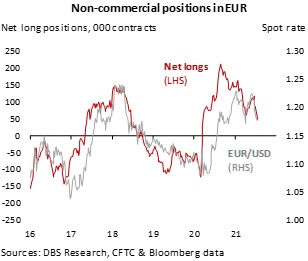 The current landscape mirrored the rebuilding of gross short EUR positions on a more hawkish Fed in 2018 after the reflation trade in 2017. EUR bulls will keep accumulating shorts as long as the Fed maintains its hawkish tilt against the ECB's dovish pivot. However, EUR bulls lack a weakening EU outlook to unwind their larger gross long positions.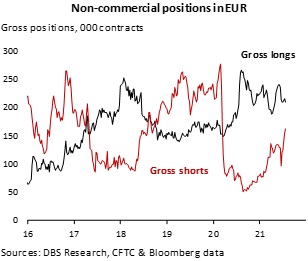 Speculators turned net short GBP for the first time since last December. This unwinding lowered GBP/USD from 1.42 at the start of June to 1.37 last week. However, GBP lacks the deep net short positions (driven by hard Brexit fears) that pummeled it to 1.20 in 2018-2019. Given the relatively flatter gross positions throughout the pandemic, GBP will probably consolidate in a higher 1.35-1.40 range for now.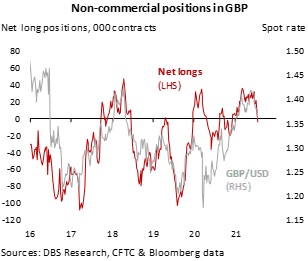 Speculators started building gross long GBP positions after the Bank of England closed the door on negative rates in late 2020, followed by UK's strong vaccination drive in 1H21. Over the past 1-2 months, this optimism was dampened by another rise in infection rates.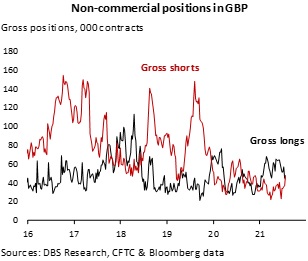 Net short AUD positions were the largest since June 2020. In July, AUD probably entered a lower 0.71-0.75 range from 0.76-0.80 in 1H21. AUD is unlikely to repeat the sell-off in March 2020 due to abundant liquidity.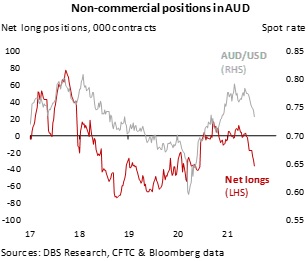 AUD weakness stemmed mainly from fresh gross short positions that started in June from a dovish RBA stance, Fed taper talks and currency depreciation in East Asia, Australia's largest export region. However, AUD bulls held on to their gross long positions on Australia's expected growth rebound, rising inflation and the eventual rolling back of its pandemic policies.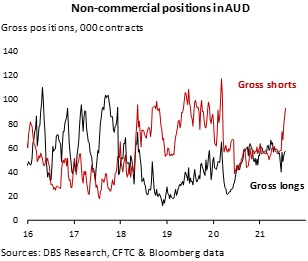 To read the full report, click here to
Download the PDF
.
To unsubscribe, please click
here
.