We examine the drivers of the sudden flattening of the yield curve over the past month.
Commentary: Making sense of the ongoing flattening of yield curves
Recent weeks have been characterised by strong US data, ranging from home sales to wage growth. Most strikingly, prices are rising, beating expectations. Last week, the US Bureau of Labor Statistics reported that consumer prices had risen by 5.4% over the past year, the fastest since August 2008. Also, the latest producer prices for final demand was up by 7.3% over the past year, the fastest since November 2010.
Monetary policy officials may consider the price developments transitory, but they are not ignoring the data entirely. The US Federal Reserve's shift in tone came last month, both with respect to growth and inflation, with most FOMC members bringing forward their time horizon of policy lift-off.
And yet, the US fixed income market's response to the data and policy developments has been rather extraordinary, with the yield curve flattening over the past month. Why are short-term rates up a tad and long-term rates down a lot? We think there are two major factors at play:
Growth upside largely priced in
Firstly, the narrative of (i) economic re-opening, (ii) pent-up demand being released, manifesting in higher prices, and (iii) some supply side crunch to continue for a while, is firmly on the radar of investors and well incorporated in the price of equities, houses, and other assets. This applies to both China and the US, and has been the case for most part of this year as vaccination began in earnest. Strong retail sales or jumps in housing prices data are therefore not surprising, rather expected. As expectations have become heightened, positive data surprises have all but disappeared.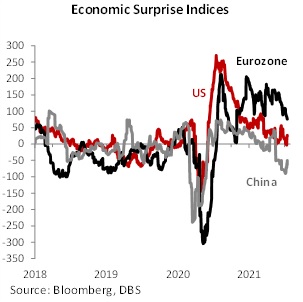 Inflation hawks are not persuading markets, at least not yet
Global shipping freight rates have soared, as have air freight rates, along with food, energy, metals and building materials. Rents have risen, wages are rising, prices of cars are rising due to a paucity of semiconductor chips, and services prices are beginning to firm up as well, in response to strong demand. Consequently, inflation expectations, after plummeting last year, have recovered, going well past 2% in the US.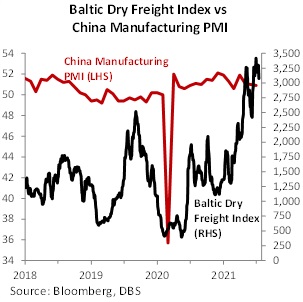 But recovery from the depth of the Covid crisis is one thing, hitting highs that can cause markets and central banker to take alarm is an entirely different thing. Since the rebound in expectations began, alongside a rise in actual reported inflation, there has only been trend-reversion, as per market-based indicators.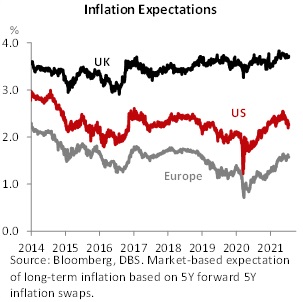 Despite recent developments, long-term inflation expectations, both in the US and EU, remain well below their levels 5 years ago. As commodity and other prices have soared, the debate on the near-term inflation outlook has ceased to matter; even US Fed and Treasury officials readily concede that above-trend inflation is here to stay for a few quarters. Especially in the US, with levels of nominal and real GDP likely to make up this year the losses due to last year's recession, Fed officials are increasingly of the view that the time to begin removing the extraordinary accommodation in place is getting closer. This feeds directly into higher short-term rates.
But for the curves to steepen in a meaningful manner, a lift-off in productivity, return on capital, wages, and prices would be warranted. The way the fiscal agenda is shaping up in the US and EU, with record investments in infrastructure and social spending likely in the coming years, these expectations could very well come to fruition, but that would have to depend on landmark legislative achievements and favourable economic dynamics. The market is yet to embrace this scenario.
Concrete expectations over the short-term bullishness and substantial uncertainty over long-run prospects explain the recent curve flattening, in our view. A passage of a multi-trillion dollar infrastructure package could be the first salvo toward curve steepening.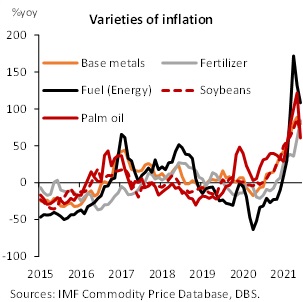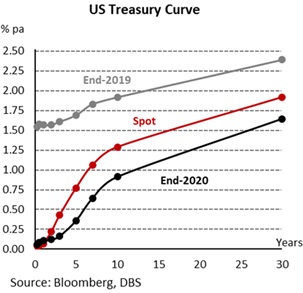 To read the full report, click here to
Download the PDF
.
Subscribe
here
to receive our economics & macro strategy materials.
To unsubscribe, please click
here
.