Strengthening jobs and housing market, gains in consumption and investment demand, and sustained public sector support characterise the ongoing the US recovery. We consider the data and implications.
Commentary: US economy at mid-year
Strong fiscal and monetary stimuli and rapid vaccination have put the US economy on course to mark a vigorous rebound from last year's pandemic induced contraction. Consumer and business confidence markers are up, as are manufacturing and sales. Jobs are a plenty, wages are picking up, housing market is at record highs, and additional fiscal support in the form of various infrastructure and social spending programmes is in the pipeline. Having stumbled with pandemic management last year, the US is leading industrial economies out of the temporary but deep slump of 2020.
A closely followed aspect of the rebound is the labour market. As per recent data, notable job gains have occurred in leisure and hospitality, in public and private education, and in health care and social assistance, with the unemployment rate down to 5.8% and wages growing at a healthy clip.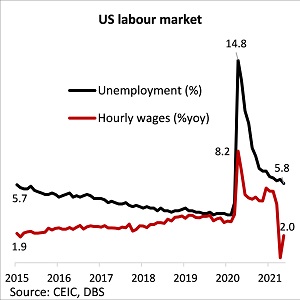 Still, there are over 9 million jobless people without jobs, and the labour force participation rate, at 61.6%, is 3.1 percentage points below the pre-pandemic level. Lingering issues related to discouraged workers and skills mismatch are causing an odd mix of plenty of vacancies and plenty of jobless people.
Low interest rates, ample liquidity, changes in housing preferences owing to the lockdown experience, and growing optimism about the outlook have brought borrowers and lenders together to buoy the real estate market nationwide. Housing inventories are at record lows, pushing up prices sharply. Demand for home renovation and construction has picked up too, causing a rise in the price of home building and renovation materials.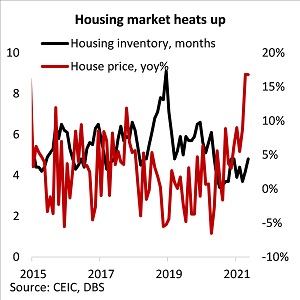 Deficit spending amounting to 27% of GDP between 2020 and 2021 has helped demand to sustain, helping production and retail sales. From autos to electronics, Americans are shopping with gusto, and producers are busy meeting the demand, often running into supply side bottlenecks. Chip shortages have slowed auto production, which in turn has caused record demand and price for pre-owned vehicles.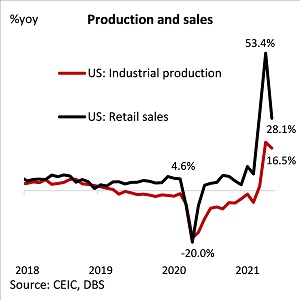 Cyclical rebound in housing and retail, and policy driven structural push toward green technology and improved infrastructure are creating sizeable momentum for investment. While some of the recent figures are flattered by favourable base effects, surveys of business owners and the pipeline of policy action suggest that capital spending is going to be strong for years to come. Our US investment forecast is only modestly optimistic, and yet that is sufficient to create space for close to 7% GDP growth this year, complemented by consumption and public spending.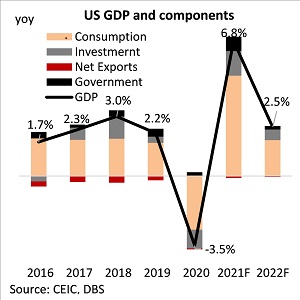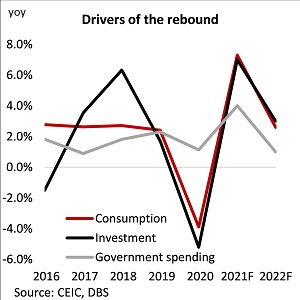 With a variety of idiosyncratic factors (chip shortage, livestock shortage, drought, busy shipping lanes) coming to the surface at the same time, especially when global demand is on an uptrend, inflation has picked up, unsurprisingly. This is beyond just base effects; there is substantive price pressure in a variety of activities, which may be heightened further as wages pick up. In recent years, higher input prices meant lower margin for producers, who were hampered by competition. With common shocks galore, this time may well be different.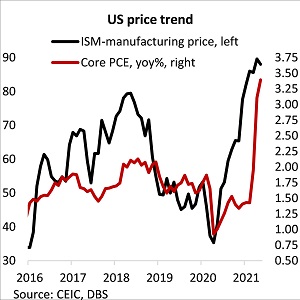 Rebound versus recovery
For all the talk of inflation and overheating, by the time next year ends, both price and output levels would still be below trend. The Federal Reserve's average inflation targeting objective (2% over the medium term) would remain elusive even after sharply above trend inflation this year and next, as per our estimates.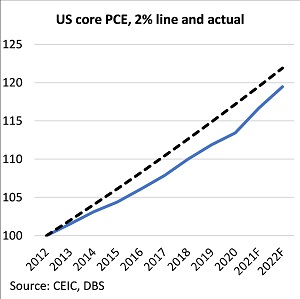 Similarly, whether it is employment or GDP, despite enjoying an ongoing vigorous rebound, trend reversion is at least a couple of years away.
This is where the key point of contention between the markets and policy makers lies. As the economy heads toward trend, the expectation would be that some of the extraordinary support measures deployed during last year's crisis would be removed gradually, especially those entailing asset purchases and income support for households. But policy makers are fearful of premature tightening, with the goal of letting the economy run hot to maximise labour market gains. Similar considerations are involved with the Fed's "driving while looking at the rear-view mirror" approach to inflation targeting, which would rely less on forecasts and more on the recent track record.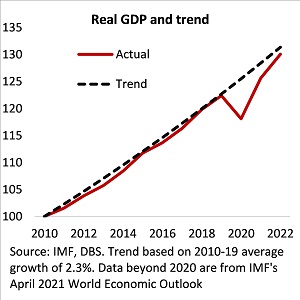 Granted, the magnitude of the policy stimuli has been in record territory, which could cause difficulties in managing a well-controlled exit from ultra-easy policies. There is more than 100% of GDP worth of public debt which needs to be serviced and refinanced at low rates; there is also demand for higher wages and public support schemes through the legislative route. To meet these demands while maintaining a credible price and debt management strategy would be exceptionally challenging in the coming years, in our view.
Taimur Baig
To read the full report, click here to
Download the PDF
.
Subscribe
here
to receive our economics & macro strategy materials.
To unsubscribe, please click
here
.