A material improvement in the regional growth outlook and strong recovery in capital inflows are necessary preconditions for us to turn bullish across-the-board on Asia bonds.
The Fed's shifting tone at this week's FOMC meeting, and the resultant moves in Asia macro markets, have validated the pay Asia rates stance across our running trade ideas and validated our cautious outlook around Asia government bond performance. Looking ahead to 2H, we think Asian rates/bond yields are primed to go higher. It then follows that we will continue to favour paying Asia swaps ideas.
Regional outlook not yet supportive
A material improvement in the regional growth outlook and strong recovery in capital inflows are necessary preconditions for us to turn bullish across-the-board on Asia bonds. And over the next 2-3 months, the outlook for growth and capital inflows are likely to be tentative, at best.
Vaccination pace and progress across Asia has been slower than the West, which could mean that we would remain susceptible to recurring waves of virus resurgences and the associated economic costs. Portfolio investment inflows have so far been uneven and mostly subdued, with bright spots limited to China equities and sovereign debt, South Korean sovereign debt and Indian equities. Looking ahead to 2H, the extended underperformance of Asian equities vs US/Europe doesn't bode well for near-term equity inflows. Except for China and South Korea, we are not confident of strong inflows into other bond markets due to a more hawkish Fed, negative real rates in several Asian markets, and general deterioration of Asia's FX-hedged yields vis-a-vis US.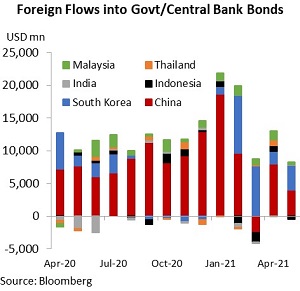 Risks for Asia rates/bonds outlook
There would be market expectations for Asia central banks to bring forward and/or increase the pace of policy normalization, and thus we should see some upward pressures on 1Y to 5Y Asia swap rates. Longer-tenor Asia bond yields are likely to reprice higher, possibly more than US bond yields, as markets incorporate higher Asia risk premia around a more hawkish Fed.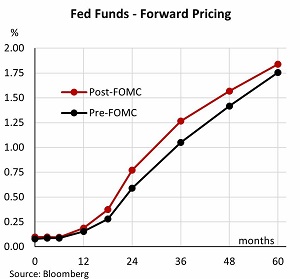 USD liquidity is expected to stay quite flush for a while, but once the taper process starts, we expect USD liquidity to be on a downtrend. Rates/bonds of countries that run current account deficits, relatively more dependent on external funding, have higher foreign bond ownership and still reliant on central bank bond purchases could see relatively more bear-steepening pressures.
We think that the sequencing of events will matter, as to whether Asia rates/bonds will experience volatility around the Fed's taper process. If downside Asia economic risks can fade and an upturn in regional growth outlook can occur before or around the start of Fed's taper process, that would represent a much-needed offset against a turn in USD liquidity provision. However, if the eventual upturn in regional growth outlook significantly lags the Fed's taper process, then Asia rates/bonds are likely to be less resilient.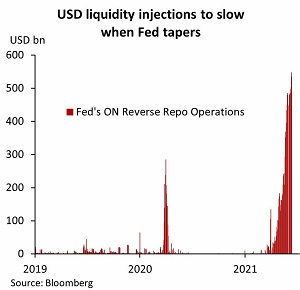 Strategy Implications
Some of the risk scenarios will take time to play out. Our preferred stance remains to selectively build pay Asia swaps positions to position for expected higher Asia rates in 2H. However, the main challenge is timing the uptrend in Asia rates, to avoid incurring too much negative carry that is typically associated with pay positions.
Looking across Asia swap curves, the negative carry of pay positions don't look too punitive. In most markets, negative carry is typically limited to 2-3bps per month. It is only in INR OIS/NDOIS swaps, where negative carry is much higher at 5-8bps per month.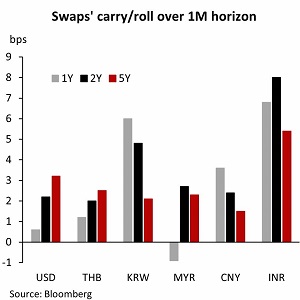 1) INR OIS/NDOIS
1Y to 5Y INR OIS/NDOIS rates have surged 17-28bps this week, on the back on India's May CPI print and FOMC meeting in US. Inflation risks in India would argue for faster policy normalization, and thus markets are likely to maintain paying pressures on OIS/NDOIS rates. However, in the immediate 1-2 months, we also expect RBI's continued accommodative stance and liquidity-supportive actions to act as a dampener, and indirectly cap the current rise in OIS/NDOIS rates.
With considerations of negative carry being quite expensive, we therefore decide to prematurely take profit on our pay 5Y INR NDOIS idea (entry 5.11%, exit 5.305%). We still think that 5Y OIS/NDOIS rates can break above the 5.50% level in 2H. The next uptrend would need to wait for signs that India's growth recovery is more entrenched, which would then allow RBI to turn less dovish and hint at initiating policy normalisation. We think that is likely be in 4Q, and will look to put on pay OIS/NDOIS ideas again closer to end-3Q.
2) MYR and THB IRS/NDIRS
In Malaysia and Thailand, liquidity normalization and rate hike expectations, as priced by onshore swaps, appear to be the most depressed within the region (no hikes priced for the next 2 years). A big part of the reason is likely due to the relatively more challenging circumstances around domestic virus resurgences. MYR and THB IRS/NDIRS rates could have the most upside against higher US rates. And there have been some recent domestic developments which suggest to us that much of the aforementioned upside potential can be realized in 2H.
This week, both Malaysian and Thai governments announced reopening plans. In particular, Thailand plans to fully reopen to foreign tourists by mid-October, with no quarantine requirements for fully vaccinated visitors. Both countries have also significantly stepped up their pace of vaccinations, as measured by daily doses per 100 people. We won't be surprised if both countries vaccinate at least 60-70% of the population by year-end.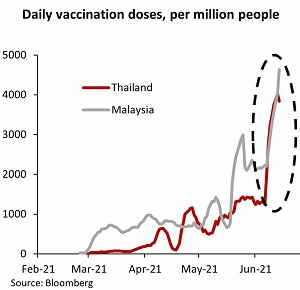 We initiate a pay 2Y THB NDIRS idea (entry 0.475%) to position for a rise in BOT rate hike expectations, on the back of greater clarity and improving recovery prospects of the tourism sector. We already have a running pay 5Y MYR IRS idea, and thus refrain from adding a pay 2Y MYR IRS idea. Furthermore, considering Malaysia's limited fiscal space, we are slightly wary of the possibility that BNM could cut policy rate to 1.50% to support the growth recovery.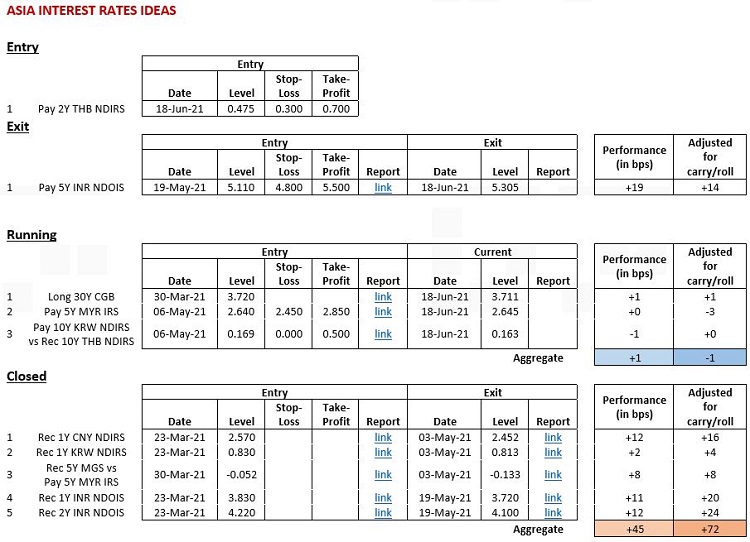 Report Links - 23-Mar-21 30-Mar-21 03-May-21 06-May-21 19-May-21
To read the full report, click here to Download the PDF.
Subscribe
here
to receive our economics & macro strategy materials.
To unsubscribe, please click
here
.