In contrast to the ultra-easy fiscal and monetary policy stance in the G3, China's policy has shifted to neutral, with a bias toward tightening.
Commentary: Is PBoC ahead of the curve?
Hints of inflation here and pandemic normalisation there so far this year have not caused G3 central banks to communicate a re-thinking of their ultra-accommodating policy stance. Labour marker recovery is too nascent, pandemic risks too present, and economic fragility still substantial, goes the line of reasoning to justify keeping in place the crisis-fighting tools, at least through the rest of 2021. Hence G3 central banks keep injecting liquidity, maintaining interest rates at their floor, while record fiscal support measures continue.
But beyond the central banks of the US, EU, and Japan, a notable exception has emerged. Although China's economy is yet to fire on all cylinders (domestic retail sales have been subdued, for instance), the PBoC has sufficient markers of economic strength presently that warrant a degree of caution with respect of interest rates and liquidity. These markers include strong industrial output and investment growth, buoyed by strong exports. Add to that a hot property market, and the monetary concerns become well justified.
To be clear, the PBoC's key concerns do not involve inflation, even though soaring commodity prices have driven up the PPI in recent months. The link between PPI and CPI look weak (severe competition at the retail level) and transitory (measures have been taken to curb commodity speculation). On the drivers and implications of price rises, central bank officials in China appear to be on the same page as their US counterparts, which is to look through ongoing developments and not jump the gun with respect to inflation risks.
The broader concerns are with regards to easy liquidity causing a lending boom, which can lead to asset misallocation, excessive (and ultimately wasteful) investments, and a property price bubble (causes inequality and raises financial stability risks).
In sharp contrast to other major central banks, PBoC has begun to act to rein in credit. As a result, there has already been a marked slowdown in the credit impulse. April's total social financing growth weakened the second consecutive month to 11.7%yoy, as shadow financing contracted, and corporate bond financing as well as bank loans slowed. Broad money (M2) growth eased to 8.1%yoy in April from as high as 11.1% in mid-2020.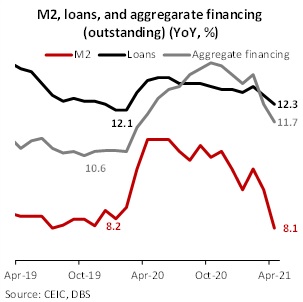 Targeted macro prudential policies to tackle the debt situation are here to stay, in our view, unless a negative growth shock hits the economy. The prevailing contrast between China's macro policies and those in the G3 point toward RMB appreciation and rising foreign holdings of Chinese assets (both driven by positive yield differentials and the relative growth narrative in China's favour). Managing the inflows is already proving to be challenging; China's external account policy imperative remains to encourage orderly capital outflows, both in the form of outward FDI and portfolio diversification of Chinese asset owners.
To read the full report, click here to
Download the PDF
.
Subscribe
here
to receive our economics & macro strategy materials.
To unsubscribe, please click
here
.