Resurgence of Covid infections has been economically disruptive to several economies of Asia. Fiscal costs are rising this year, on top of the record debt incurred in 2020.
Commentary: Covid stumble and fiscal response in Malaysia, Singapore, and Thailand
Resurgence of Covid infections has been economically disruptive to several economies of Asia. India's pandemic resurgence (6371 new cases per million in May) has dominated the headlines, but the picture has been striking elsewhere in the region as well, especially in Malaysia (4211), the Philippines (1567), and Thailand (1144). Singapore and Taiwan's May numbers (140 and 260, respectively) are not high by comparison, but are departures nonetheless from their outstanding records.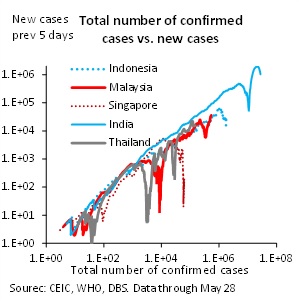 With vaccination rollout in progress (in varying pace), protocols in place to medically deal with current cases, along with the knowhow to keep businesses operating safely, the economic fallout from the ongoing episode ought to be considerably smaller than the contraction experienced last year. But smaller does not mean trivial, and additional policy support is warranted. Pandemic-induced fall in taxable economic activity and a rise in public spending to support individuals and firms caused deficits and debts to rise last year; the trend is not diminishing this year either. We look at three cases in the region:
Thailand
The Thai government is reported to be borrowing an additional amount of THB500bn (3% of GDP) this year. The government proposes to spend THB300bn as direct support to affected industries; THB30bn for pandemic-related medical supplies; the remaining THB170bn will go towards demand support measures. By the time the year is over, these measures would take Thailand's debt/GDP ratio to over 59%, as per our estimates. Considering the delay in resuming tourism and events, the support measures are necessary, in our view, especially since not even 3% of the population has been vaccinated so far.
Malaysia
There has been a worrisome spike in cases in Malaysia lately, with lockdown measures in place. A stimulus package worth USD4.8bn (1¼% of GDP) was announced in March, which was the sixth package unveiled since the start of the COVID-19 pandemic. The package comprised of 20 strategic initiatives to boost economic growth, support businesses, and extend targeted assistance to the people and affected sectors. Much work to vaccinate the population is ahead, with only about 2.5% of the population receiving the necessary doses.
Singapore
Singapore is on alert and back to imposing mobility restrictions, but its pandemic situation is at a substantially improved footing compared to its neighbours. With a third of the population already in the vaccine net, only a modest support package (¼% of GDP) was rolled out recently to enhance wage subsidies and extend rental relief to affected workers and businesses. Pandemic management and fiscal necessities go hand in hand.
Taimur Baig
To read the full report, click here to
Download the PDF
.
Subscribe
here
to receive our economics & macro strategy materials.
To unsubscribe, please click
here
.