There are relative value opportunities amid SGD rates distortions.
Spotting the distortions
The impact of tighter COVID-19 measures (a return to Phase 2) on SGD interest rates is negligible. Theoretically, we would expect weaker sentiment to widen SOR-LIBOR spreads, but this has not been the case. Spreads in the 2Y tenor has tightened modestly while that of the 10Y tenor has been stuck in a relatively tight range. By contrast, the equity market and the USDSGD appear to have reacted much more. Aside from USD rates (which have been consolidating), the key drivers for SGD rates are where short-term rates (SORA) settle, the lingering SINGA bond premium in the SGS curve and the transition towards SORA as the new reference rate. These factors are distorting SGD rates and are creating opportunities for investors willing to wait over a longer horizon (a few months). We lay out a couple of ideas below: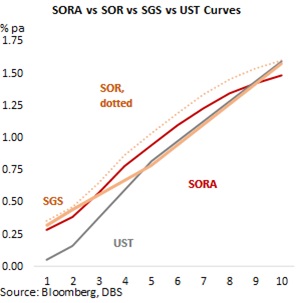 First, intermediate tenor (5Y) SGS is expensive (yields are too low) relative to SOR and SORA swaps. This can be attributed to increased worries about USD rates rising and wariness by SGS investors on duration risk (switching to shorter-dated bonds from longer dated ones). We think the SGS-swap spread (defined as swap rate less yield) may be too wide (21bps for the 5Y tenor) and there is scope for this to narrow (towards 5bps by the end of the year) over the medium term.
Second, the SORA-SOFR basis is probably too wide across many tenors. To be sure, the SORA-SOFR spread (using the overnight tenors) has too few data points to compare across economic cycles. Instead, we can proxy SOFR using the O/N repo. The takeaway over the past 10 years of data is that if short-term USD rates are floored near zero, relative liquidity conditions drive the spread. Converse, when the Fed starts hiking rates (typically this happens in favourable global growth conditions), SORA tends to lag the climb in the O/N repo. 5Y SORA-SOFR spread of 25bps is too wide. We would expect this rate to close towards 5-10bps over the coming few months.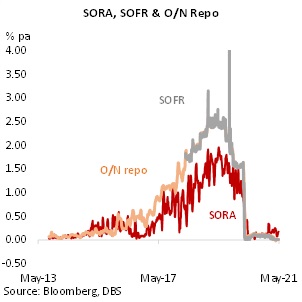 Third, take advantage of relatively elevated short-term SGD rates. The yield premium offered by short-dated SGS and MAS bills over comparable UST and T bills is significant (between 25 to 25bps out to the 2Y tenor). For investors with excess cash, SGS and MASB should prove extremely attractive.
Fourth, the transition to SORA could keep the SOR-SORA basis tight in the immediate few months as entities embark on the switch ahead of SOR's phasing out. This technical factor will likely fade towards the end of the year when the majority of such trades are done. We would also note that SOR swaps could become a lot less liquid towards the end of the year.
To read the full report, click here to Download the PDF.