Indonesia's GDP contracted by -0.7%yoy, in line with our forecast, vs -2.2% in 4Q20. But beyond the quirk of arithmetic base effect, the contraction was substantial.
GDP growth posts a smaller decline

Indonesia's GDP contracted by -0.7%yoy, in line with our forecast, vs -2.2% in 4Q20. But beyond the quirk of arithmetic base effect, the contraction was substantial, (-0.96%qoq vs
-0.4% in 4Q20). Rise in the infection caseload in early 2021 necessitated an extension of localised restrictions, slowing down activity.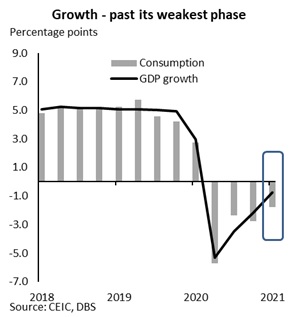 The breakdown reveals that net exports and inventory restocking added to the headline, while other segments shrank by a smaller measure. Consumption fell 1.8% y/y, improving from -2.6% average in the prior two quarters. Private consumption was the larger drag at -2.2%, as evidenced by softening consumer confidence, retail sales and slower reopening of the tourism sector. Government consumption ticked up 3% y/y vs 1.8% in 4Q20 suggesting some extent of frontloading in recovery disbursements to prop growth.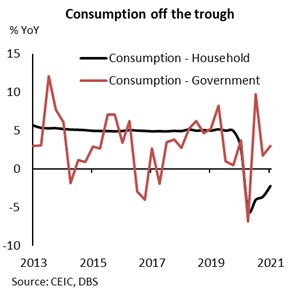 Capital formation growth contracted -0.2%, recovering markedly from an average of -6.3% in the prior two quarters, lifted by growth in inventory restocking, investments into machine equipment, vehicles, and buildings & structures. Net exports contributed 0.4 percentage points (ppt) to growth, smaller than the past four quarters as import growth is also off its back.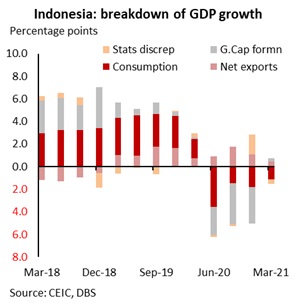 Fiscal support, external sector, and vaccine progress - key pillars of support

Besides base effects, timely fiscal support, favourable trade account and hastened vaccine rollouts – are likely to be crucial catalysts for growth this year. Fiscal expenditure rose 13.8% y/y in 1Q21 outpacing revenues, led by higher allocations towards social assistance, subsidies, material, and capital spending. By late-March, about 11% of the national recovery package of IDR700trn had been disbursed. 1Q fiscal deficit has widened in nominal terms (see chart), vs same time last year and four-year average prior to that, suggesting some extent of frontloading in disbursements, boding well for growth. If this pace continues, higher government spending and consumption will help cushion the only gradual turn around in private sector demand.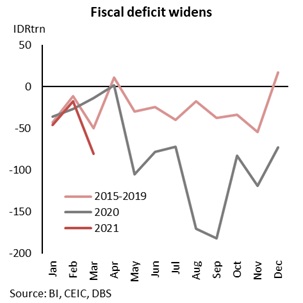 Secondly, Indonesia's exports were up 17% y/y in 1Q21, upheld to a greater extent by non-oil & gas shipments, led by mining (copper, nickel), and manufactured goods (base metals, rubber, palm oil, chemicals etc.). Even as imports fared better than 1Q20, a sharper export rebound saw the trade surplus nearly double at the start of the year. Favourable trade sector performance, benefiting from better faring global economies, especially China and the US, as well as an upcycle in key commodity prices will bode well for net exports as a support for growth as well as for current account dynamics.

Lastly, about 13mn residents have received at least one dose of vaccine, of which 8mn have received both doses (3% of the population).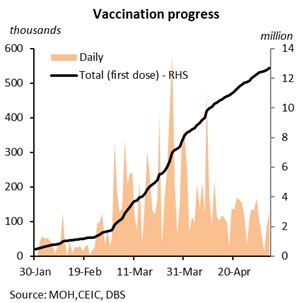 In addition to the existing deal for 140mn doses from Sinovac, an additional 90-100mn is being sought for the same supplier, besides exploring more supplies from Novavax and Pfizer. Apart from the national rollout, the government is seeking to procure 35mn doses from China's Sinopharm and Russia's Sputnik for rollout of the gotong royong or the private vaccination drive which is due to start later this month. To attain the planned target of two-thirds of the population i.e. 182mn by 1Q22, the pace of daily vaccinations needs to increase by at least five times, which also implies that sufficient supplies will need be ramped up.

Encouragingly, Indonesia's daily case count has halved from Jan-Feb highs, in midst of an extension in micro restrictions and more recently, a ban of the annual practice of inter-provincial travel during the annual Idul Fitri tradition of mudik, in a bid to curb the infection. As a precautionary move, the number of public holidays has been reduced this year as well as restrictions on travel to/from countries which are experiencing a sharp rise in infections. Timely and efficient inoculations will help minimise the humanitarian cost in the event of any resurgence in cases, especially as pockets of ASEAN face a fresh surge in cases e.g. Malaysia and Thailand (ASEAN-6 chartbook: Covid uptick poses a hurdle).

Growth outlook

Official forecasts have been tempered in recent weeks, with Bank Indonesia projecting 2021 growth at 4.1-5.1% and Finance Ministry at 4.5-5.3% (DBSf: 4%). Base effects will be most pronounced in 2Q-3Q, with the Coordinating Minister for Economic Affairs pegging 2Q GDP growth at 6.9-7.8%. Besides key catalysts of vaccination, trade and fiscal support, pandemic management will remain crucial in charting the path of revival for the economy.

Stabilisation in the USD and US rates have provided a breather to the domestic markets. IDR bond yields have rallied from March highs, whilst the IDR has trimmed losses to -2.7% YTD depreciation year-to-date. Counterbalancing factors like a smaller share of foreign ownership of government bonds, manageable current account deficit, regular FX operations by the authorities to contain volatility and broader investment push to attract flows are likely to underpin the IDR this year.

To read the full report, click here to Download the PDF.
Subscribe
here
to receive our economics & macro strategy materials.
To unsubscribe, please click
here
.