Relative bond supply pressures can be one significant determinant of relative performance across the Asia rates space.
In our view, relative bond supply pressures can be a tradable relative-value theme in 2021. From a regional perspective, Asian government borrowing needs will stay elevated for a second year. However, the capacity of local banks/insurance/pension funds to continue to support government financing could be getting slightly stretched, and their risk appetites for bonds could be waning.
We acknowledge that broad measures of onshore banking liquidity (deposit-to-loan ratios, usage of repo facilities etc) and domestic private savings are still at high levels. But those supportive factors are increasingly being outweighed by worries around monetary policy normalization, higher interest rates and higher inflation. As a result, local bond demand/sentiments appear to be deteriorating. On foreign investors, they have largely been circumspect over the last 12 months, and with the regional growth recovery still tentative, the outlook for foreign bond inflows is unlikely to materially improve in the near-term.
In recent weeks, bonds auctions across various Asian markets are beginning to reflect these supply strains and weak bond sentiments. In India, there have been incidences of primary dealer devolvement and cancelled auctions. In Indonesia, conventional bond auctions continue to see issuance come in below target. Though other countries have no such difficulties in issuing bonds, there are emerging signs of lower bid-to-cover ratios and longer tails.
In the coming months, we think that relative bond supply pressures will be one significant determinant of relative performance across the Asia rates space. Compared to 2020, where all countries synchronously increased issuances above 2019 levels, 2021 will see some differentiation. Countries that will be increasing issuances are more likely to see their interest rates underperform and their curves steepen, relative to countries that are able to lower issuances towards pre-pandemic levels. In the chart below, we express 2020 actual and 2021 forecast issuances (gross) as a ratio over 2019 actual issuances.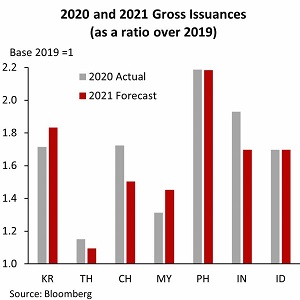 Note: Thailand – 2020 (2021) refers to FY ending Sep'20 (Sep'21). India – 2020 (2021) refers to FY ending Mar'21 (Mar'22).
Though Philippines, India and Indonesia are expected to maintain elevated issuances this year, their curve bear-steepening prospects could be limited by strong mitigating factors. Philippines has shifted the bulk of its issuances towards retail bonds (70% weight in 2021 YTD vs 35% in 2019) where demand from retail/individuals segment has been robust. Bank Indonesia and Reserve Bank of India continue to enforce yield levels via auction cut-offs and restrain yield increases via bond purchases.
We have a running long idea on 30Y China Government Bonds (CGB), which should benefit from lower CGB issuances this year, as well as some redirection of duration demand from expected reduction in long-to-ultra long Local Government Bond issuances.
Malaysia MGS/MGII and Korea KTB are two bond markets projected to see issuances rise by a further 10-15% in 2021. The greater bond supply, together with several other accompanying factors, mean that MYR and KRW rates could make good candidates for the short legs of relative-value ideas.
We like the idea of paying KRW rates against THB rates. South Korea is expected to further increase KTB issuances to KRW186tn in 2021, from KRW174tn in 2020 and KRW102tn in 2019. There are also some prospects of a second supplementary budget which means that there are still upside risks to this year's issuance forecast. On the other hand, government bond supply pressures are likely to be much milder in Thailand, where issuances are expected to fall to THB800bn, from THB841bn in 2020 and THB731bn in 2019. Since the pandemic outbreak, government bond issuance in Thailand has increased by a much smaller extent, relative to regional peers. And the Bank of Thailand has been actively managing the supply of public debt to ensure issuances are easily absorbed, see THB Rates: BOT's active management of bond supply.
In this pairing, we would also be pitting one of the strongest growth recoveries within the region (South Korea, supported by strength in semiconductor exports) vs one of the weakest (Thailand, reliant on slow tourism recovery). And growth differentials are expected to widen further in South Korea's favour. At its April meeting, the Bank of Korea acknowledged upside risks to its 2021 growth forecast of 3.0%. In contrast, the Bank of Thailand, last week, mentioned a possible downgrade to its growth forecast, due the latest wave of infections in the country. Idea 1: Pay 10Y KRW NDIRS vs Receive 10Y THB NDIRS to position for divergence in bond supply and growth recoveries (Entry +16.9bps, Stop-Loss 0bps, Take-Profit +50bps).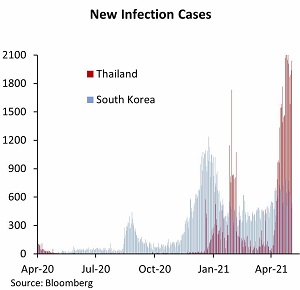 For Malaysia, in May, we are scheduled for the issuance of much longer-duration bonds, specifically the re-opening of 15Y MGS and 30Y MGII. Employee Provident Fund (EPF)'s demand/purchase of MGS/MGII is also likely to be weak during this period, due to ongoing member withdrawals via the i-Sinar facility (expected to total MYR90bn) and the associated need for liquidity. Therefore, we expect greater bear-steepening pressures on the bond curve over the next couple of months, which should spillover onto the swaps curve. Idea 2: Pay 5Y MYR IRS to position for less favourable bond supply-demand dynamics (Entry 2.64%, Stop-Loss 2.45%, Take-Profit 2.85%).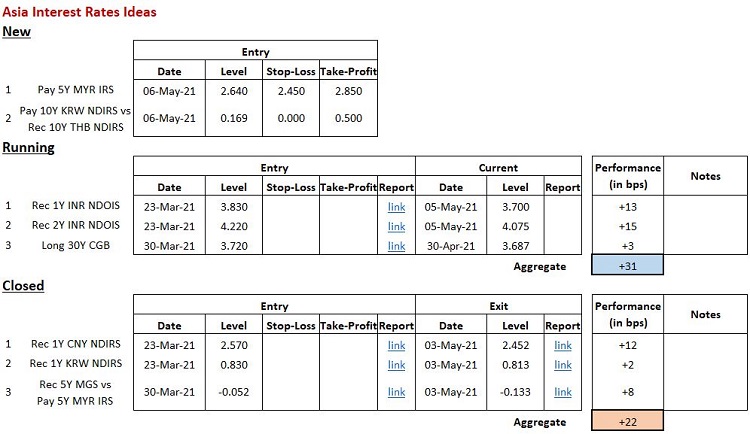 Report Links - 23-Mar-21 30-Mar-21 03-May-21

To read the full report, click here to Download the PDF.
To unsubscribe, please click
here
.