Amid reviving demand and some cases of supply disruption, inflation rates have begun to climb in many countries.
Chart of the Week: A major tailwind
Concerns about stretched valuations and investor exuberance, as well as the possibility of a risk-off environment around Covid resurgence notwithstanding, cost of funding and availability of liquidity are highly favourable. Both in the EU and US, Financial Conditions Indices are at multi-year highs presently, acting as a major pillar of support for this year's worldwide rebound in activities.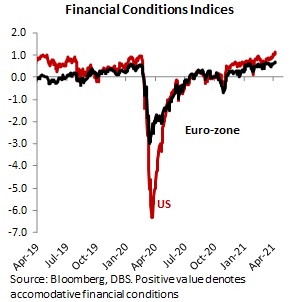 Commentary: Varieties of inflation trend
Amid reviving demand and some cases of supply disruption, inflation rates have begun to climb in many countries. Admittedly, inflation is by no means at risk of becoming unanchored, and it is hard to see a sustained rise inflation in the medium terms, but conditions are ripe for a short-term spurt, in our view.
Consider the demand side, with around USD5trln in stimulus measures on track to support the US economy this year and beyond. Supportive policy measures are likely to remain exceptionally accommodative in the EU, Japan, and the US. Even if EM economies cannot provide support in matching magnitude, they are not unlikely consolidate any time soon either. We are not sure if these measures will usher in a major boom in investment, but we see consumption and public spending on the rise, which will be sufficient to keep the demand for a wide array of goods and services high for an extended period.
Demand rebound of the past couple of quarters has been accompanied by a pick-up in inflation momentum, with China, EU, and the US running at the 2-4% rate. Some of this is base effect related, but the sequential pick-up in demand and price momentum is also marked.
What about EM Asia? Our measure of inflation momentum finds it mimicking the latest reading from China. After dipping sharply last year, inflation momentum has picked up in Malaysia, the Philippines, South Korea, and Taiwan. Even Singapore, typically a very low inflation economy, is undergoing a rare rise in inflation momentum presently, as per our estimates.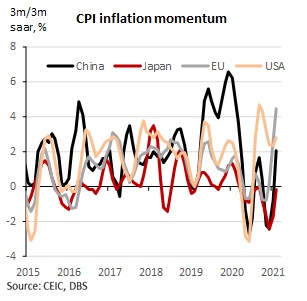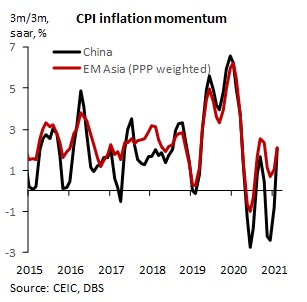 The supply side is beset with idiosyncratic factors. From capacity constraints on shipping to assembly line disruptions, from transportation bottleneck to extreme weather, the pandemic has caused a wide array of imbalances on the supply side. Supply shortage of semiconductor chips has caused disruption in auto and appliance production, while container ship movement disruption has pushed up the price of alternative routes (e.g. air freight). Looking at the latest readings of the IMF's commodity price database, we find a variety of inflation trends.
Soybean
prices have soared over the past year, reflecting the seemingly insatiable demand from China for feedstock.
Rice
price, after rising markedly last year, has flattened in the global markets for the time being.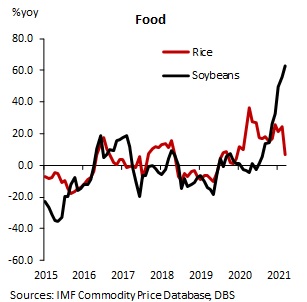 Sharp rise in the price of Nitrogen has pushed up
fertilizer
prices, both reflecting a generalised rise in demand for food grains.
Palm oil
price has been on a relentless uptrend, reflecting tight supply (worker shortage in plantations due to the pandemic has played w role) and strong demand worldwide.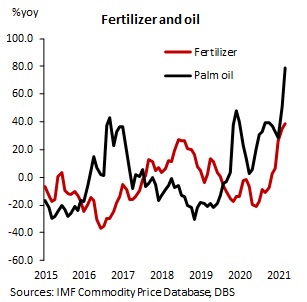 After severe winter weather-related disruption in the US,
natural gas
production has come back online, reversing some of the price spike seen a couple of months ago.
Crude oil
has risen to around USD60/barrel, as Opec production has been stable and demand has picked up.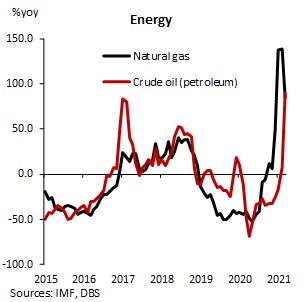 As global demand for electronics has risen, so have the prices of a range of
industrial metals
. Production has not much of an upside in the near term, so the factor to watch is if input price rises will translate into consumer goods inflation shortly.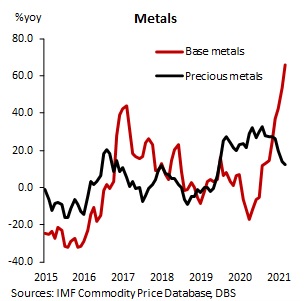 Taimur Baig
To read the full report, click here to
Download the PDF
.
Subscribe
here
to receive our economics & macro strategy materials.
To unsubscribe, please click
here
.