Malaysia's economy is starting to recover from the COVID-19 crisis, but scarring risks remain.
This is a summary of the report, please download the PDF for the full report
Malaysia's economy is starting to recover gradually from the COVID-19 crisis, following a tumultuous 2020 and 2021.
An emerging recovery is helped by vaccinations reaching critical mass and falling infection rates, allowing for a safer and wider domestic reopening, and considerations to relax international border restrictions. In our view, supportive economic policies – as seen from the expansionary Budget 2022 – should also bode well for growth prospects going into 2022.
While the domestic economy is recovering from the pandemic, the extent of scarring impact on the real economy is difficult to gauge. Moreover, the external environment is turning more difficult. On one hand, Malaysia – a modest net oil exporter should benefit from rising oil prices in the near-term. On the other, China's growth slowdown is a dark cloud that would prevent Malaysia from expanding at a faster pace. We therefore maintain our real growth forecasts of 4.0% for 2021 and 5.0% for 2022.
We think that policy will start to normalise, but is likely to be modest and drawn-out, staying sufficiently loose to avoid derailing the nascent recovery. Regarding fiscal policy, the government's medium-term fiscal deficit consolidation path has been adjusted to a gentler trajectory compared to last year's plans, in an effort to provide economic support. On monetary policy, our expectations are for Malaysia to take the first step in raising its policy rate by 25bps in 2H2022. The timing of the hike is contingent on the pace of recovery but any tightening is likely to be less aggressive compared to the post-Global Financial Crisis (GFC) normalisation cycle.
Domestic reopening gathering steam
Malaysia's vaccination push and slower infection rates have provided the impetus to restart and safely reopen its domestic economy. With the virus situation improving, Malaysia is progressing well in its domestic reopening efforts under the National Recovery Plan (NRP). The NRP appears to be moving roughly in line with Bank Negara Malaysia (BNM)'s assumptions for all states to transit into the fourth phase – where all economic and social sectors are allowed to operate at full capacity – by November 2021.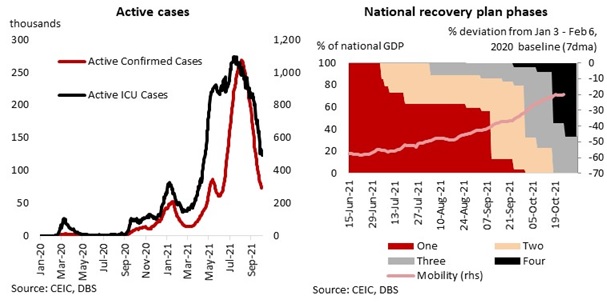 With looser virus restrictions, retail and recreation mobility recovered further to 20% below pre-pandemic levels, and it will be a matter of time before it recaptures pre-pandemic levels. Higher mobility should be positive for consumer and business sentiment, supporting an upswing in sectors such as 'wholesale and retail trade'. The normalisation in economic activities should also support the gradual improvement in the labour market and disposable incomes. From the expenditure perspective, private consumption is a key driver of the economy, comprising of close to 60% of GDP. That said, the extent of scarring impact on the real economy notably on households and the labour market is difficult to gauge. This is a factor delaying us from revising up our 2022 private consumption estimates and growth forecasts for the time being.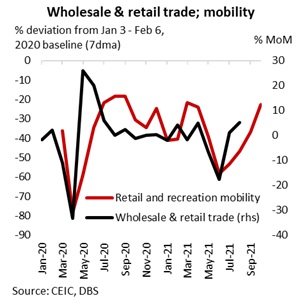 Another record allocation for Budget 2022
The Malaysian government announced another record allocation for Budget 2022. It aims to spur the economic recovery and also limit scarring from the pandemic, particularly for vulnerable segments of the population and businesses. Overall expenditures are budgeted at MYR332.1bn (3.6% higher than 2021's revised estimates of MYR320.6bn; 20.3% of GDP). This also implies a temporary setback to medium-term fiscal consolidation, which is now programmed for a slower and gentler path, compared with last year's plans. 2022's deficit is budgeted at 6.0% of GDP (versus 6.5% in 2021), and an average of 5.0% of GDP over 2022-24 under its medium-term fiscal framework.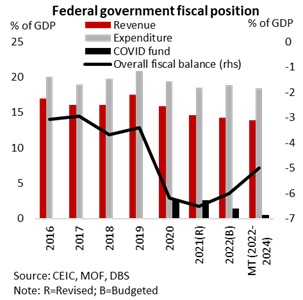 Key highlights of the Budget 2022 include providing targeted cash assistance to hard-hit households under a new cash aid scheme, and a host of incentives and assistance schemes for businesses, notably small and medium-sized enterprises. Education (MYR67.1bn) and health (MYR32.4bn) are also priorities. Education initiatives reflect the government's commitment to raise productivity and upskill the labour force through enhancing areas such as technical and vocational education and upgrading schools. Healthcare is also prominent, with a continued aim of managing the pandemic, such as securing booster shots and strengthening public healthcare facilities.
Easy monetary policy; gradual normalisation
Regarding monetary policy, we expect BNM to keep its stance accommodative to support the nascent economic recovery, such that the upswing is not derailed. We therefore expect the overnight policy rate (OPR) to be left unchanged at 1.75% over the coming months, but the authorities are likely to begin considering policy normalisation in 2022. The timing of the hike will be contingent on the pace of economic recovery, and our expectations are for BNM to raise its policy rate by 25bps in 2H2022. Core inflation has been benign, providing room for loose policy, but is likely to inch higher gradually, as existing economic slack is reduced. That said, any tightening is likely to be gradual and less aggressive, compared to the post-GFC normalisation cycle, as uncertainty is elevated and the economy is not out of the woods yet.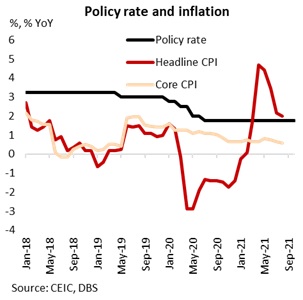 More tricky external dynamics
At a time when the Malaysian domestic economy is starting to recover, the favourable external dynamics that we have observed earlier in the year have shifted rapidly, and are more complicated to gauge. On one hand, oil prices have risen to multi-year highs amid tight supply, which should benefit Malaysia – the only economy among ASEAN-6 that ran a very modest oil trade surplus in 2020. On the other, economic momentum of its key trading partners (China + G3) has begun to wane.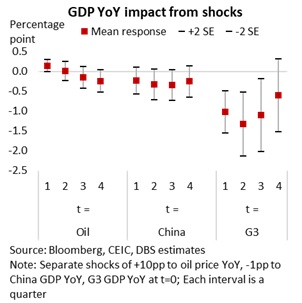 To better assess the potential spillovers from further shocks in these dynamics, we look at impulse responses via a basic econometric approach from a vector autoregression (VAR) model. It is estimated using historical pre-pandemic trends and therefore provide a rough guide. The exercise showed that all else equal, a 10-percentage point (pp) rise in oil price growth in a single quarter could bump up growth in the short-term, perhaps due to higher terms of trade and fiscal revenues. However, Malaysia's growth eventually cools, as high oil prices might hurt global economic prospects. Separately, -1pp individual growth shocks to China and G3 growth in a single quarter could see Malaysia's growth decelerate between a range of 0.2pp to 1.3pp in the next four quarters, with higher magnitudes and faster transmission from G3 shocks. On net, risks appear skewed to the downside on the external front.
Rates: Issuances to stay high
Government borrowings are expected to stay elevated in 2022 - Net domestic borrowings are projected to be at MYR97.0bn, very close to 2021's estimated size of MYR98.8bn. Based on details of the 12MP and recent increase to the COVID-19 fund size, bond markets likely already expect that government financing needs would remain high in 2022. Therefore, the post-Budget market reaction should be muted this week.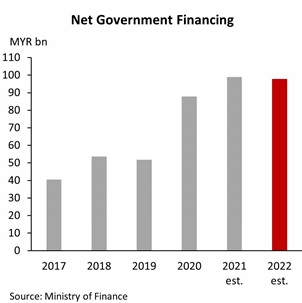 Compared to 2021, duration supply pressures could however be higher in 2022 due to likely lower reliance on financing via Treasury Bills. On bond demand dynamics, there is much uncertainty at this juncture. As the economy continues to reopen, lending growth (to the private sector) would be expected to recover and consequently weigh on banks' demand for bonds. That said, it is difficult to forecast the timing and strength of such a recovery. Foreign buying would also be dependent on the global macro and liquidity backdrop in 2022, even though Malaysia bonds' much improved FX-hedged yields should provide some support for foreign interest. On the other hand, we have some confidence that Employee Provident Fund (EPF)'s buying capacity should materially improve ahead. We expect i-Citra to be the last of member withdrawal facilities introduced and see some prospects for the EPF contribution rate to be normalised to 11% in mid-2022.
To read the full report, click here to
Download the PDF
.
Subscribe
here
to receive our economics & macro strategy materials.
To unsubscribe, please click
here
.