Though RBI has suspended its bond purchase programme, government securities supply that needs to be absorbed by non-RBI market participants is not expected to increase materially.
The Reserve Bank of India (RBI)
suspended the GSec Acquisition Programme (GSAP)
at the recent policy meeting in October. However, we note that the amount of Government of India Dated Securities (GSec) supply that needs to be absorbed by non-RBI market participants is not expected to increase materially. In 1H'FY22, gross GSec issuances amounted to INR7.0tn, and after netting for RBI's net purchases of around INR2.3tn, we estimate that non-RBI market participants had to absorb INR4.7tn of issuances in 1H. For 2H, the indicative calendar has planned for gross GSec issuances of INR5.0tn, which represents a small INR0.3tn increase in issuances that needs to be absorbed by non-RBI market participants.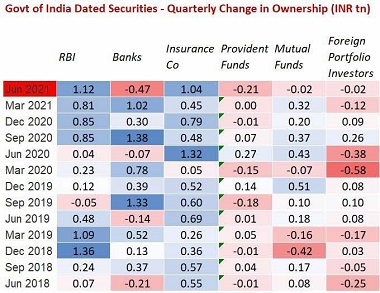 On GSec demand, the 2H'FY22 outlook appears to be mixed. Suspension of GSAP means that RBI is unlikely to add to its GSec holdings at the recent pace of INR0.8-1.2tn per quarter. We expect ad-hoc Open Market Operations (OMO) to smoothen possible episodes of excessive yield volatility that would bring net purchase quantum of INR0.2-0.3tn per quarter. On top of that, INR0.4-0.6tn in RBI twist operations to anchor term premium and long-term yields. With insurance companies, they are likely to continue to be a structural and relatively stable source of demand for GSecs. In contrast, there is more uncertainty around banks demand, which has been volatile in recent quarters. We think that higher GSec yields, surplus banking liquidity and dispensations of enhanced Held-To-Maturity limit of 22% up to March 31, 2023 should be supportive of banks' appetite.
Banks' moderately high holdings of Statutory Liquidity Ratio-eligible securities (GSecs, State Development Loans) could however be a restraining factor. At 30-31%, SLR securities as a percentage of Net Demand and Time Liabilities (NDTL) is close to historical highs. If banks maintain their current SLR/NDTL ratio and we assume a 1.5% QoQ growth in NDTL,
we estimate banks could add INR0.7-0.8tn per quarter to their GSec holdings.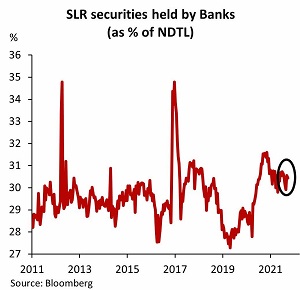 Foreign Portfolio Investors (FPI)'s GSec holdings has been on a downtrend over recent quarters. As of end-June, FPIs hold just 1.9% of outstanding. However, index inclusion prospects (into GBI-EM and BBGA indices) could bring a turnaround. In August and September, there has been a
surge in FPI purchases of GSecs classified under Fully Accessible Route (FAR)
, which likely represent flows trying to front-run a potential inclusion. Though FPI's current purchase pace of INR40-50bn per month cannot be considered material relative to the purchase pace of locals, we are optimistic that FPI purchase pace can significantly pick up if index inclusion prospects rise further. In the event of inclusion into GBI-EM, we estimate index inflows of INR150-180bn per month over the inclusion period.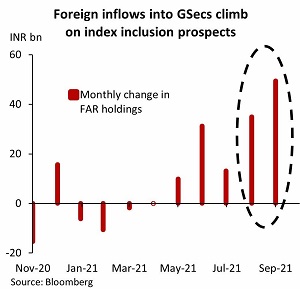 Upward pressures and higher volatility
Transitioning from GSAP to ad-hoc OMOs will create some uncertainty around the extent of RBI's support for GSecs. In the case of GSAP, the central bank provided an upfront commitment to specific purchase sizes within the quarter. On the other hand, in the case of ad-hoc OMOs, markets would have to guess the amount of net purchases and twist operations that would be conducted. Hence, ad-hoc OMOs should be seen as a weaker anchor for GSec yields and term premium. The added uncertainty should argue for larger term premium and higher GSec yield volatility ahead.
With banking system surplus liquidity very elevated at ~INR8.5tn, RBI has signalled intention to increase the size of liquidity absorption via variable rate reverse repo (VRRR) auctions. 14D auctions will be the main absorption tool and RBI will be raising the size from the current INR4.0tn to INR6.0tn in early-December. To complement, RBI could also use 28D auctions and the shorter 7D "fine tuning operations", to calibrate their liquidity management. As more surplus liquidity gets absorbed, VRRR auction weighted-average and cut-off rates should be expected to climb, and spillover onto upward pressures on money market rates and front-end INR OIS/NDOIS.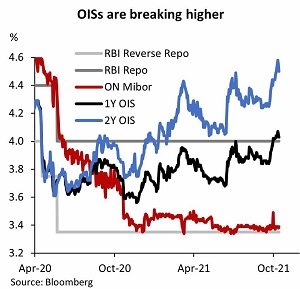 Rate hike pricing close to full
Markets' expectations around liquidity absorption and policy rate normalization have surged in recent days, no doubt underpinned by the suspension of GSAP and announcement of larger VRRR auctions. INR OIS/NDOIS markets are now pricing for 10-20bps of rate hikes (reverse repo, repo) per meeting over the following 24 months, which we feel is overly aggressive compared to our projections. Our forecast is for RBI to raise the reverse repo rate to normalize the width of the rate corridor by 1Q'CY22, before hiking the repo rate 25bps each in 3Q and 4Q'CY22. For a point comparison, we see the repo rate at 4.50% at end of CY22, vs market pricing for 5.00%.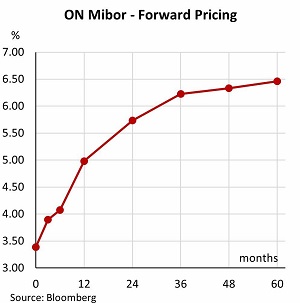 Though rate hike pricing appears to be full and likely overly aggressive, we do not initiate outright receive INR OIS/NDOIS ideas. Upward momentum in INR OIS/NDOIS rates is strong and considering that we are still in the early stages of policy tightening, rates could overshoot.
Externally, higher USD rates and rising oil prices (via passthrough to inflation) could continue to support the uptrend.
Within the region, we find that INR swap rates exhibit the greatest sensitivity to global oil prices with a beta of 0.87. I.e. Controlling for US rates, 5Y OIS/NDOIS rates tend to rise 8.7bps for every $10 increase in Brent. Therefore, it may be premature to position for OIS/NDOIS rates to peak soon.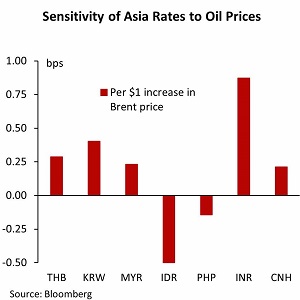 Bond-Swap tighteners
In the immediate 1-2 months, we favor bond-swap spread tighteners, specifically a long 10Y IGB vs pay 5Y INR NDOIS.
Due to swaps' greater beta sensitivity to rising oil prices and rate cycle expectations, we think swaps are likely to underperform bonds.
There is also a duration mismatch between the bond and swap legs, as we see scope for 5 to 10Y curve segment to flatten. While we have some conviction around a bond-swap tightener idea, the current spread level of 85bps looks rather low, and therefore, we await better entry levels in the 100-120bps range to initiate.
To read the full report, click here to
Download the PDF
.
Subscribe
here
to receive our economics & macro strategy materials.
To unsubscribe, please click
here
.