Global electronics supply chains are suffering from ASEAN's COVID-related factory disruptions. We map the exposures and discuss initiatives to restart activities.
This is a summary of the report, please download the PDF for the full report


Global supply chains are facing significant headwinds. News stories on supply chain disruptions have reached close to the highs since the turmoil caused by virus lockdowns in March – April 2020. The difficulties faced by global electronics supply chains are partly driven by ASEAN's pandemic-related factory disruptions. Manufacturing stoppages have notably been seen in Malaysia and Vietnam in recent months. We look at the extent of the ongoing downturn, map the exposures, and discuss actions by policymakers to restart manufacturing activities.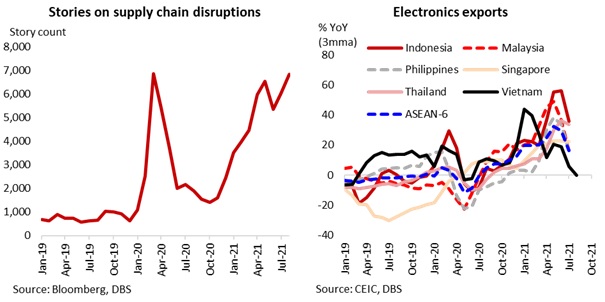 Malaysia's and Vietnam's slowing manufacturing activities from the negative supply shocks are reflected in their rapid deceleration in electronics export growth. Vietnam's electronics shipments have slipped into contraction (on a three-month moving average basis) - the slowest pace since the pandemic disruption last year. Malaysia is also experiencing a sharp pullback. Indonesia and Philippines have slowed, but the overall economic impact is likely to be more muted. Lastly, Thailand and Singapore have been relatively resilient, compared to the region.
Mapping electronics export strength
Malaysia has long promoted an export-driven model, with dominance in electronics. Malaysia houses leading multi-national companies and growing domestic firms. The country plays an important role in micro-electronics assembly, packaging, and testing. Our analysis using UNCTAD data breakdown of electronics by SITC shows that Malaysia dominates in two key products: (1) 'automatic data processing machines' that are exported to the US, China, and Europe; (2) 'cathode valves & tubes' that are also shipped to similar places, but with a significant share to China of 17.6% relative to overall 'parts and components for electrical and electronics goods'. Malaysia largely exports intermediate electronics goods to its main trading partners, according to World Bank data. The lion shares of intermediate electronics goods head to China, at around 14% of exports.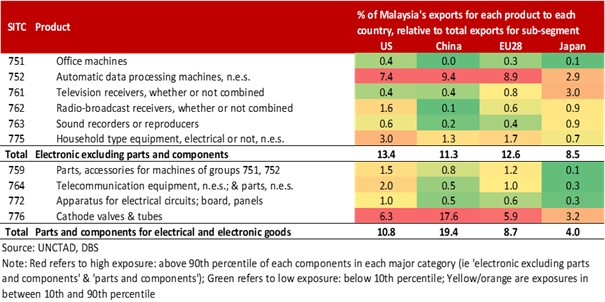 Vietnam has commanding shares in two key products: (1) 'telecommunication equipment and parts', which is a reflection of the country's important role in Samsung smartphones production; (2) 'automatic data processing machines'. These two key products are mainly exported to the US, Vietnam's largest export destination, and Europe, where the EU-Vietnam FTA has been effective since August 2020. Individual product exposure to China is relatively small, but in aggregate is comparable to the US and Europe. Vietnam mainly exports final electronics goods to North America and Europe & Central Asia regions, but instead ships intermediate products to China.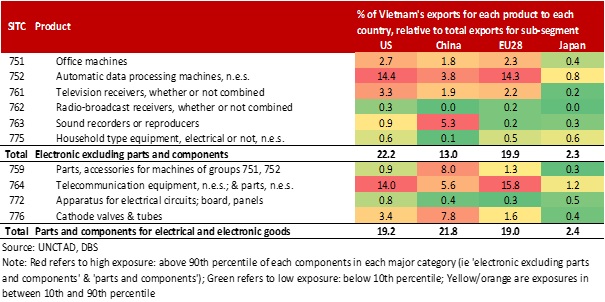 Ongoing global chip shortages
The global chip shortages are causing manufacturing production disruptions worldwide, ranging from autos to computers.
For instance, auto manufacturers in the US (e.g. Ford, GM) and Europe (e.g. Volkswagen, Daimler) continue to struggle to deal with the shortages, and these are reflected in the weakening data. A high percentage of European businesses across various industries have also reported production limitations due to shortages of material and equipment.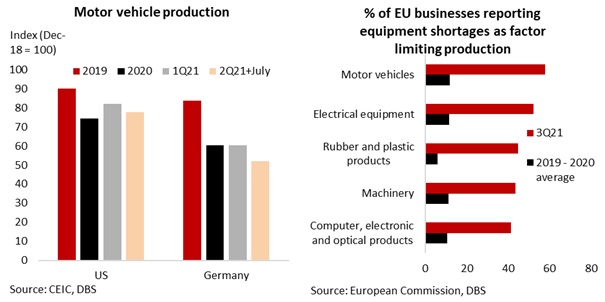 Where are the import dependencies?
COVID-related factory disruptions in Malaysia and Vietnam have made the situation worse. While the US, Europe, and Japan are highly dependent on China's electronics imports, there are potential direct supply chain risks caused by ASEAN. China's supply chain is highly connected with ASEAN, which could result in indirect spillovers for advanced economies (detailed exposures tables shown in pdf).
ASEAN's strategy
Policymakers in Malaysia and Thailand are rolling out plans to ease factory COVID-related disruptions, and restart production. Vaccination is a key part of their strategies, which would enable safe manufacturing operations. Vietnam is however lagging behind in vaccinations, and has imposed tough anti-virus policies.

To read the full report, click here to Download the PDF.
Subscribe
here
to receive our economics & macro strategy materials.
To unsubscribe, please click
here
.