Yet another resurgence of the pandemic across large parts of the US over the summer has put a dampener on the exuberance that accompanied the vaccine rollout phase during the first half of the year.
Commentary: Downgrading US GDP growth forecast for 2021
Yet another resurgence of the pandemic across large parts of the US over the course of summer has put a dampener on the widespread exuberance that accompanied the vaccine rollout phase during the first half of the year. Instances of breakthrough infections among the vaccinated, risk of serious illness and death among the un-vaccinated (still a sizeable 36% of the population), numerous tussles over mask and vaccine mandates, and outbreak among children (about a third of recent cases) are causing a dissipation of confidence to take part in public events, engage in tourism, or return to office. Unsurprisingly, services have taken a hit, consumer confidence has tumbled (Conference Board's survey show the lowest reading since February), mobility has regressed somewhat, and the outlook for consumption and investment for the rest of the year has waned. Incorporating these developments, the Atlanta Fed's GDPNow model estimate for real GDP growth (SAAR) in the third quarter of 2021 has drifted down to 3.7%.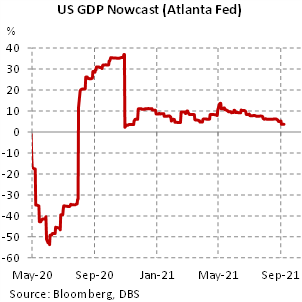 Several aspects of consumer demand are in the territory of marginal disappointment. Retail sales are growing at double-digit terms due to base effect, but the pace is waning. On a month-on-month basis, retails sales fell by 1.1% in July, reflecting shortage in automobile supply.
Housing, a major source of transactions and building activity, is also showing signs of peaking despite record low interest rates. With the Case-Shiller Nationwide Housing Price Index up 18.6%yoy through June, affordability has become an issue, constraining demand growth.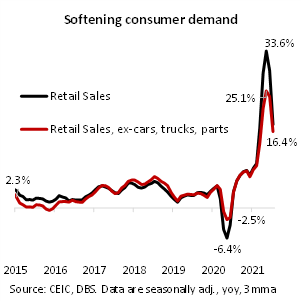 Meanwhile, global parts shortages and rising input prices have hampered US manufacturing. What began as chip shortages driven by production cutbacks during last year's plant shutdowns have now spread to a wider array of electronics inputs, reflecting ports and plants closures in China, Malaysia, and Vietnam in recent months.
More affected are services, with travel, tourism, dining out, mass gatherings (concerts, theatres, sporting evenings) expanding at a slower pace than expected earlier this year. Google mobility data show that the pace of going back to work has slowed, restaurant visits have softened, and use of public transportations remains well below pre-pandemic trend.
To be sure, activities remain in firmly expansionary territory, with the momentum of growth likely to turnaround as and when the pandemic peaks. The issue however is that 2H'21 growth is likely to be lower than expected, and the uncertainty around the outlook has increased, with cold winter months looming, when outbreaks tend to spread.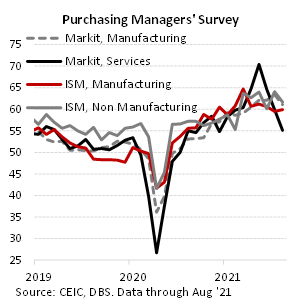 Just like high housing prices have begun to weigh down the real estate market, prevailing high rate of consumer price inflation is a non-trivial risk for demand. As per our forecasts, 5%+ headline and 3%+ core personal consumption expenditure inflation rates are likely to persist through the first quarter of 2022. Given that much of the inflation is supply side driven, a marginal decline in growth momentum will not change the price outlook, but months of high rate of inflation could begin to hurt market sentiment as taper and rate hike timing are deliberated.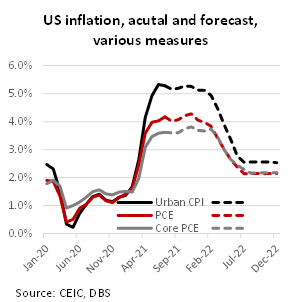 Incorporating the recent developments in our forecasting framework, we are revising down our 2021 US real GDP forecast to 6%. This is not a wholesale downward revision of the outlook. Instead, we think some postponed demand and activity will spill over into 2022, hence we are revising up next year's forecast to 3%.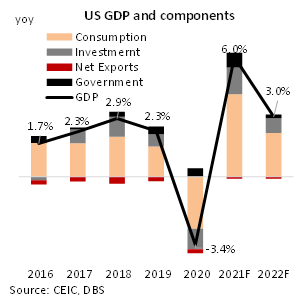 We are doubtful that the Federal Reserve's policy outlook will change materially by the marginal softening of growth. Taper will still be on the cards for a 4Q start, in our view.
To read the full report, click here to
Download the PDF
.
Subscribe
here
to receive our economics & macro strategy materials.
To unsubscribe, please click
here
.