To prevent getting old before getting rich, Chinese government spared no effort in tackling various social problem. Over the long-run, automation is needed to enhance productivity.
• China's demographic dynamic has tilted sharply toward stagnation in recent decades. Total fertility rate fell from 5.7% in 1970 to a meagre 1.3% in 2020 -- below the replacement level. One-child policy, as well as unaffordable education, childcare, and home prices were major causes.
• Low fertility alongside a shrinking working-age population weighs heavily on productivity growth, socioeconomic development, and fiscal sustainability.
• China's elderly dependency ratio reached 17.8% in 2019 but per capita GDP was relatively low (USD10,182) as evidenced by international experience.
• Recent implementation of a three-child policy and regulatory crackdown are justifiable steps to rectify the order of income distribution and incentivize childbirth.
• Lifting statutory retirement age and improving population health are viable solutions. Automation and robot adoption will gather pace to enhance productivity.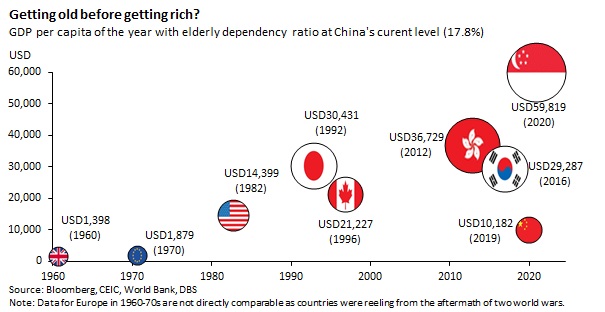 To read the full report, click here to
Download the PDF
.
Subscribe
here
to receive our economics & macro strategy materials.
To unsubscribe, please click
here
.