Vietnam's economy is suffering from the tough measures to curb COVID-19. We are lowering our 2021 growth forecast to 5.0%. Vietnam is however still an ASEAN outperformer.
Vietnam is in the midst of its worst COVID-19 outbreak since the pandemic began last year.
Despite earlier success in containing infections, Vietnam is currently experiencing a record surge in daily infections of around 12k. Just like other Southeast Asian nations, the rapidly deteriorating situation has been a result of the more contagious Delta variant.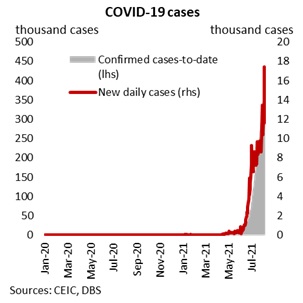 To curb the virus, the government has imposed strict movement restrictions, which are hurting services activity. Export-oriented manufacturing, a key driver of Vietnam's growth, has also been impacted by the virus, resulting in factory closures, winding back of operations, and a supply shock.
Real GDP growth picked up to 6.6% YoY in 2Q (from 4.7% in 1Q), helped by favourable base effects, bringing year-to-date (ytd) to 5.6% YoY.
With 3Q under increasing downside pressure, we are therefore slashing our 2021 growth forecast to 5.0% (from 6.7%).




Strict restrictions hurt services



We expect containment measures to take a toll on the economy, notably services.
Total COVID-19 cases have increased by almost 290k cumulatively nationwide since July 2021. This rise has exceeded the total increase in infections of around 146k from the start of the pandemic until end-June 2021.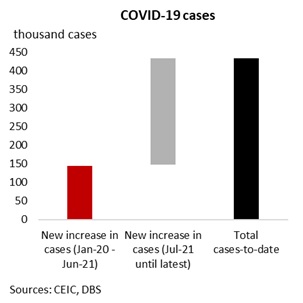 To curb cases, notably in Southern Vietnam, the government has implemented strict restrictions since at least June. Non-essential businesses and restaurants have currently been mandated to be closed. Transportation services are limited, while public gatherings are banned. Retail and recreation mobility at the national level has plunged, dropping to 70% below pre-pandemic levels. This was 20 percentage points worse than during March 2020. Retail sales year-to-date have concomitantly trended lower, contracting by -4.7% YoY as of August. Vietnam unemployment rate meanwhile remained above pre-pandemic levels, standing at 2.62% as 2Q, and we expect labour market conditions to worsen further.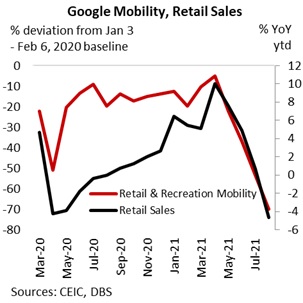 Most of the new infections have been concentrated in Ho Chi Minh city (HCMC). To stop transmissions, the authorities have ordered people in HCMC to stay at home for two weeks starting from August 23. They are looking to control the virus situation by September 15. According to our estimates, HCMC's services sector accounts for over 40% of national GDP due to its higher disposable income, even though its population is only 9.5% of Vietnam's total population. HCMC's strict movement measures are likely to put continued pressure on private consumption, especially if ongoing restrictions are extended further.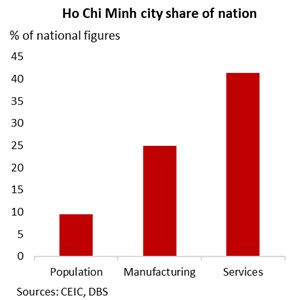 Export-oriented manufacturing suffering from supply shock
Vietnam's export-driven manufacturing sector is experiencing a supply shock, as factory operations are pulled back, amid the intensified COVID-19 outbreak.
Manufacturing activity and export growth have entered 3Q on a weak note. The manufacturing PMI stood at contractionary territory of 45.1 as of July, versus peak expansion of almost 55 in April. Production has been negatively impacted by closures and reduced capacity from social distancing measures.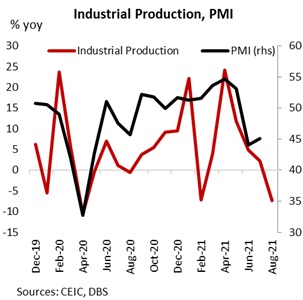 Export growth has also eased across multiple products, from textiles and footwear, machinery to electronics, amid the disruptions. The slowing data corroborated with various news surrounding the suspension of production plants of the suppliers of Nike and
Adidas
, as well as
Samsung Electronics
.
Headwinds are also mounting on two of Vietnam's largest export destinations – the US and China. The US has seen a sharp drop in services expansion since May, while China's slowing growth momentum has become more pronounced over the last two-three months, amid a credit slowdown.
Vietnam's manufacturing and export downtrend therefore looks set to continue for the time being, in our view, amid the high uncertainty.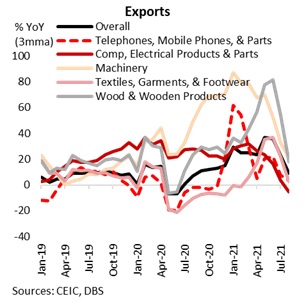 Vaccines key to exiting the pandemic
The widespread distribution of vaccines remains key for Vietnam to exit from the pandemic. In this regard, Vietnam is lagging, and is among the slowest in the region. Vietnam has only fully vaccinated around 2% of its population, while around 15% has been partially vaccinated.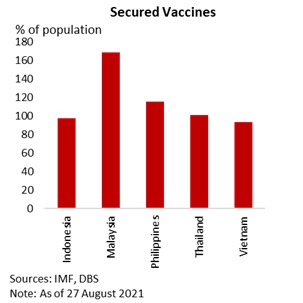 That said, Vietnam has secured doses equivalent to 93% of its population, based on the IMF-WHO COVID-19 Vaccine Supply Tracker. The government has also set up a vaccine fund in late-May. The health ministry is looking at 50% of people aged 18 or older by end-2021 and 70% by the end of March 2022, according to Reuters. Vietnam's inoculation drive has been constrained by the pace of vaccine deliveries. However,
Pfizer
, which Vietnam has agreed to purchase 51 million doses from, is looking to speed up deliveries by year-end. Vietnam therefore has some hope in achieving its vaccination goals over the coming months.
Still an ASEAN outperformer
Vietnam should nevertheless remain among an outperformer in ASEAN in 2021, despite the near-term setback.
Vietnam's real GDP would expand further above its pre-pandemic Q419 levels, while the rest of the region is still recovering from the sharp downturn in 2020 and virus disruptions in 2021. A successful containment of the pandemic would enable Vietnam to return to its structurally strong growth path of above 6% over the coming years. Various credit rating agencies hold positive outlooks on Vietnam.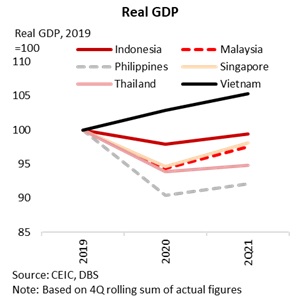 We expect Vietnam's growth over the coming years to continue to be led mainly by buoyant FDI inflows and robust exports, while services gradually recover.
Growing interest in Vietnam as a production base has led to strong FDI inflows over the past decade. The inflows have allowed the country to grow its textile and garment manufacturing, and see it increasingly integrated into the global electronics value chain.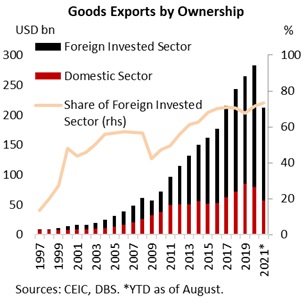 Increased FDI has played a key role in Vietnam's export engine, with foreign firms accounting for a fast-growing share of exports of more than 70%, as they are benefitting from Vietnam's extensive network of free trade agreements. Companies looking to diversify amid the ongoing US-China economic dispute are likely to view Vietnam favourably. Vietnam's attractive labour cost and connectivity are some positive factors. Moreover, the government is looking to further grow its manufacturing capabilities in areas of processing and also high technology.
To read the full report, click here to
Download the PDF
.
Subscribe
here
to receive our economics & macro strategy materials.
To unsubscribe, please click
here
.