What's driving the interruption to the global recovery trade? What is the implication to our economic forecasts?
Commentary: Recovery interrupted
It was supposed to be the summer of rejuvenation, with vaccination rolling out worldwide and economic re-opening catching momentum. But several factors have come to interrupt the dynamic. First, vaccination progress at emerging markets has been far less than satisfactory, compounded by the virulent Delta variant. Populous countries like India, Indonesia, Philippines, and Vietnam (adding up to 2.7bn) are at 20% or well-below with respect to full vaccination, as per latest data. Even as wealthy countries ramp up vaccination, full re-opening will be impossible till the whole world catches up. Moreover, the Covid virus raging through large populations will leave open the possibility of newer, more virulent variants to emerge. Finally, breakthrough infections on those vaccinated, although small in number, are beginning to have a constraining impact on mobility and sentiment related to both work and leisure.
Second factor is China. As the economy normalised on the back of successful pandemic management this year, the authorities, unsurprisingly, took policy to neutral gear, focusing on financial stability. But just as support measures were being withdrawn, a set of strident regulatory steps accentuated the economy's challenges. These entailed crackdown on one sector after another with respect to competition, data privacy, control, and profitability. The measures, which by all account have yet to run their course, have soured investor sentiment on a market that has long been the biggest draw in Asia for years.
In addition to an uncertain capital market outlook, questions are being raised about China's near-term economic outlook. While the PMI peaked at the beginning of this year, weakness in activity has become pronounced only in the last two-three months. Industrial production, retail sales, exports, and fixed asset investment data suggest that the economy has lost significant amount of momentum. Accordingly, we have revised down our China 2021 GDP growth forecast to 8.8%.
Thirdly, from autos to computers, chip shortages are causing supply side bottlenecks in global manufacturing, causing production disruptions. There are additional supply side headwinds, ranging from soaring freight rates reflecting a paucity of US-bound containers to port activities being curtailed due to Covid concerns in China.
Incorporating these headwinds, a number of our GDP forecasts for the year are now facing downward revisions. In addition to China, our economists have made adjustments to their growth forecasts for Indonesia, Malaysia, Philippines, and Thailand. We think a few other economies' forecasts are also at risk.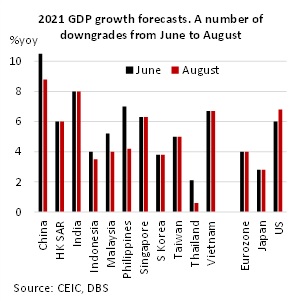 Forecasts at risk
India
Manufacturing PMI peaked at the beginning of 2Q, while favourable base effects are helping print somewhat-still favourable figures for power and industrial production, along with auto sales, exports, and credit growth, but nowhere is there a sign of substantial upward momentum. Given last year's deep contraction, high single digit economic expansion was on cards for this year, but the level of output remains well below the level of 2019. One mitigating factor is the ongoing waning of the pandemic, both with respect to infections and deaths, which could help boost mobility.
Japan
Widening pandemic and post-Olympics hangover could push the economy into a contraction in the July-Sept quarter. While exports have been strong so far, surveys show weakness in new orders. Chip shortage related production disruptions have hit the manufacturing sector considerably, which will likely weigh down industrial production for the remainder of the year.
Singapore
With gradual re-opening underway as Singapore becomes one of the most vaccinated nations in the world, 6%-plus growth has been on the cards. As per our GDP Nowcast, 3Q growth is on track to be 6.1%yoy, which would be 3.5% on a qoq/sa/annualised basis. With this as foundation, to achieve over 6% growth for 2021, 4Q growth would have to be double that of 3Q. This would be possible if travel and tourism pick up, domestic retail sales gain momentum, and exports and industrial production face sustained demand. Given the hick-ups globally, there is a risk that all this may not pan out.
Vietnam
The economy peaked in June and since then exports and PMIs have been weakening rather sharply. Meanwhile, Covid infections have surged. These are areas of concern for an economy that has so far done very well dealing with the pandemic.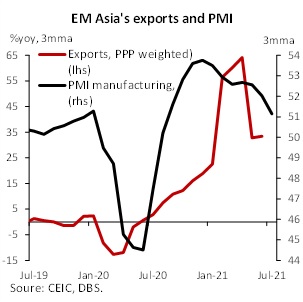 US
The sharp dip in services PMI, from 70 in May to 59.9 in July, is concerning for an economy that has otherwise been roaring. In order for our 2021 forecast of 6.8% to pan out, we would need the Delta spread to peak this month and services to come back strongly from September onward. But vaccination rates have flattened, parts shortages continue to hamper production, high shipping costs are eating into profits, and an unusually warm summer has caused widespread disruption to activities in parts of the country. Adding these up, we see 50bps downside risk to our forecast.
Taimur Baig
To read the full report, click here to
Download the PDF
.
Subscribe
here
to receive our economics & macro strategy materials.
To unsubscribe, please click
here
.