Indonesia expanded a strong 7.1% y/y in 2Q21, after four consecutive quarters of contraction.
2Q21 GDP rebound on base effects and lower Covid count

Indonesia registered a strong 7.1% y/y growth in 2Q21, vs -0.7% in 1Q and after four consecutive quarters of decline. This took 1H growth to 3.2% y/y. A lower Covid case count, light movement restrictions, Ramadan festivities and base effects (2Q20 -5.3% y/y) helped prop the headline.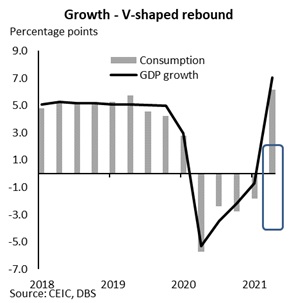 Amongst the drivers, the crucial consumption segment expanded 6.2% y/y. Fixed capital formation growth was strong at 7.5%. These two components contributed to over 80% of overall growth (see chart below). While there was a drawdown in inventory, net exports continued to contribute to the headline.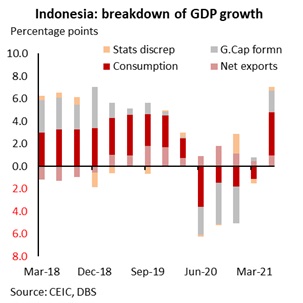 Under consumption, there was a pick-up in both government and household demand, with the pace magnified by base effects. Delving deeper, our calculations pointed to higher discretionary and non-discretionary spending in the quarter. Under investments, there was a broad improvement amongst the sub-segments: machine & equipment, vehicles, buildings, structures and other equipment. The commodity price upcycle helped prop up the external sector performance.
Speedbump ahead

The economic outlook for the rest of 2021 is highly dependent on the evolution of the pandemic and the effectiveness (and scale) of support offered by the authorities.
Since late June, Indonesia has experienced a sharp pick-up in infection cases (read
Indonesia/ Thailand: Bumpy road to recovery
and
Indonesia: In pandemic firefighting mode
). The daily caseload has since peaked at around 50k in mid-July and is hovering at 35k this week. Notably, while the Java island was accounted for more than two-thirds of the daily total case count until mid-July, these now make about 45% of the total, suggested that areas outside of Java face a rising count in the past fortnight. Concurrently, the absolute number of fatalities has ebbed but remains high by historical levels.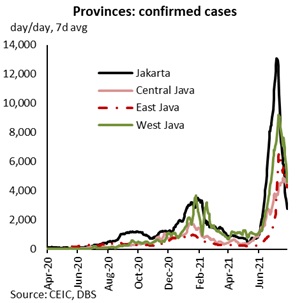 With the government imposing and extending PPKM restrictions this month, 3Q growth momentum is likely to hit a speedbump on slower consumption, while government support and exports fare better. The stricter Level 4 remains in place in economically crucial Java, which needs most non-essential workers to work from home fully, and except selected essentials (groceries, pharmacies), malls, entertainment venues are closed. Early high frequency data, including mobility indicators and manufacturing PMI, provided an indication of the adverse impact of the stricter movement curbs. Vaccinations are ongoing, with the average daily doses administered improving from 500k in June to over 800k in July, with 1mn dispensed for a few days. About 18% of the population has received at least one dose. As more vaccine supplies (Moderna, Pfizer, etc.) are made available, the pace is likely to improve to the targeted rate of 2mn/ day.
Our updated GDP Nowcasting model points to sequential q/q deceleration in 3Q21 before the pace stabilizes in 4Q provided the Covid caseload is brought under control, and vaccination rollout remains apace. We maintain our full-year growth forecast at 3.5% for 2021, before a likely improvement to 4.5% next year.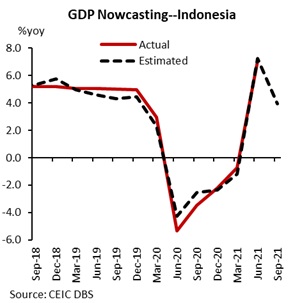 Policy levers in accommodative gear

Bank Indonesia is expected to maintain the policy rate at 3.5% for the rest of the year while signaling its pro-growth bias via moves to spur lending, macroprudential measures and ensuring stable financial markets (rupiah and bonds). Fiscal policy is likely to do more of the heavy lifting this year, with allocations under the national economic recovery program already increased to IDR774.7trn, up 29% vs 2020 allocations. Indications are that the health budget might be raised to IDR300trn vs IDR215trn presently, which might push up the overall stimulus spending. In the first half of the year, the deficit remains well contained at -1.7% of GDP, however, a reprioritisation of expenditure might be necessary if fiscal support is scaled up to defend downside risks to growth. Longer-out, the ability to contain public debt levels, introduce revenue-enhancing measures and reverse the rising share of interest payments vs overall revenues will be necessary to mend public finances materially.
On the markets front, rupiah and bond yields are off their low points, taking a breather as US 10Y yields have pulled back as well as US$ is off highs. Domestically too, recent auctions for IDR bonds have attracted strong interest, encouraged by signs that the government will cut back on the 20201 net debt issuance by tapping unspent cash balances, besides contained inflation and fiscal concerns.
To read the full report, click here to
Download the PDF
.
Subscribe
here
to receive our economics & macro strategy materials.
To unsubscribe, please click
here
.