10Y and 20Y SGS offer attractive pickup over LIBOR and UST.
SGS: Attractive pickup for the 20Y tenor
We think that 10Y and 20Y SGS are particularly attractive on an asset swap basis to USD-based investors. The current environment is challenging for investors looking for safe returns as worries about the Delta variant drove 10Y US Treasury yields below 1.2%. While we think the Delta presents a growth scare, it may take some time before longer-term yields head meaningfully higher. Accordingly, we think that 10Y and 20Y SGS are alternatives for investors who also want to hedge out the currency risks.

There are three key factors to watch – SGS-swap spreads, USDSGD basis swaps and UST-swap spreads. Pickup over equivalent UST is maximized when the SGS-swap spreads (swap rate less yield) are low (swaps are trading very low compared to yields), USDSGD basis swaps are low and UST swap spreads wide (swaps are high relative to yields). Our calculations suggest that on a mid-swap basis, there is about 46bps and 90bps pickup over LIBOR for the 10Y and 20Y tenors. If we compare the pickup over equivalent US Treasuries, the figures would be closer to 48bps and 68bps respectively.
For SGD-based investors, the above ideas are based on the premise the SGS-swap spread is too tight (too negative). This is especially pertinent for the 20Y segment where yields are some 30bps higher than swaps. This spread is close to the lows seen in the Global Financial Crisis of 2008/09 as well as the Pandemic crisis (peak fears in 2020). We suspect that the 20Y SGS-swap spread has room to widen out (SGS outperforms swaps from a receive perspective) over the medium term.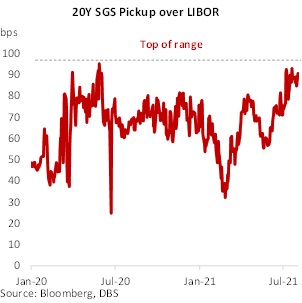 To read the full report, click here to
Download the PDF
.
Subscribe
here
to receive our economics & macro strategy materials.
To unsubscribe, please click
here
.