The pandemic delays the region's rebound expectations.
Indonesia – pandemic to delay rebound expectations
Indonesia is facing a strong resurgence in Covid cases. The daily count peaked at a record high at over 55k cases before easing to ~35k this week, taking the total caseload towards 3mn. The current pace has added ~300k cases in the past week. Jakarta continues to account for a third of the national count; the most populous Java island made up two-thirds. The fatality rate (as a % of total) is low, but the pace of daily deaths has more than doubled vs the early 2021 wave. The more transmissible variant, Delta, appears to be responsible for the resurgence of the pandemic. Aggregate pace of testing at ~55 per 1000 lags its peers, versus 131 in Thailand and 494 in Malaysia.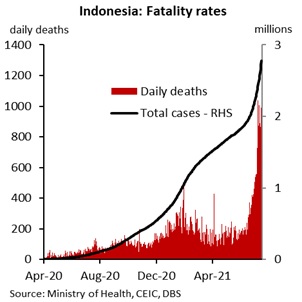 Outlook: Emergency public activity restrictions (PPKM Darurat) stands extended till July 26, which applies to Java, Bali and 15 other regions (see
Indonesia: In pandemic firefighting mode
). President Jokowi announced plans to lower mobility restrictions beyond July 26th if cases continue to decelerate. The situation is quite fluid at this juncture, as fatality and hospitalisation rates remain high. Any risks of a resurgence might see the curbs extended. Mobility indicators have fallen for discretionary and non-discretionary activities, with a 30-50% decline deemed necessary to effectively break transmission.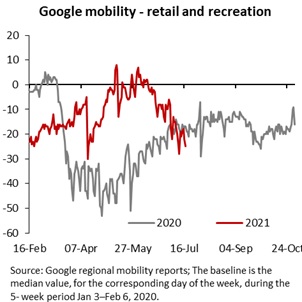 The formal part of the economy has better adjusted to the lockdown-lite measures as non-essential activities are conducted out of home, we estimate that roughly 30% of economic, particularly contact-intensive activities will be affected directly. Besides these, consumption demand is likely to soften in 3Q21 amidst localised curbs, with savings likely to rise as purchases are postponed and job uncertainties rise. Vaccination rollout remains much in focus, progressing at a more gradual pace than desired. By mid-July, about 15% of the population has received at least one dose and 6% have been administered both. Weak demand visibility is also likely to temper private investment interests, which fell 0.2% in 1Q21.
Government expenditure and the external sector are, however, seen as bright spots. Oil and gas shipments have risen a strong 33% y/y in Jan-May21, besides non-O&G at 40% y/y. While the O&G deficit widened slightly during the Jan-May period, non-O&G surplus more than doubled to US$15bn during the period. Fiscal spending has remained expansionary, with expenditure up 24% during Jan-May21 vs 3% in the same period last year. About 34% of the national economic recovery program (PEN) of the budgeted IDR699.4trn has been disbursed alongside an extension in tax incentives. Whilst higher fiscal burden weigh on public finances, the government has shielded the borrowing program from rising further by tapping into unspent cash balances which amounted to IDR136trn by June. 2021 net bond issuance is thereby expected to decline by IDR283trn to IDR924trn. An estimated IDR464trn was raised in 1H21. This effectively ensures that the domestic bond yields (and broadly borrowing costs) does not rise despite the need to stimulate growth.
Factoring in all these, we expect a quarter-on-quarter expansion in 2Q to be followed by a contraction in 3Q, leaving the full-year growth at 3.5% y/y vs our earlier expectation of 4%. Official estimates have also been lowered in recent weeks, with the government's 2021 growth projection at 3.7-4.5% vs 4.5-5.3% previously. Bank Indonesia revised down its forecast to 3.8% vs 4.1-5.1% before. Inflation meanwhile remains benign, with the current run-rate suggesting that the full year average is likely to fall below the BI's target range. We revise down 2021 and 2022 inflation forecasts to 1.5% and 2.2%.
Thailand – in a state of flux
Thailand continues to struggle to gain an upper hand on the Covid curve, with the total caseload up 40% from late-June, to surpass 420k this week. The cabinet approved the extension of the state of emergency by two months until Sept21. The greater Bangkok area, which accounts for half of the country's output is amongst the most affected and has been under lockdown-like conditions since a week, which includes closure of shopping malls, entertainment venues, contact intensive services, and return to work-from-home for non-essential services, amongst others. A study by the Centre of Excellence in Clinical Virology at Chulalongkorn University shows The Delta variant is responsible for 70% of people in Bangkok falling sick with COVID-19.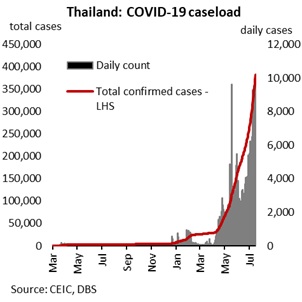 Outlook: While these curbs have been imposed for a fortnight starting 12-Jul, the consistent increase in daily cases suggests that restrictions could last rest of this month, dampening prospects of a quick turnaround. Apart from falling mobility, retail sales and consumer confidence indices have turned south, with the latter falling to record levels (see chart). Unemployment rate has ticked up, whilst already elevated household debt levels are expected to rise further as weaker income prospects might hurt repayment capabilities.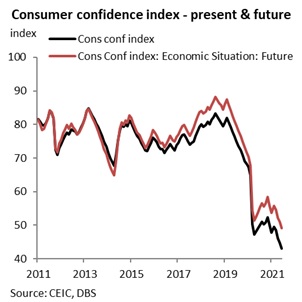 Pace of vaccination, meanwhile, has been slower than desired. The government aims to vaccinate at least 50m people (~70% of the population) by end-2021. Plans to attain this threshold will also help broader plans to reopen the country in 120 days (which means mid-Oct21) without quarantine requirements. By mid-July, about 11% of the population has at least received one dose, whilst 5% have received both, suggesting the target to inoculate half of the population by end-2021 will be an uphill task. Consumption and private investment interests are likely to stay under a cloud for longer than previously anticipated.
Tourism sector remains in a state of flux, with the sandbox experiment in Phuket drawing around ~5500 international visitors yet far this month, suggesting total numbers might fall short of 100k visitors for 3Q and a sizeable gap from the entire country's ~9mn arrivals/quarter before the pandemic. Reception to the reopening of Koh Samui and few other tourist destinations has also been lukewarm as yet. Tough travel conditions and largely closed borders in most countries are deterrents.
Two engines that are likely to support growth are public spending and the external sector. Exports rose 27% y/y in Apr-May21, with the 42% rise in May marking the strongest pace in almost 11 years. Amongst segments showing a rise were automobile, equipment and parts, computers, equipment, and parts etc. Nonetheless the concurrent rise in imports and softer service sector receipts (tourism receipts) suggest that the compression in the current account surplus is bound to continue.
Fiscal support has been ongoing, with the government undertaking THB140bn worth support, as part of the intended additional THB500bn borrowings. This includes THB30bn to compensate businesses and workers for the latest restrictions, alongside subsidising cists for utilities, with the BOT expected to ease debt repayment burdens for businesses hurt by the new measures.
While expectations were that this year would provide breathing room for the economy owing to vaccine availability, economic impact is likely to mount until the rollout reaches critical mass. Rebound expectations thereby hinge on public spending and exports, whilst weak consumption clouds private sector investment trends. We revise down our GDP forecast to 1.5% y/y vs 2.1% earlier. Official forecasts have been drifting south in recent weeks, with the BOT flagging risks to its already downwardly revised 1.8% estimate for 2021 (2022 at 3.9%). We also note that tourist arrivals forecast has been lowered to 0.7mn and 10m people for 2021 and 2022 respectively, down from 3mn and 21.5mn earlier.
Thai domestic markets have felt the heat from the softening growth expectations, a rising case count and a firmer US$. About US$2.8bn outflows from the equity markets has negated inflows into debt. Thai baht is the regional underperformer, down 8.7% YTD.
ASEAN-6 prospects soften
Revisions in growth numbers for the key ASEAN-6 countries takes the bloc's GDP lower to 4.6% from 5% earlier and remains vulnerable to the evolving pandemic situation. On policy, US Fed's policy manoeuvres will dictate the extent of volatility ahead, as markets struggle to ascertain the pace of policy normalisation from 2022. Meanwhile, worries over global growth risks have risen as the Delta variant causes a surge in cases in many parts of the world, raising the spectre of a delay in policy normalisation plans. Evolving domestic priorities and a lagging vaccination program is likely to keep this region's policy bias – fiscal and monetary – at accommodative and expansionary gear for rest of this year.
To read the full report, click here to
Download the PDF
.
Subscribe
here
to receive our economics & macro strategy materials.
To unsubscribe, please click
here
.