Bond issuance progress has been slow - Only 20% of projected full year net CGB issuances were completed in 1H.
Issuances of Treasury (CGB) and Local Government bonds (LGB) bonds picked up in 2Q. However, progress towards full year financing needs remain slow. By 1H-end, only 20% of projected full year net CGB issuances were completed, around 7-9% below the run-rate of prior years. For net LGB issuances, 1H's completion rate of 43% is also lower than the 65% seen in 2020 and 50% seen in 2017- 2019.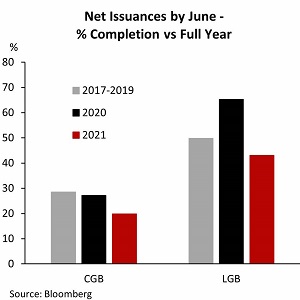 The slow financing progress means that we will be getting a ramp-up in CGB and LGB issuances in 2H - We estimate 2H net issuances will average CNY368bn per month for CGB and CNY425bn per month for LGB. In aggregate, CGB and LGB net issuances will average CNY793bn per month in 2H, almost double of the CNY410bn per month across 1H.
In terms of timing, we think that bond issuance pressures will likely be more acute in 3Q, as local governments historically have tended to keep issuances lighter in 4Q. If we also include Policy Bank bonds (PFB), the recent May 2020 peak in bond issuances (CNY2484bn) could likely be surpassed in 3Q.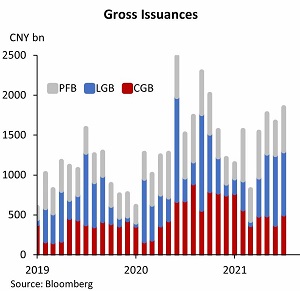 The expected ramp-up in CGB and LGB issuances should see CNY liquidity moderately tighten in 3Q. For most of 1H, CNY liquidity conditions had been benign, with 7D interbank repo (DR007) frequently fixing below the PBOC's 7D reverse repo rate (2.20%). Recently, however, there have been some signs of liquidity conditions getting tighter. DR007 rates had been rising, even before the June quarter-end where cash demand tends to be elevated. Post June quarter-end, in early-July, we expect DR007 rates to normalize lower alongside a technical pullback in cash demand. Thereafter, we think DR007 rates will begin a gradual upward trend through end-3Q, that is largely contained within a 2.25-2.50% range.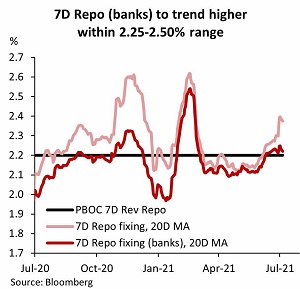 Our view of tighter CNY liquidity conditions ahead, largely a result of much higher bond supply in 3Q, is also contingent on PBOC staying liquidity-neutral in its OMOs (not net injecting or withdrawing large amounts of liquidity).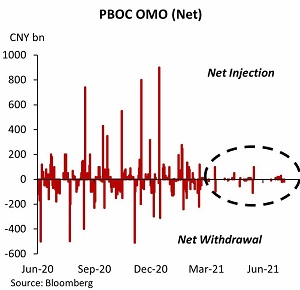 We acknowledge that PBOC did net inject some liquidity around June quarter-end, but think that it is more of a precautionary measure around quarter-end, than a signal that PBOC would be deviating from its liquidity-neutral stance. We expect PBOC to soon revert to its consistent OMO pattern of the last few months - Fully rolling over MLFs and conducting daily CNY10bn of reverse repo operations.
The implications of our tighter CNY liquidity view are that IRS/NDIRS rates and CGB yields would be biased moderately higher in 3Q (by 10-25bps). We are also likely to see CNY curves flatten, primarily led by front-end rates that tend to be more sensitive to fluctuations in liquidity and funding.
Therefore, we are adding a new idea to pay 2Y CNY NDIRS (entry 2.523%, take-profit 2.70%, stop-loss 2.35%). This idea would allow us to position for tighter CNY liquidity in 3Q, and also express our flattening view when combined with our running idea of long 30Y CGB.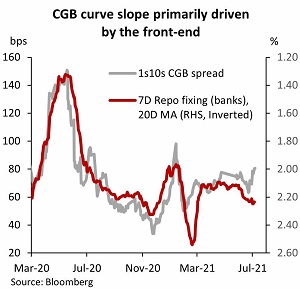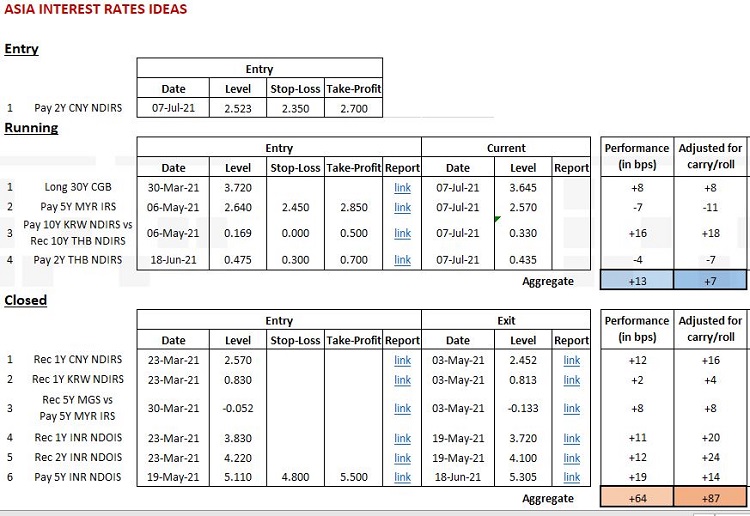 Report Links -
23-Mar-21
30-Mar-21
03-May-21
06-May-21
19-May-21
18-Jun-21
To read the full report, click here to
Download the PDF
.
Subscribe
here
to receive our economics & macro strategy materials.
To unsubscribe, please click
here
.