India's consistently above target CPI inflation and US Fed's hawkish dot plot have revived the domestic policy normalisation debate.
India's daily Covid case count has moderated to a tenth of the peak. Unlocking is underway, amidst concerns over a third wave and a new Delta plus variant have surfaced. Vaccination remains the central pillar to help the economy move from a second wave driven sequential slump in 1HFY22 to vaccine-led expansion in 2H. This will also dictate the guidance on policy normalisation, which the RBI is likely to build-on for 2HFY22, spurred by sticky inflation and recent US Fed's pivot.
Vaccination holds the key

India's daily vaccination rate doubled in June to 3.7mn vs May. In particular, daily inoculation averaged a strong 6mn in the week of June 21, as a new vaccine procurement strategy kicked in. The daily rate has since averaged ~4mn into July, taking the total administered doses to 350mn.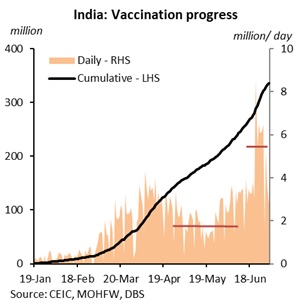 To vaccinate an estimated 920-930mn in the adult population (government's projection), the supply pipeline needs to be robust.
As of July 5, 27% of the population has been vaccinated – 22% with the first dose and 5% with both doses.

Officials were counting on a surge in supplies to 2.16bn doses between August and December 2021, including higher production of Covidshield (Astrazeneca), indigenous Covaxin, and few other in-trail alternatives. The latest update (affidavit to the Supreme Court) suggests that total supply might total 1.35bn i.e. 270mn/ month between August and December 2021 vs ~516mn estimated till July. Until December, the math rests on Covishield (500mn doses), Covaxin (400mn), Sputnik (100mn), rest from Bio E sub-unit (300mn; under trail), Zydus Cadilla (50mn; under trial).
We calculate the various scenarios depending on the daily inoculation rate in 2H21. If we consider the middle of the pack of around 8mn administered doses a day, more than half of the total population and can be covered by end-2021.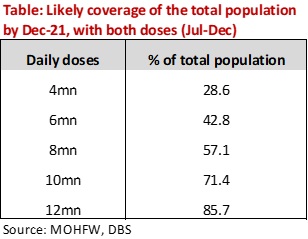 Taking stock of the Covid situation:
• The latest
national serological survey
by the WHO and AIIMS revealed that the seropositivity (i.e. presence of antibodies) rate for persons between 18-59years was at 67%, which was higher at 79% in the urban and 63% in rural areas.
•
Second wave ebbs
: The Covid case count under the second wave has eased sharply, down to a seven-day run-rate of 40-50k cases per day, a tenth of 400k during the peak in May. This has been accompanied by a drop in the overall positivity rate as well as R0 i.e. reproduction rate from May's highs, easing pressure on the country's medical infrastructure.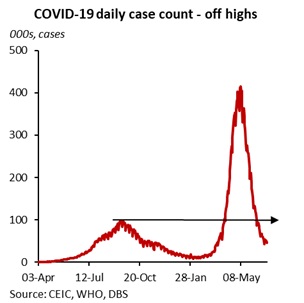 • States are loosening restrictions at a guarded pace, allowing selected contact intensive services e.g. restaurants to reopen but with limitations. Mobility indicators hit a trough in May and have improved into June.
Our Weekly Activity Gauge (WAG)
, calculated using high-frequency Google and Apple mobility indicators alongside the labour participation rate suggests that the prevailing levels are ~5-7% below the pre-pandemic level, after the scale of fall during the second wave was less than the first wave (see chart).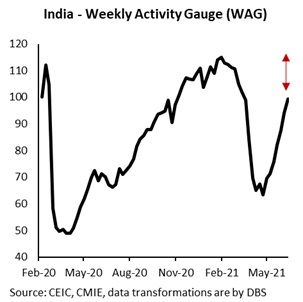 The monthly data heatmap (see below), shows most indicators sans inflation fared well until Apr-May, before feeling the heat from the second wave. June PMIs are a case in point as both manufacturing and services indices weakened due to a combination of lower orders as well as rising input price pressures. Receding base effects has seen exports growth moderate.

•
Worries over a third wave and Delta plus variant linger
: Whilst states mull a cautious unlocking path, concerns over a potential third wave as well as a new variant have surfaced, while the vaccination drive is yet to reach critical mass. A key source of concern is the emergence of Delta plus variant of Covid19 i.e. a sub-lineage of the highly transmissible Delta variant, that was first discovered in India. A handful of cases of the Delta plus variant have been observed in around 12 states according to the Health Ministry, being referred to as a 'variant of concern' by the Indian authorities. Selected states have retightened measures in certain provinces, e.g. Maharashtra where cinema theatres remain stay closed, while operating hours for other contact intensive services like restaurants, gyms etc have been shortened, whilst few provinces are under a complete shutdown.
Policy normalisation debate

India's consistently above target CPI inflation and US Fed's hawkish dot plot have revived the domestic policy normalisation debate.

CPI inflation has stayed above 4% target since October 2019, keeping the FY20 average inflation at 4.8% and FY21 at 6.2%. Our forecast for FY22 at 5.5% suggests that annual inflation is on course to staying above target for three successive years.
Inflation risks for 2021 remain skewed to the upside, especially core readings, on higher commodities mainly energy, rising input prices, rigidity in fuel taxes and idiosyncratic factors (e.g. temporary spurt owing to the pandemic in medical costs, education, personal services etc.) apart from a likely return in demand impulses as growth gains traction. A normal monsoon and strong domestic production are expected to cool non-imported food pressures beyond the seasonal swings.
Both WPI and CPI inflation indices have quickened in recent months, but the wholesale price index has outpaced retail inflation, as the former is more correlated to global commodities (mainly oil). Wholesale price inflation also impacts manufacturers, who have absorbed most of the input price increases for now, but as recovery gains traction, part of these is beginning to get passed to the consumers (selected consumer durables etc.). An 1 percentage change in WPI core (non-food manufacturing) translates into a small 0.2ppt to CPI core goods inflation and much smaller for overall CPI core and headline inflation, according to
a RBI study
. While pass-through risks remain low, the monetary policy committee is likely to be concerned that supply-side pressures might be supplanted by demand-led forces as the second wave subsides and sequential growth gains momentum.
Rising inflation benefits borrowers and hurts lenders
. Inflation-adjusted real rates have been in negative for more than a year, with the repo rate at 4%, eroding returns from banks' deposits and incomes, thereby incentivising a push towards riskier assets/investments. Real incomes are also falling, particularly in midst of the pandemic. The bite is harder for the rural consumers where the terms of trade is turning negative as non-food inflation is rising at a faster clip than food (proxy for incomes), whilst fiscal support has been scaled back and the second wave has hit the rural areas more adversely. Minutes of the June policy review were broadly dovish as the members backed the need for policy support to boost recovery amidst the second Covid wave. Inflation was expected to stay elevated but due to supply-side pressures and be temporary.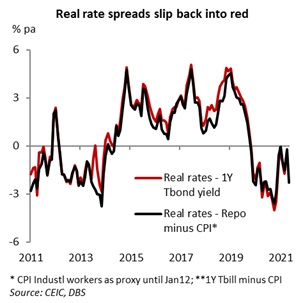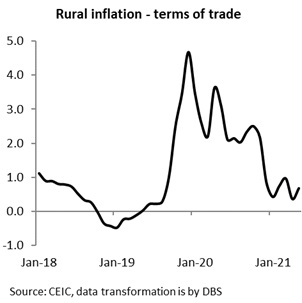 We note that these remarks were made before the May CPI inflation release, with June numbers (~6%) to be also available by the August meeting. Factoring these in, the RBI monetary policy committee might begin to express more concern over inflation at August's rate review. As the second wave ebbs and vaccination rate catches up on better supplies, the central bank is likely to outline normalisation plans for 4Q21.
Communication will be key to ensure financial tightness doesn't front-run the intended speed of normalising policy, emphasising that normalisation does not equate tightening
. Draining surplus liquidity is likely to be accompanied by a calibrated increase in the reverse repo rate from the current 3.35% to 3.75% - reinstating the 25bps corridor below the repo rate. Subsequent moves will include a shift in the policy stance from accommodative to neutral, before considering rate hikes. Rate hikes are likely to start in 2H22.
To read the full report, click here to
Download the PDF
.
Subscribe
here
to receive our economics & macro strategy materials.
To unsubscribe, please click
here
.