HIBORs are expected to remain anchored until the US rate hike kicks in 2023.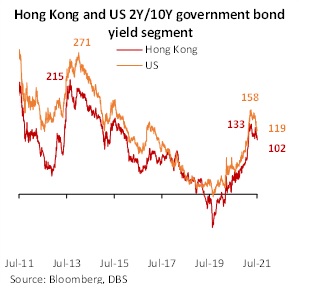 We have recently updated our forecast for USD rates on the Fed's shifting tone (see "US economic recovery and fixed income implications"). In a nutshell, the Fed's hawkish pivot points to a structural flattening for the US Treasuries as well as the HKD Rates Curve. The Fed's increased vigilance on higher inflation risks has flattened the USD curve. Accordingly, we have adjusted our front-end (up to 5Y tenors) government bond yields forecast higher.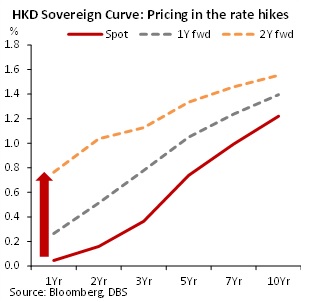 Meanwhile, the end-2022 government bond yields forecast was also adjusted lower to 1.70%. The spread between 2Y and 10Y government bond yield has consolidated from the peak of 133bps to 102bps of late, with the forward curves pricing in more to come. While we see scope for tactical steepening in 3Q when the Fed outlines its taper plans, the structural flattening bias is unlikely to be derailed.

HIBOR to stay anchored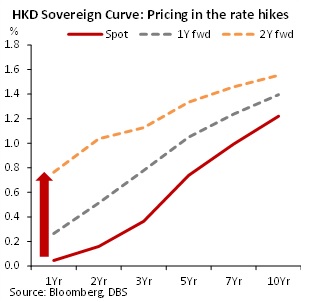 Below, we examine the movement of HIBORs through the Fed tightening cycle while keeping in mind the likely inflows from China.
HIBORs are expected to remain anchored until the US rate hike kicks in 2023 (our view). During the last taper tantrum from May 2013 (when taper hints were given) to Oct 2014, 1M HIBOR barely moved and stayed below 0.3%. Conditions were benign and Hong Kong did not suffer any liquidity tightening. It was not until the first Fed hike in 2015 that Hibor experienced a discernible impact. Notably, the Aggregate Balance (a measurement of Hong Kong banking system liquidity) rose from HKD160bn from the start of taper to HKD420bn before the first US rate increase in 2015. We believe that HIBORs during the upcoming Fed taper should behave largely the same as 2013-2014.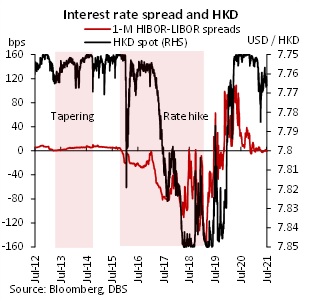 When the Fed hike cycle commenced at the end of 2015, LIBORs increased at a much faster pace compared to HIBORs. Capital flowed out from Hong Kong and HKMA intervened to withdraw liquidity from banking system. HKD also started to depreciate within its band from 7.75 in early 2016 to 7.85 in 2018. As such, we expect the 1M and 3M HIBOR to edge up when the Fed hikes.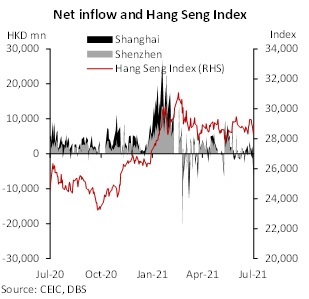 There are other reasons for HIBORs to stay low. Liquidity should stay flush amid strong net inflow through the Southbound Shanghai and Shenzhen-Hong Kong Stock Connect. Total inflow rose by 58% YoY to HKD464bn. This has eased fears that falling aggregate balances (due to outflows) would drive HIBOR up. There will be more capital flow from China to Hong Kong because of relative CNY strength (see: "Surging flows in and out of China"). The GBA Wealth Connect is now set. Reportedly, the Southbound Wealth Connect quota will be capped at RMB150bn. Another round of flush liquidity is now ready to head to Hong Kong. In fact, Hong Kong insurance sales to Mainland once reached HKD72.7bn in 2016, more than 30% of the city's headline figure. On institutional level, the commencement of Southbound Bond Connect is also in the pipeline. With the aggregate balance at HKD460bn, we doubt that HKD liquidity would be an issue in the next 18 months.

Less fiscal spending
Fiscal spending is likely to be dialled down when economic growth firms. Real GDP rose by 7.9% YoY in 1Q and is expected to conclude the year at 6.0%. The unemployment rate has already peaked at 7.2% in Dec20-Feb21 and fell to 6.0% in Mar-May21 and is projected to reach 4.8% by end of this year. Exports of goods rose by 29.4% YoY YTD. Retail sales rebounded by 8.9%.
Looking ahead, the border with Mainland China is likely to re-open by end-21 to 1Q22 assuming the COVID variant is largely manageable. Given the current progress on vaccinations, Hong Kong is likely to reach herd immunity by end-2021. These factors should fuel the recovery ahead. As such, fiscal support will ease. The size of government bond issuance so far this year has been on par with the first 5 months last year. According to the Hong Kong Government Budget, the fiscal deficit as percentage of GDP is forecast to fall from 9.5% in FY20/21 to 3.6% in FY21/22. With a less aggressive government bond issuance programme, the upside to longer-term government yields is likely to be mild.
To read the full report, click here to Download the PDF.
Subscribe
here
to receive our economics & macro strategy materials.
To unsubscribe, please click
here
.