Singapore's 2020 Census reveals a society that continues to attain more wealth and education, with a marked rise in the proportion of elderly population and a steady shrinkage of family size.
Commentary: Singapore's 2020 Census
With per capita income heading toward USD60,000, Singapore is one of the richest societies in the world. Its social and economic standard of living indicators, physical infrastructure, human capital, and financial assets are world class, topping many international tables. Yet it has many moving parts, with the population aging, income inequality high, and some degree of job insecurity with growing skills mismatch.
Singapore's 2020 Census is a useful stock-taking exercise of a society that continues to attain more wealth and education, yet with a marked rise in the proportion of elderly population and shrinkage of family size. Some highlights:
Income:
Real annual household income has grown by an annual average of 2.8% during 2010-20. Median annual income, which includes CPF contribution by employers, rose to nearly SDG91,000 during this period, a 38% rise in nominal terms. This constitutes a 50% increase in household per capita income, as households have become smaller (from 3.5 to 3.2).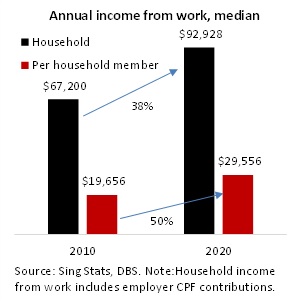 Aging:
Singaporeans are richer, but also older. The proportion of resident households with at least one member aged 65+ rose from 24.1% in 2010 to 34.5% in 2020. Those over 65- years and older made up 15.2% of residents last year, the corresponding figure was 9% in 2010. If current trend persists, this age cohort will become Singapore's largest by the middle of this decade, with profound implications for healthcare, retirement-related services, fiscal policy (particularly the magnitude of government transfers), and the labour force.
Education:
33% of the above-25 population are university graduates, up from 23.7% a decade ago. Although education attainment varies widely among the three major ethnic groups, it is heartening to note that all groups have made sizeable gains in recent decades. Nearly half the residents speak English primarily at home, a remarkable jump from 23% two decades ago.
Role of women:
Women's role in the society is becoming more prominent; share of married couples with a working wife increased from 52.9% to 60% over the past decade. The share of resident married couples where both husband and wife have equal qualifications rose to 46.6%. Indeed, in 22.5% of households comprising of married couples, women have more education qualification than their spouses. There are many areas of improvement though, for example the need to provide women with more flexibility and financial incentive to meet their needs for childcare and elderly care. As the Covid pandemic has clearly demonstrated worldwide, health and financial crises affect women disproportionately; a compassionate and generous societal response is needed to address such headwinds.
Taimur Baig
To read the full report, click here to
Download the PDF
.
Subscribe
here
to receive our economics & macro strategy materials.
To unsubscribe, please click
here
.