We lay out strategies to handle high inflation and Fed taper.
Overnight, the US Federal Reserve's Open Market Committee, recognising strong growth and rising prices, pulled forward projections for rate hikes.
Projection for real GDP growth for 2021 was revised to 7% (from 6.5%) and kept to well above 2% in the subsequent years. Similarly, core PCE inflation forecast was raised to 3.4% in 2021, from 2.4% previously. The subsequent two years saw 0.1pct-pt increase to 2.1% and 2.2%.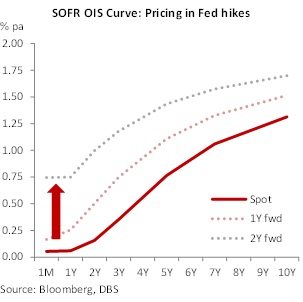 Forward guidance from the Fed proved to be more hawkish than what the market expected. Prior to this meeting, there was no communication that the Fed would be satisfied with the pace of labour market improvement or that the price pressures would prove anything but transitory. This meeting changed that with Fed Chair Powell acknowledging that inflation could turn out to be "higher and more persistent than we expect" while also expressing confidence that the economy is "on a path to a very strong labour market."
In terms of dot plots and taper, the Fed was also a tad more assertive than what we had expected. 11 FOMC members are now looking for 2 hikes in 2023, with 7 seeing a hike as early as 2022. In March, the median was for a hike to begin only in 2024.
Chair Powell also stated that discussions on taper is starting, putting August / September as the key period where plans could be announced. Given that a significant number of Fed officials see rate hikes in 2022, we can infer that the pace of asset purchase reduction could prove to be faster than what we saw in 2014 (spanning 12 months).
Assuming that the Fed starts taper in end 2021 / early 2022, the taper process could be concluded in six months. This could be followed by another six months (approximately) of waiting before the rate hike cycle begins in earnest.
With the markets positioned a tad on the dovish side, this shift in Fed communication drove yields in the 5Y and 10Y segments sharply higher. 10Y yields are now just shy of 1.60%. There were some minor operation tweaks done at the short-end of policy rates, with interest on excess reserves (IOER) and the overnight reverse repo agreements rate were increased by 5 bps each to 0.15% and 0.05% respectively.
We are sticking to our view that USD rates will be biased higher and see 10Y yields heading towards the top of the 1.5-2.0% pre-pandemic range.
It is a welcome surprise that the Fed is revisiting its dual mandate, putting some emphasis on inflation again. On a side note, the Fed raised the RRP rate and IOER by 5bps, suggesting that they are also concerned about excess liquidity, which actually adds to reasons for taper. With the Fed giving a clear signal that taper is upcoming, we suspect that other central banks will be more comfortable taking steps to withdraw extraordinary stimulus. Summer may not be that calm as economic data (payrolls and inflation) matter once again.
Strategy-wise, we reckon that
pay on dips would probably be best way
to handle the markets. As a reference, we think 10Y yields below 1.5% look fundamentally detached.
For the curve, it may be tougher to get a clear handle.
Curve flattening over the past few weeks was largely driven by a reduction in term premium (complacency on Fed taper), a slight easing of inflation worries (as measured by breakevens) and the frontloading of rate hike expectations (overnight).
We do think that the curve (2Y/10Y, 5Y/30Y) would flatten over the next few quarters as we draw closer to Fed liftoff in late 2022/2023.
However, the market may not quite have digested the possibility that taper may take place much faster than the previous cycle (possibly just six months).
It may make sense to await better levels before putting on flattening trades.
To read the full report, click here to
Download the PDF
.
Subscribe
here
to receive our economics & macro strategy materials.
To unsubscribe, please click
here
.