There has been some apprehension across Asia rates markets around higher global inflation and the forthcoming Fed taper.
There has been some apprehension across Asia rates markets around higher global inflation and the forthcoming Fed taper. To a fair extent, the risks around both events appear to be already priced in. 5Y5Y US breakevens and EUR inflation swaps have risen to 2.34 and 1.64% respectively, levels that are 35-60bps above pre-pandemic levels. Some of that rise reflects markets' expectations for higher inflation in the near term. Forward Fed Funds (futures/OIS) are pricing for Fed lift-off in 2Q of 2023, and if we assume at least a 3-months gap between completion of taper process and Fed's first hike, it implies that markets expect the Fed to end its asset purchase program by end-2022.
Because the risks are already fairly priced in, we expect the potential impact on Asia rates to be less disruptive and more differentiated. Specifically, the regional markets that would be more sensitive to the two risk events, are likely to be those that have been facing persistent above-target inflation and/or are relying on bond purchases by central banks.
Inflation risks relatively smaller for Asia
Uncertainty and volatility around Asia inflation are expected to be elevated over the next 3-6 months. The drivers of higher inflation are global in nature, whether its low base effects, or revolve around supply bottlenecks, surging commodity prices, input shortages and pent-up demand. However, compared to US and Advanced Economies, inflationary pressures from demand-side factors are likely to be much weaker for Asia. This is because many Asian countries are currently experiencing virus resurgences. The associated lockdowns and tightening of restrictions will be expected to drag on domestic demand and restrain producers' ability to pass on higher input costs to consumers. Since the outbreak of the pandemic, fiscal support/stimulus across Asia has also been of a much smaller scale.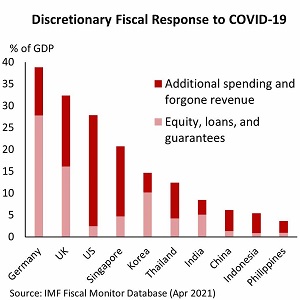 Therefore, relative to US and Advanced Economies, inflation could be a smaller risk for Asia. Case in point, US inflation has printed two straight months of upside surprises (Mar – 2.6 vs 2.5% consensus, Apr – 4.2 vs 3.6% consensus), while an equal number of Asian countries printed upside vs downside surprises.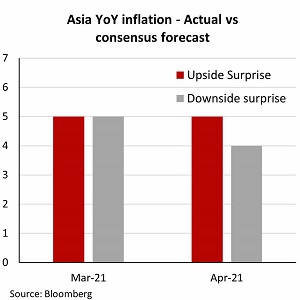 In the immediate 1-2 months, we expect financial markets to largely look through the high inflation prints (expected) across Asia, primarily because many countries are fighting virus resurgences. Beyond that, we expect containment measures to achieve some success and bring new infection rates down to more manageable levels. And possibly from July onwards, financial market would then re-focus on inflation risks within the region. In our view, the Asian rates markets that could be relatively less resilient would be those with lower inflation-targeting credibility, lower real yields and have been experiencing persistent above-target inflation in recent quarters - Philippines and India.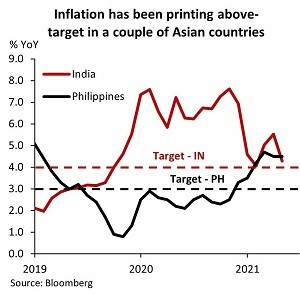 Forthcoming Fed taper to be less disruptive compared to 2013/2014 experience
In the lead-up to Fed's announcement of taper process, we expect the bias for US rates is to bear-steepen (USD Rates: Inflation & Taper strategies). Considering that this forthcoming Fed taper has been well-flagged and the Fed itself has provided much communications to manage expectations, we expect the shock potential onto Asia rates to more limited, compared to 2013/2014 experience. There could be some small amounts of volatility though, if the timing and pace of taper deviates from current market expectations/pricings.
Around the Fed's taper process, the regional rates markets that would likely be less resilient, would be those that are currently still relying on central bank bond purchases to cushion bond supply strains and meet government financing needs - India and Indonesia. As we progress further down the Fed taper timeline, some pressures could build for Bank Indonesia (BI) and Reserve Bank of India (RBI) to taper their bond purchases too.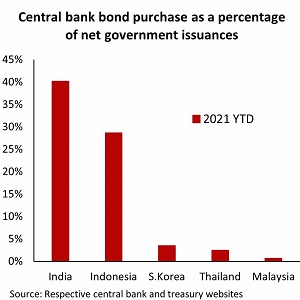 Implications of our views
To sum up, if Asia and global inflation turns out to be less transitory than thought, we expect a larger scope for Philippines and India interest rates to adjust higher and underperform. Around the forthcoming Fed taper process, we expect some resultant pressures for BI and RBI to taper their bond purchases too, and thus, Indonesia and India interest rates could face relatively more bear-steepening pressures.
In terms of translating our views to ideas, we also incorporate several other considerations. For Philippines, there are some signs of stabilization in sequential inflation momentum, and thus we are hesitant to pay PHP rates at this point. For Indonesia, there are limited options for offshore players to pay IDR rates and thus, our preferred strategy has typically been to await attractive levels to receive.
We think that the pay opportunity is in INR rates. Beside positioning for volatility risks around regional/global inflation and Fed taper process, we think that recent onshore virus-related developments could also be supportive of higher INR rates. Daily new infection cases seem to be moderating in India, and the pace of vaccination has been amongst the highest within the region. Consequently, we think that RBI rate hike expectations have likely bottomed (currently priced for RBI hike in October), and are biased to rebound from here. Once there is a sustained improvement in the virus situation, RBI could also reduce the extent of its various measures to anchor INR rates, and let INR rates move higher. Therefore, we take profit on our receive 1Y and 2Y INR NDOIS ideas, and switch to a pay 5Y INR NDOIS idea (entry 5.11%, take profit 5.50%, stop-loss 4.80%).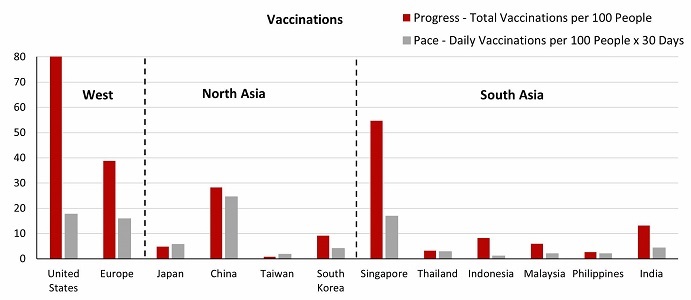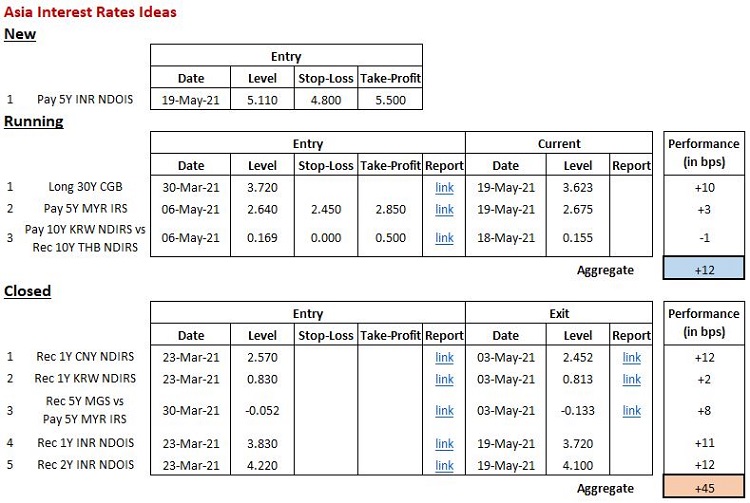 Report Links - 23-Mar-21 30-Mar-21 03-May-21 06-May-21

To read the full report, click here to Download the PDF.
To unsubscribe, please click
here
.