We lay out strategies to handle high inflation and Fed taper.
The US Treasuries curve bear steepened in earnest in 1Q, catching many market participants by surprise. We were ahead of the curve, noting that the rates space was underestimating the economic recovery and the removal of the COVID-19 premium in USD rates is inevitable. Now that longer-term 10Y yields have entered the lower band of the pre-Pandemic range (1.50-2.0%), what's next?
Successfully navigating elevated inflation (transitory or not) and the eventual Fed pivot to taper later this year will be critical. Below, we lay out our thoughts on what USD rates are pricing in and how that compares with 2013. We think strategies in the leadup to taper should be different from post taper.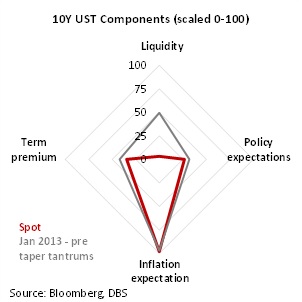 A look at our USD rates breakdown chart (split into four explanatory components) indicate that a surge in inflation expectations and modest increases in term premium and policy expectations drove longer term USD rates higher. From a five-year normalized view, only inflation expectations are elevated, close to multi-year highs. Term premium and Fed hike expectations are, by contrast, low by historical standards. In short, the market is worried about overheating risks, but is not quite convinced that the Fed is going to do anything about it imminently. This situation shares similarities with the period in late 2012 and early 2013 before taper was hinted. The key difference between now and 2013 is that market participants (and policymakers) are arguably more cognizant of taper risks.
Strategies in the lead up to taper hints
A patient Fed will likely lead to a steeper UST curve. We think that the Fed is very unlikely to hike rates out to 2022 and short end rates will stay anchored. With vaccinations well underway and inflationary pressures already materialising in CPI and PPI numbers, we suspect that inflation breakevens are likely to stay elevated, if not push higher. Speculation of Fed taper is likely to intensify and we suspect that this could lead to an increase in term premium. There are two potential ideas here.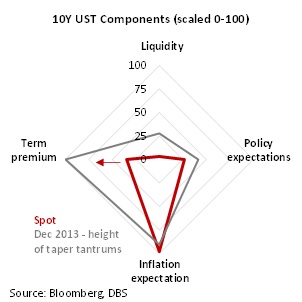 One: Long breakevens to bet on inflation expectations climbing further amid ultra loose monetary and fiscal policy.
Two: Pay USD rates across 5Y and 10Y vs receive 2Y, betting on curve steepening. This trade works best if term premium or implied real rates rise from depressed levels.
We think that the risk-reward for the second strategy may be better, noting that term premium is low while inflation expectations are already high by historical standards. We think pay positions look interesting when 5Y and 10Y yields are close to 0.75% and 1.55% respectively. Our assumption is that the global economic recovery is intact and the lows we saw in the immediate aftermath of weak payrolls will hold.
Strategies post (hints of) taper
Hints of taper would probably move the market more than the act of taper, echoing the period in 2013. The factors driving USD rates are likely to behave similarly, albeit to a more moderate extent. The timeframe for taper is unclear. If the Fed intends to taper by January 2022, it probably will need to set the stage several months earlier. With payrolls stumbling in April, we think that the Fed may need at least two months of firm numbers before signalling taper. Accordingly, the puts our taper hint estimates anytime from July to December. The Jackson Hole Symposium in August would be a plausible setting to announce taper. There would most likely be a kneejerk higher in term premium upon any firm hints of taper. The market may also load up Fed hike expectations. At this point (or slightly before), the strategy should shift as the Fed may get more serious about inflation risks.
One: Short breakevens to bet that tighter monetary policy would curtail inflation expectations.
Two: Prepare for curve flattening in the 5Y/30Y, 5Y/10Y and 2Y/10Y segments. This assumes that the longer tenors have largely normalized and the only question lie with the timing and pace of rate hikes which would impact the belly (2Y-5Y) more.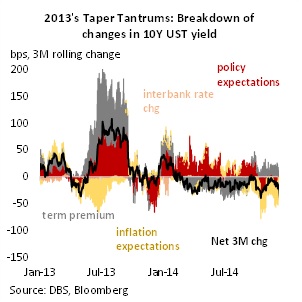 We think that both ideas could work but are likely to be dependant on levels. This playbook would be similar to the 2013 episode with a nuance. The curve bull flattened through 2014. This time, if growth momentum is maintained, bear flattening may be more likely.
Risks to outlook
The biggest risk to the outlook is if the Fed is unable to taper. This could happen if slow EM vaccinations meaningfully hurt EM assets, tightening global financial conditions. It is also possible that mutations outpace vaccines, leading the DM and the US to re-tighten restrictions. Under these conditions, USD rates would rally.
To read the full report, click here to Download the PDF.