Singapore's January-April economic momentum will be disrupted by the renewed stringent measures. Progress with vaccination and fiscal support would likely soften the blow.
Commentary: Singapore's renewed policy stringency
Singapore stepped into 2Q with a spring in its step. March auto sales (+15.6%yoy), retail sales (+6.2%), and dining out (+8%) grew robustly, as did industrial production (+7.6%). Trade had perked up, with exports hitting record highs (USD41.3bn in March, +27.8%). Labour market was picking up, business confidence was on the rise, and company earnings were on the mend.
As April data starts to trickle in, they will most likely show a continuation of the trend, but May and June will be quite different, unfortunately. The authorities imposed a month of stringent measures on May 16, driven by concerns over a rise in community cases. As dining-in is suspended, large gatherings curtailed, and work-from-home becomes the norm again, domestic activities are bound to take a hit.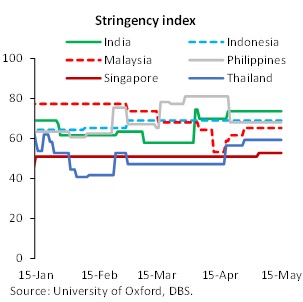 In addition to the usual concern about resurging cases in South and parts of South-East Asia, two other matters have come up. First, the spread of a particularly virulent variant of the coronavirus, namely B.1.167. The further muted form of the variant is B.1.167.2, which has been spreading rapidly in India, and to some extent, in the UK. Data suggest, but not yet confirm, that the variant is highly transmissible. Second, a few instances have come up in which fully vaccinated individuals have caught the Covid-19 infection and passed it on to others. As more data come in, public health professionals would be able to make the call if the practice that has caught on in Western economies, of relaxing mask mandates for those vaccinated, is a sound one. Until then, an abundance of caution warrants some degree of reinforced stringency on mobility and proximity, which is where Singapore stands now.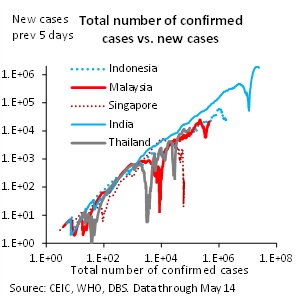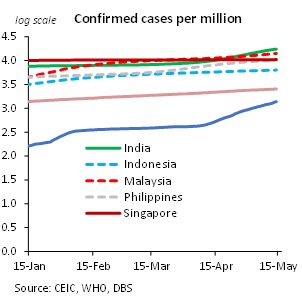 The WHO has already designated B.1.167 a variant of concern, with data from India showing nearly 30% of new infections there are stemming from that variant family. Even in the UK, which is presently characterised by a dramatic decline in hospitalisation and fatalities, the variant has begun to raise its head. At last count, it has been detected in 44 countries, including Singapore and the US.
Concerns notwithstanding, early data clearly suggest the usefulness of vaccines in dealing with the coronavirus, in general, and the variant, in particular. Although vaccinations do not fully eliminate the risk of catching the virus and passing it on, Singapore's experience in the past few weeks is already supportive of those with vaccination not having to face any serious health consequence after catching Covid-19.
This is the essence of the pandemic battle, in our view. As long as nations manage to vaccinate a large chunk, if not all, of their at-risk population, they will be able to deal with new waves of infection, even if they are virulent.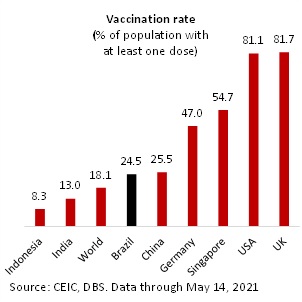 On the road to vaccination, Singapore has picked up the pace with 3 million doses administered already. We reckon that in a month's time, a critical mass of at-risk population will be vaccinated, adding a sense of safety in the community.
A more aggressive campaign to remove residual hesitancy regarding vaccination, making vaccines available to wider community, examining the possibility of vaccinating children, are all critical dimensions of putting the pandemic to rest. There is growing recognition among public health officials that shifting from a policy of outright suppression to considering SARS-Cov2 an endemic virus may be warranted. Governments around the world may follow that shift eventually, but only after mass vaccination.
What does this month of mobility restriction mean for Singapore's economic outlook? We think what happened in Japan in 1Q may be instructive for Singapore's 2Q outturn. Japan's real GDP likely contacted by 2%qoq, saar as domestic demand deteriorated due to the resurgence of COVID-19, fully offsetting the recovery in exports. Singapore had the makings of domestic and external demand complementing each-other through April, but May and June would be setbacks, which may well cause a qoq decline in activities.
On a yoy basis, the GDP growth number will be amply positive though. None of the new restrictions are comparable to the severe stringency implemented during last year's "circuit breaker." Protocols to continue with production, transportation, work, and school are well in train, so the economy can carry on. Still, a decline in footfalls will hurt retail and recreation vendors, sentiments will be dented, and planned activities which would have added momentum to the economy would be postponed. Singapore's outlook just got rather clouded, but between vaccination and public sector support, coming out from the May/June turbulence ought to be easier.
To read the full report, click here to
Download the PDF
.
Subscribe
here
to receive our economics & macro strategy materials.
To unsubscribe, please click
here
.