Real GDP growth numbers just about everywhere will look promising this year, but the ground reality is masked to some extent by base effects.
Commentary: Covid and GDP loss
An encouraging rebound is taking place in several major economies, thanks to rapid vaccination, relaxation of mobility and distancing restrictions, and sustained, sizeable fiscal and monetary policy support. But in fact, base effects make the rebound look better.
One way to assess the shape of the recovery is to look at the trajectory of the level of real GDP pre- and post-crisis, and estimate the gap between the old trend and ongoing rebound path. Using the IMF's April 2021 World Economic Outlook database containing both historical data and projections, we carry out such an assessment.
Compared to the trend of the past decade or the past half-decade, global GDP has years to go before catching up, that is if it ever does. Even a fairly optimistic set of forecasts from the IMF have global GDP falling substantially short of past trend though 2023.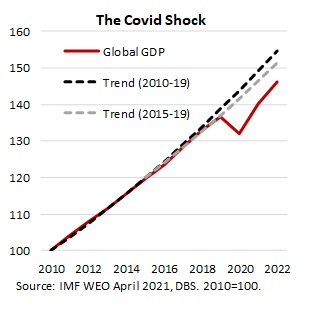 The picture is no better for Asia, the most dynamic segment of global growth. The IMF's projection for Asia's real GDP looks promising at first glance, with growth projected to average 6.8% during 2021-23. But this would leave Asia's GDP a good 6% below the trend line from 2015-19; this is a stark illustration of the difficulty of catch-up after a major stumble.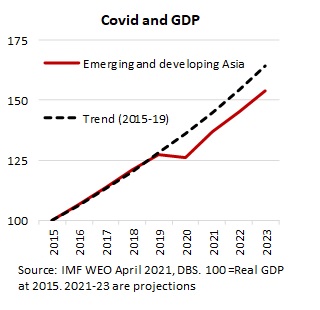 The outlook is a tad worse for Asean-5, whose GDP, even after averaging a growth rate of 5.5% from this year onward, would be about 7% below the 2015-19 trend line in 2023. A prolonged period of below-trend economy risks making the output loss from Covid permanent.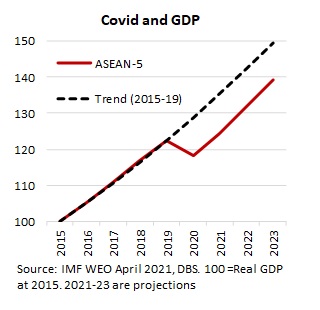 To read the full report, click here to
Download the PDF
.
Subscribe
here
to receive our economics & macro strategy materials.
To unsubscribe, please click
here
.