Asia's electronics supply chain is highly intertwined. As trade wars hurt demand in the US and China, Asian electronics manufacturers will feel considerable pain, in our view.
Chart of the Week: Gauging the trade war vulnerability of Asian economies
Asia's electronics supply chain is highly intertwined – the finished electronics products tend to be assembled in China, but various parts and components are supplied by other Asian countries. Statistics show that Taiwan and South Korea are China's biggest sources of electronics imports (share: 22%, 19%), followed by Japan (9%) and Malaysia (7%). For Taiwan, Malaysia and South Korea, electronics exports to China are also large relative to their economic sizes – 19%, 10% and 6% of GDP, respectively. As far as the supply chain disruption impact is concerned, these three economies would be vulnerable to the new round of China-US trade war. April export data for these economies are weak across the board, with the 3-month moving average down by 3.5%, 7.2%, and 5.5% for China, South Korea, and Taiwan, respectively. As trade wars hurt demand in the US and China, Asian electronics manufacturers will feel considerable pain, in our view.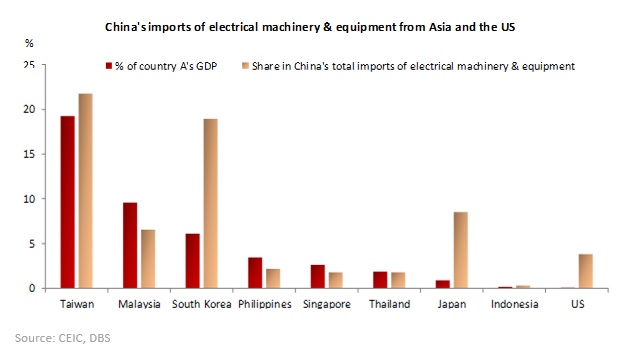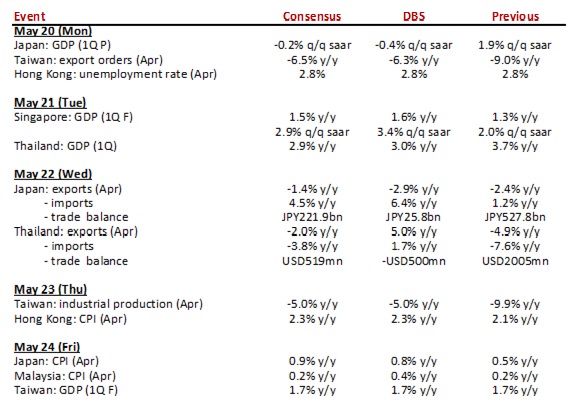 Hong Kong:
CPI inflation should have picked up to 2.3% YoY in April from 2.1% in March. The recovery in commodity prices, the weaker USD amid a dovish Fed, and the relatively strong CNY exchange rate should have added upward pressure on import costs. The spreading of swine fever in China is expected to boost food prices. Yet, the overall inflation pressure is likely to remain moderate. Local costs are largely contained due to slow economic growth. The softening of residential rentals should also help to keep the overall inflation in check.
Japan:
Export growth is expected to stay negative for the fifth consecutive month in April, at -2.9% YoY. The near-term outlook is deteriorating, given the dissipation of China's stimulus effects and the reescalation of China-US trade tensions. The China-US tariff war could create double whammy impact on Japan's exports, through disrupting the regional supply chains and putting appreciation pressure on the yen. The US's decision of postponing automobile tariffs could provide some relief for Japanese exporters, but only temporarily. On the prices front, dynamics remain stable for the time being, thanks to the tight labour market, recovering oil prices, and positive inflation expectations in the corporate and household sectors. Headline CPI is expected to pick up to 0.8% YoY in April, compared to 0.5% in March.
Malaysia:
Inflation data for April is likely to see an uptick to 0.4% YoY, from 0.2% previously. This is in line with our expectation that inflation will bottom in 1Q19 and start rising from 2Q19 onwards. The increase will be even more pronounced in 2H19. One of the key determinants is oil prices. Oil prices are up about 20% since the start of the year, and this will likely be reflected in the transport CPI index. However, while transport CPI should see some upward shift, this could be moderated by the subsidies for petrol and the earlier removal of toll charges for motorcycles. Yet, effects from these people centric measures (including the zero rating of the GST) introduced after the election will likely fade from June onwards. This should make for a more pronounced climb in headline CPI inflation in 2H19.
Taiwan:
Industrial production is expected to continue to contract for the fifth straight month, by -5.0% YoY in April. The dip in China's economic indicators in April – PMI, industrial production, retail sales, and fixed asset investment – shows that China's stimulus effects have started to fade. The recent hike in the US's tariffs on USD200bn worth of Chinese goods suggests that external trade conditions in May could have deteriorated further. Given these new developments, it has become uncertain whether 1Q is the bottom of Taiwan's current cycle. Expect the Directorate General of Budget, Accounting and Statistics to cut its 2019 GDP growth forecast during the review this Friday (current: 2.3%, vs DBSf: 1.9%).
Thailand:
1Q19 GDP numbers are due today, where sequential slowdown is expected to take headline growth to 3% YoY from 3.7% in the quarter before. Domestic demand indicators are mixed as farm incomes tapered in the quarter, but private investment index fared better. Unequivocally, the external sector is likely to emerge as the main cause behind the slowdown, as markets eye spillover risks from US-China trade disputes and moderating global growth. In 1Q, most key sectors including electronics, electrical appliances, auto, machinery, chemicals and agri shipments slowed or declined. This likely spilled over into April data, where we anticipate a notable MoM decline in exports, but base effects will prop the YoY pace to 5% accompanied by 1.7% rise in imports (resulting in a USD500mn trade deficit vs USD2bn surplus the month before).
To read the full report, click here to
Download the PDF
.