While the markets are not pricing it, we think it is time to consider the impact of a full-blown trade war in 2020 and beyond.
Tariffs as an end, as opposed to means to a trade deal?

Nearly a year ago, as the US began to draw up concrete plans to impose tariffs and restrict Chinese investment in various sectors of the US economy, we published our first scenario considering a full-blown trade war (link). At that time, it was a remote scenario, but unfortunately, it doesn't seem so any longer. We have seen multiple salvos from the US and retaliation from China, and news highlighting trade frictions are now a daily occurrence.

In that full-blown trade war study, dated July 3, 2018, we had estimated a 0.6% of GDP downside to US growth in 2019 (from a baseline forecast of 2.5%) and similar downside to China's outlook (from a baseline of 6.2%). At nearly the midpoint of the year, those risks have not quite materialised, but a few things are clear already. First, the Chinese authorities will take largescale stimulus measures to prevent the downside from magnifying. Second, at least for 2019, the US economy is in decent shape to absorb a few shocks. With that in mind, it is time to update our scenario for 2020 and beyond.

While keeping in mind that our base case (like that of the market) is for saner heads to prevail, we are inclined to contemplate a graver risk scenario than the one entertained last year. In this scenario, 25% tariffs on all trade between China and the US stay in place regardless of a trade deal. We consider this scenario as plausible because as of today, six months after signing the revised trade deal with Canada and Mexico, the US is yet remove 10% tariff on aluminium and 25% on steel imports from those two countries. This underscores the adage that once tariffs go up, it is very difficult to bring them down.

We are also increasingly finding validation in the view that tariffs are no longer a means to a trade deal, but an end in themselves. The Trump administration may well have come to the conclusion that no trade deal will resolve issues related to intellectual property, cyber security, or state subsidies. A permanent tariff wall could make China permanently less competitive and the revenues from the tariffs could be used to support potential losers from Chinese retaliation. This outcome, which would be similar to a sharp rise in consumption tax, would hurt US consumers' pocket books, introduce a host of distortions and inefficiencies, and could even tip the US toward stagflation. But that could also be sold during the election season as the price for widening the gap between the US and China.

If trade negotiations go nowhere over the next couple of months and all tariffs head toward 25%, we will expect the following in 2020:

• China's real growth to fall to 5%
• US growth would ease to 1%
• RMB will head toward to 8/USD
• DXY will soar past 100
• Oil prices would correct by 20-30%
• The US Federal Reserve would cut policy rates by 50 to 75 bps
• China will postpone deleveraging to add substantial more stimulus
• Global growth to weaken by 0.5 to 0.75%

Infinity wars: a decoupling scenario

Beyond trade wars, the US is clearly keen on preventing China's emergence as a technology super power. This week's announcements barring companies deemed a "national security" threat to sell their products in the US and threats to blacklist Huawei from buying components from the US reveal the gravity of the situation. If carried through, the ramifications would be beyond the financial viability of Huawei; it would cause a sharp deterioration in the relationship between the US and China, severely slow the rolling out of 5G networks around the world in the coming years, and ultimately begin the process of decoupling between the two nations.

Taken to extreme, this would mean a return to the intense cold war decades between the US and USSR. While the ostensible battleground is commerce, it ought to be clear to observers that the perceived threat from the US is a challenge to its hegemony in the global landscape. By decoupling China from US markets and technological knowhow, the goal of this approach would be slow down severely China's rise.

What goes around, comes around

This combative approach, if followed through, is an unambiguous negative for the global economy. Without getting into the discussion of which country will suffer the most, it is obvious that there will be considerable pain all around. Global supply chains will be disrupted, capital spending will suffer, gains from economies scale will be diminished (in which no nation can match China), and geopolitical tensions will spike.

The US corporate sector, a major beneficiary of global supply chains, will suffer greatly as well. Walking away from a symbiotic relationship with China will deprive them from the largest consumer market in the world, not to mention one of the most productive places to produce goods. The US agriculture sector, which has increasingly become focused on producing with Chinese demand in mind, will be hurt as well, regardless of Federal subsidies.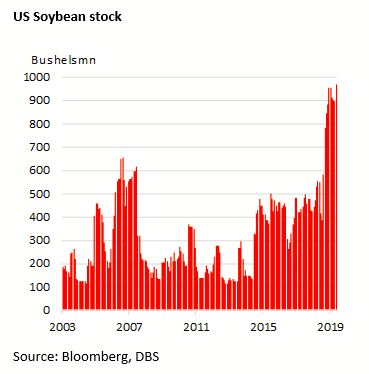 Efforts toward decoupling are highly misguided and dangerous, but that doesn't mean they are out of the realms of possibility. The global economy, used to China's strong growth in recent decades and a highly integrated supply chain, will struggle under the weight of the Superpower conflict, if it comes to fruition. Like the equity market, we will continue to hope for the best; like the bond market, it is time to prepare for the worst.

To read the full report, click here to Download the PDF.